Things to Do in August In and Around Jersey City
August is here and summer soon will be over but don't worry because you can still enjoy this month fully with the family with this August activities guide. This is the perfect time of the year to spend some quality time with the family and participating in different activities before the peak vacation season ends and kids go back to school. Luckily, Jersey City and areas near it have some amazing options for all. We have something for everyone on this list, whether you are looking for some adventure or a relaxing summer afternoon!
Head to the Beach and Boardwalk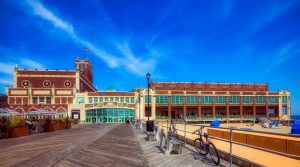 Who doesn't love to go to the beach especially in August on a warm summer day! Luckily, New Jersey has a ton of beaches that you can drive to from Jersey City with the family for the day. You can also eat and enjoy other activities on boardwalks which would be it a perfect weekend. We have a full list of beaches that are now open near Jersey City. Make sure to buy passes in advance depending on what beach you are interested in visiting.
Go Camping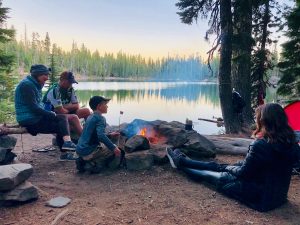 There are a lot of reasons to go camping. The most important one is to disconnect from the hustle and bustle of the city but also to get a break from your wired devices to enjoy nature. A perfect activity to enjoy with your family or friends, there are a ton of places to go camping near Jersey City that would make it a perfect activity in August. We have a full guide here. 
Set Out on a Hike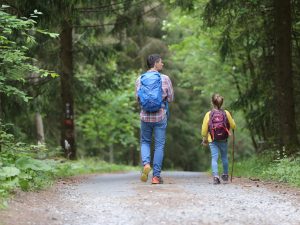 Speaking of connecting with nature, another amazing and affordable activity this August is hiking! This is perfect for families as you can pick what kind of trail you would like. It is a great way to get some fresh air and exercise as well and there are so many options to choose from. With COVID-19, activities have been quite limited too but hiking is a great option and one where you can socially distance. To help you find the perfect trail, we've created a list of the 10 Best Hiking Trails for Families Near Jersey City.
Hop on to a Ferry To Governors Island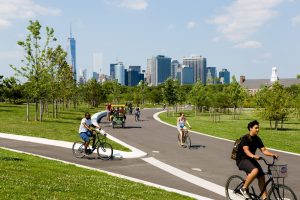 Governors Island New York is a 172-acre island in the heart of New York Harbor. If you are looking to escape the daily city life without having to go too far, check out Governors Island. With a ton of exciting activities for the family, beautiful views, good food, biking and so much more, you can have a perfect weekend here. Just catch a ferry from Manhattan and head to Governors Island. It is only an hour and 30 minutes and is a world of its own. The weather in August is perfect to enjoy the open spaces and have a picnic here. We have a full guide for Governors Island on our website here. 
Cool Off At A Pool or Waterpark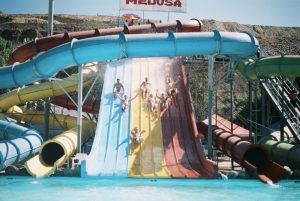 August gets pretty hot and before summer ends, don't forget to head to a waterpark to cool off. Kids especially love going and enjoying a hot summer day in a waterpark or outdoor pool and luckily there are quite a few near Jersey City that you can go to. They are taking the proper precautions for people who visit. Make sure to buy your tickets in advance! We have a full guide here. 
Go On A Drive-Through Safari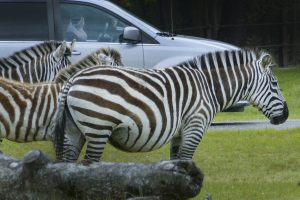 If you are interested in a fun socially distanced activity for the kiddos, drive through zoos would be perfect. The kids would totally enjoy this animal-filled experience with keeping safety in mind. Some of these options are over two hours, so you can always make a fun trip out of them if you want to go out of state or make it a weekend getaway! Make sure to check each zoo's information before you visit.
Visit A Sunflower Farm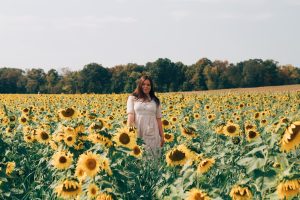 Sunflowers are the happiest flowers on Earth and they are absolutely gorgeous especially a full field of them. Before the peak season of sunflowers end, make sure to visit a local farm! Not only are they beautiful to look at, but you can also even get the most stunning photos and create memories with your loved ones. Some of these farms are doing tours and some are offering pick-your-own. Check out this full list of all the sunflower farms near Jersey City.
Mini Golf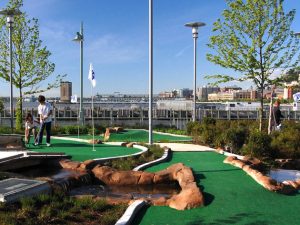 Nothing screams summer like mini-golf! It is the perfect activity to do with the family and kids. Luckily, there are a ton of mini-golf places that you can visit near Jersey City. Make a full day out of it as most of these places have lots of other activities like swings, games, vending machines, food, and some with gorgeous views. Pick one from our guide here.
Enjoy A Meal Outdoors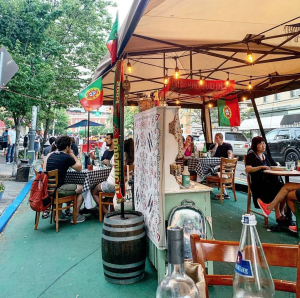 Even though due to coronavirus, New Jersey is only allowing outdoor dining for restaurants, we have enjoyed sitting outside at our favorite food spots in this beautiful weather. We are not sure what will happen once the weather changes, but for now, make sure to enjoy food outdoors at a local restaurant in Jersey City. We have created a full guide for you here on the website. There are all types of cuisines and options for everyone! If you are specifically looking for restaurants that are kid-friendly, check this blog out.  
Have a Picnic At Liberty State Park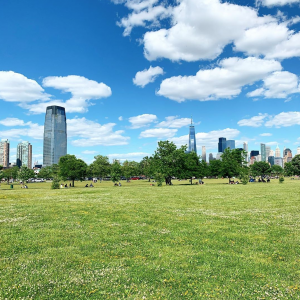 With the warm weather in August, who doesn't love a picnic? All you have to do is fill that basket with some snacks, a blanket, sunscreen, and some games and head out to Liberty State Park. Liberty State Park has stunning views of the Statue of Liberty, unobstructed views of Manhattan and the Hudson River. The park is great for children, runners, and anyone who needs an escape from city life and a healthy dose of fresh air. There is a ton of space for everyone so you will never feel like you cannot find a good spot for you or your family. We have created a list of all the parks that are now open here. 
Take Your Kids to A Sprinker Park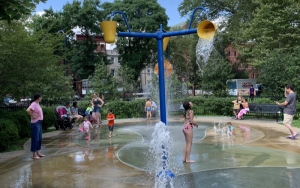 On a hot summer day, kids will love to run in a sprinkler park to cool off! This is a perfect and free activity for kids. If you don't want to go too far and still have a fun day, check out a local sprinkler park. We have gathered a list of the Sprinkler Parks in Jersey City.
Drive-In Movie Theatres
The perfect activity for August. Drive-in movies are now allowed and this is great news because we can watch movies in the best way possible, at a drive-in theatre! This is such a fun activity to do with the family and also a safe way to enjoy another activity to get you and the kids out of the house. Take a look at this list of the drive-in theatres near Jersey City.
Peach Picking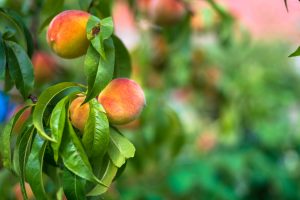 As we are entering into the peach season, the fruits are super sweet, juicy, and fresh. To ensure you are getting the freshest peaches possible, we suggest you take out the family and go pick your own. There are a ton of farms around Jersey City where you can go peach picking. Here is a full list. 
Enjoy a Beer At A Local Beer Garden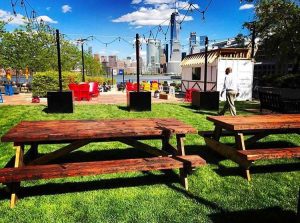 Sometimes there is nothing like sitting outside, drinking a beer, and enjoying an awesome view on a warm summer day or evening. Luckily, we have quite a few Beer Gardens in Jersey City to choose from. Each has some great beer, delicious foods, and most are even kid and family-friendly! Check out this list of the 'Must Go Beer Gardens in Jersey City.'
Check out The Warren County Hot Air Balloon Festival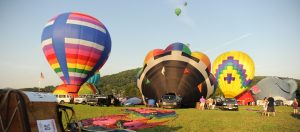 Definitely a fun activity for the full family. Come on out for a day out in the country, a charming glimpse of local scenery and the wonderment of watching mass hot air balloon launch from green pasture to blue sky each evening. They are proud to present to you the 20th annual Hot Air Balloon Festival at the Warren County Community College – to return to the Fairgrounds in 2021. The event is on till August 20th-August 23rd in the mornings and evenings. More information here.