Things to Do in August In and Around Jersey City
August is here! This is the perfect time of the year to spend some quality time with the family and participating in different activities before the peak vacation season ends and kids go back to school. Luckily, Jersey City and the areas near it have some fantastic options for all. We have something for everyone on this list, whether you are looking for some adventure or a relaxing summer afternoon!
Events: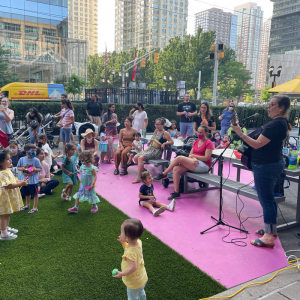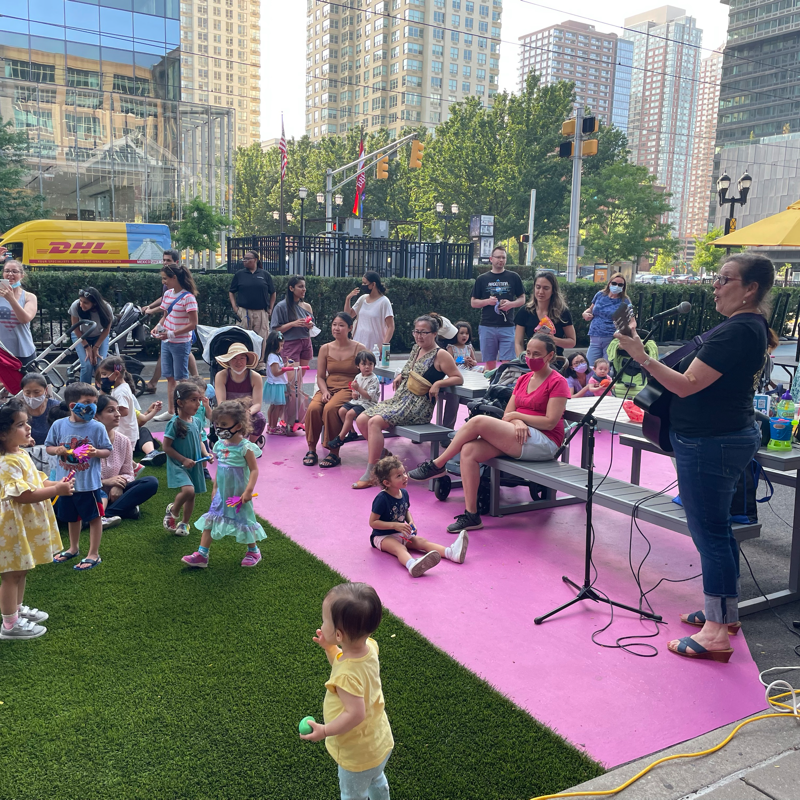 Join JCFamilies on Monday afternoon for Music for Kids sponsored by Mack-Cali. The class will be held from 5:30 pm-6:30 pm outdoors at 210 Hudson Street, Jersey City, NJ 07311 near Ziggy.
ALL kids and adults are welcome to join this FREE event! Please wear a mask and keep social distancing in mind if you attend.
https://jcfamilies.com/event/music-for-kids-at-harborside-free-event/

Hi Parents!
Our New Parents Meet-up is back!
Come out to have coffee and meet with other parents at Cafe Esme outdoors. They have a beautiful patio in the back to enjoy this summer. The meetup will be every Monday from 10:30 am-12 pm. Babies and kids are welcome to join too!
We'll see you there!
Attention JC residents!
This summer, join us for a weekly local market sponsored and organized by Mack-Cali and supported by JCFamilies. The event will be every Tuesday from 3-7 pm at 210 Hudson Street starting May 25th.
There will be local vendors and food vendors for you to spend the perfect day with the whole family outside. This is a free event, and everyone is welcome!
There will be a corner for kids to show their creativity; they can draw or paint.
Please come and support these local small businesses.
https://jcfamilies.com/event/jc-local-market-2021/
Drive-In Movie Night Series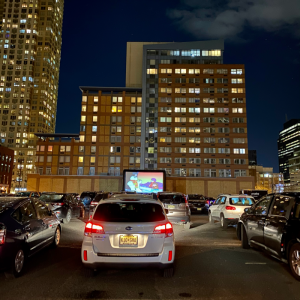 Exchange Place Alliance is so excited to organize another outdoor Drive-In Movie Night Series. This series will be taking place at 107 Morgan Street, Jersey City, New Jersey 07302.  The price per car for a spot is $20 and is non-refundable. If you have made reservations, you will get a unique ticket number for your site via email. Please make sure to print your ticket and bring it with you to the event. BUY TICKETS HERE. 
There will be an FM channel to tune into and listen to the movie audio while remaining in your vehicle.
Wearing masks will be enforced when less than a six-foot distance cannot be maintained. Social distancing will be implemented for all vehicles.
Lace-up your dancin' shoes and get ready to get down if you're headed to Jersey City's Groove on Grove. This free weekly music series that lasts from spring to early fall is an oasis of funky live tunes, local businesses, arts & crafts vendors, delicious food trucks, and a strong sense of community. The talent is in full force, and the vibes are at peak positivity at the Grove PATH Plaza.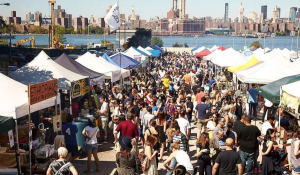 Exciting news! Smorgasburg is coming to Jersey City! The famous outdoor food market will be opening on May 29th in place of Lutze. The opening lineup will consist of 25 to 30 food vendors as well as beer and drinks.
Summerfest at Liberty State Park is back. Every Tuesday from 6:30-8:30. The event is at the South Overlook Lawn by the flags. Free parking.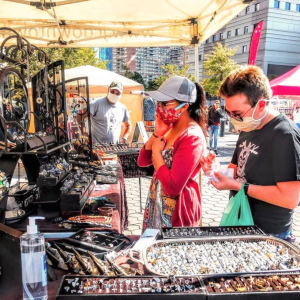 The Artist & Maker Market is an open-air bazaar featuring locally created fine art and premium hand-crafted goods. Artist & Maker Market connects artists and artisans with the Jersey City & metro NYC community. The mission is to support handmade goods as an alternative to mass-produced items and cultivate small businesses and entrepreneurship by providing a thriving place for them to sell. Visit the market Wednesday and Friday from 3-9 pm. They are also open on Saturdays from 12-6 pm.
Other Activities: 
Head to the Beach and Boardwalk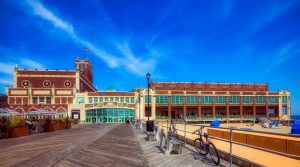 Who doesn't love to go to the beach, especially in August on a warm summer day! Luckily, New Jersey has many beaches that you can drive to from Jersey City with the family for the day. You can also eat and enjoy other activities on boardwalks which would be a perfect weekend. We have a complete list of beaches that are now open near Jersey City.
Go Camping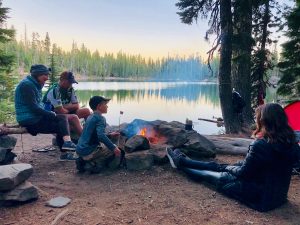 There are a lot of reasons to go camping. The most important one is to disconnect from the hustle and bustle of the city but also to get a break from your wired devices to enjoy nature. A perfect activity to enjoy with your family or friends, there are many places to go camping near Jersey City that would make it an ideal activity in August. We have a complete guide here. 
Set Out on a Hike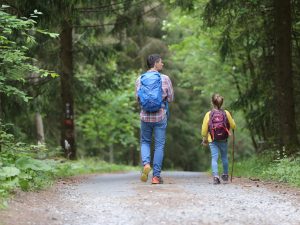 Speaking of connecting with nature, another great and affordable activity this August is hiking! Again, this is perfect for families as you can pick what kind of trail you would like. It is a great way to get some fresh air and exercise, and there are so many options. To help you find the perfect trail, we've created a list of the 10 Best Hiking Trails for Families Near Jersey City.
Hop on to a Ferry To Governors Island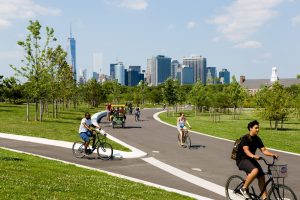 Governors Island New York is a 172-acre island in the heart of New York Harbor. If you are looking to escape daily city life without having to go too far, check out Governors Island. With many exciting activities for the family, beautiful views, good food, biking, and so much more, you can have a perfect weekend here. Just catch a ferry from Manhattan and head to Governors Island. It is only an hour and 30 minutes and is a world of its own. The weather in August is perfect for enjoying the open spaces and have a picnic here. We have a complete guide for Governors Island on our website here. 
Cool Off At A Pool or Waterpark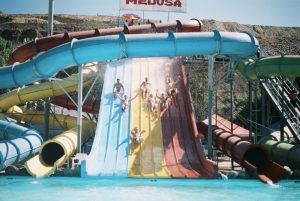 August gets pretty hot, and before summer ends, don't forget to head to a waterpark to cool off. Kids especially love going and enjoying a hot summer day in a waterpark or outdoor order cialis in south africa pool, and luckily there are quite a few near Jersey City that you can go to. They are taking the proper precautions for people who visit. Make sure to buy your tickets in advance! We have a complete guide here. 
Go On A Drive-Through Safari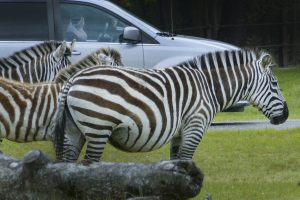 If you are interested in a fun, socially distanced activity for the kiddos, drive-through zoos would be perfect. The kids would enjoy this animal-filled experience by keeping safety in mind. Some of these options are over two hours, so you can always make a fun trip out of them if you want to go out of state or make it a weekend getaway! Make sure to check each zoo's information before you visit.
Visit A Sunflower Farm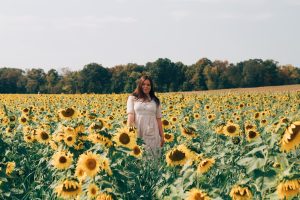 Sunflowers are the happiest flowers on Earth, and they are gorgeous, especially an entire field of them. So before the peak season of sunflowers end, make sure to visit a local farm! Not only are they beautiful to look at, but you can also even get the most stunning photos and create memories with your loved ones. Some of these farms are doing tours, and some are offering pick-your-own. Check out this complete list of all the sunflower farms near Jersey City.
Mini Golf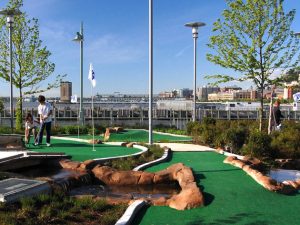 Nothing screams summer like mini-golf! It is the perfect activity to do with the family and kids. Luckily, there are a ton of mini-golf places that you can visit near Jersey City. Make a full day out of it as most of these places have lots of other activities like swings, games, vending machines, food, and some with gorgeous views. Pick one from our guide here.
Enjoy A Meal Outdoors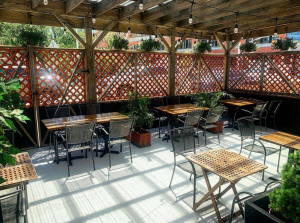 Enjoy sitting outside at our favorite food spots in this beautiful weather. We have created a complete guide for you here on the website. There are all types of cuisines and options for everyone! If you are specifically looking for kid-friendly restaurants, check this blog out.  
Have a Picnic At Liberty State Park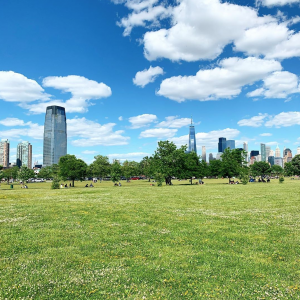 With the warm weather in August, who doesn't love a picnic? All you have to do is fill that basket with some snacks, a blanket, sunscreen, and some games and head out to Liberty State Park. Liberty State Park has stunning views of the Statue of Liberty, unobstructed Manhattan and Hudson River views. The park is excellent for children, runners, and anyone who needs an escape from city life and a healthy dose of fresh air. There is a ton of space for everyone, so you will never feel like you cannot find a good spot for yourself or your family. We have created a list of all the parks that are now open here. 
Take Your Kids to A Sprinker Park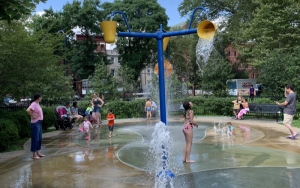 On a hot summer day, kids will love to run in a sprinkler park to cool off! This is a perfect and free activity for kids. If you don't want to go too far and still have a fun day, check out a local sprinkler park. We have gathered a list of the Sprinkler Parks in Jersey City.
Drive-In Movie Theatres
The perfect activity for August. Drive-in movies are now allowed, and this is excellent news because we can watch movies in the best way possible at a drive-in theatre! This is such a fun activity to do with the family and a safe way to enjoy another activity to get you and the kids out of the house. Take a look at this list of the drive-in theatres near Jersey City.
Peach Picking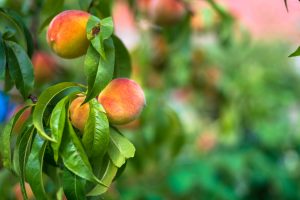 As we are entering the peach season, the fruits are super sweet, juicy, and fresh. To ensure you are getting the freshest peaches possible, we suggest you take out the family and pick your own. There are a ton of farms around Jersey City where you can go peach picking. Here is a complete list. 
Enjoy a Beer At A Local Beer Garden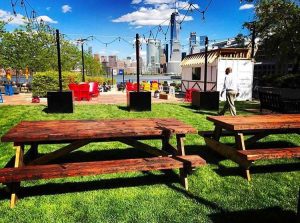 Sometimes there is nothing like sitting outside, drinking a beer, and enjoying a fantastic view on a warm summer day or evening. Luckily, we have quite a few Beer Gardens in Jersey City to choose from. Each has some great beer, delicious foods, and most are even kid and family-friendly! Check out this list of the 'Must Go Beer Gardens in Jersey City.'
Head To A Local Winery

Who doesn't love a glass of wine or a bottle, especially during the summer? Luckily, there are some fantastic wineries and vineyards near Jersey City that you can go to over the weekend. Check out our guide of the ten best wineries to check out this summer.
Get Fresh Produce At A Local Farmers Market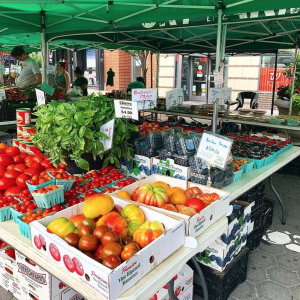 As the weather gets better, the farmers' markets around Jersey City are opening. Check out a local market for your fresh produce as well as other local products. We have created a guide of 10 farmers' markets in Jersey City here.
Check Out A Garden Near Jersey City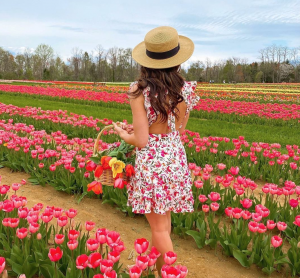 Are you looking for an activity where you can connect with nature this summer? Luckily, near Jersey City, there are gorgeous and luscious gardens that are open to the public. We have created a complete guide on it here. 
Visit A Beautiful Lake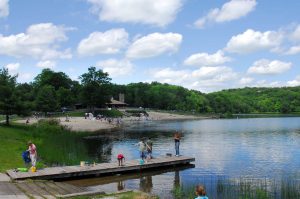 We know how much families want to enjoy the beautiful outdoors as the weather gets warmer. Luckily, there are endless opportunities to make unforgettable memories and experiences. New Jersey has some of the best lakes and the cleanest water for swimming, sailing, fishing, paddle boarding, and even kayaking. Check out the list we've created just for you of New Jersey's most beautiful lakes.
Visit Furry Alpacas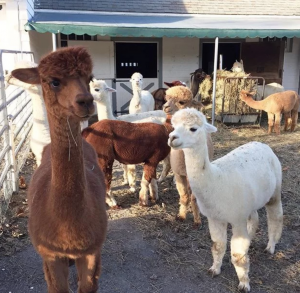 There is nothing cuter than going and visiting these furry, adorable alpacas with the kids. There are many petting zoos and zoos around Jersey City, but if you specifically want to meet these beautiful creatures, check out these farms. We have created this guide of the ten alpaca farms to visit near Jersey City.
Head To A Carousel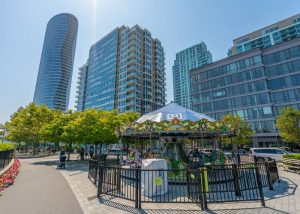 There are many exciting things for kids to do, like mini-golf, thrill rides at amusement parks, and waterparks, but there is something special and magical when you hop on a pretend pony and ride a carousel. Even babies love a good merry-go-round! Luckily, the Jersey City/New Jersey area offers some of the dreamiest carousels around.[/vc_column_text][/vc_column][/vc_row]