Things To Do in August In and Around Jersey City
With the sun shining brightly for the days to come, there are a plethora of enjoyable activities to do with the family, such as having lunch at Jersey City's ideal outdoor dining options, going for a picnic, taking in nature's beauty on a hiking trip, petting zoos, drive-thru zoos, checking out sunflower fields and so much more.
Featured Photo: JerseyPhotograher via Instagram
Smorgasburg Food Festival(Every Saturday)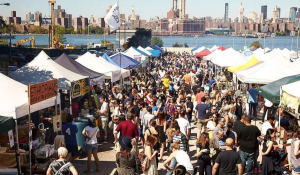 Exciting news! Smorgasburg is back in Jersey City! The famous outdoor food market is back this year and will be at the Urby Parking Lot. The opening lineup will consist of 25 to 30 food vendors, beer, and drinks. You can now order in advance via Uber and pick your food up.
Artist + Maker Market Hosted by HDSID
Wednesdays, Fridays, and Saturdays
Artist and Maker Market is every Friday, Saturday, and Wednesday. This event will be held at the Grove Street Path Plaza and includes an open-air bazaar featuring locally created fine art, premium hand-crafted goods, and more. More information here.
Groove On Grove 
Every Wednesday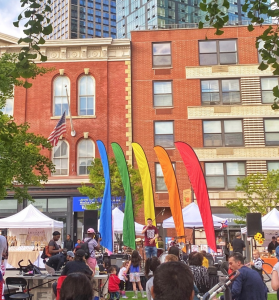 Hands up if you're ready to Groove! This event is FREE! Join HDSID for homegrown live music at the Grove PATH Plaza every Wednesday. More information here.
Summer Concert Series at Van Vorst Park 
Ongoing: 3-7 pm
The Pigeon Comes to Jersey City At Liberty Science Center
Ongoing 
The Pigeon Comes to Jersey City! celebrates the art and characters of beloved children's book author and illustrator, Mo Willems. This young learner exhibition features best-friend duo Elephant and Piggie, faithful companion Knuffle Bunny, and The Pigeon, the wily city bird best known for his antics in Don't Let the Pigeon Drive the Bus!
Activities will give young guests a chance to make art that is inspired by Mo Willems and to learn about the rich social and emotional lives of the author's characters. The exhibition also features prints of illustrations, including sketches and other preliminary materials, by Mo Willems. More information here.
Moms Night Out
Thursday, August 18th, 2022: 8-10pm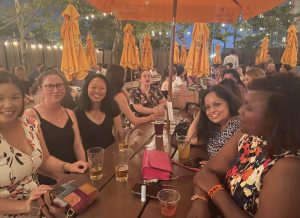 Are you a mom juggling work and kids and need a fun night out? Join Jersey City Moms and us for our mom's night out on August 18th from 8-10 pm at Porta. Come out and connect with other mamas and order some delicious drinks! This time we will charge an entry fee of $10, and the entry ticket will include three raffle tickets for you to enter to win some fabulous prizes. Get your ticket here. 
FLY NYC Kite Festival 
August 20th, 2022: 12-5pm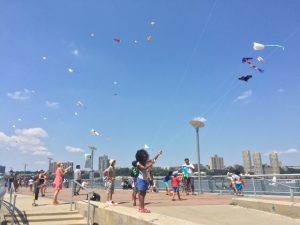 Join Riverside Park Conservancy in NYC for a day filled with music and kites fill the air at this festival for all ages! Kite kits are provided free for children (while supplies last), or bring your own favorite kite from home. More information here.
Head to the Beach and Boardwalk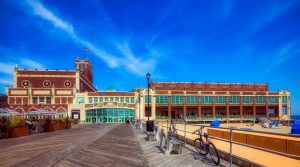 Who doesn't love to go to the beach, especially on a warm summer day! Luckily, New Jersey has many beaches you can drive to from Jersey City with the family for the day. You can also eat and enjoy other activities on boardwalks which would be a perfect weekend. We have a complete list of beaches now open near Jersey City.
Take Your Kids to A Sprinker Park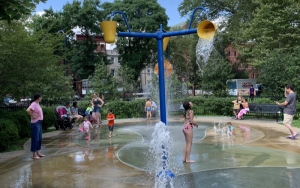 Kids will love to run in a sprinkler park on a hot summer day to cool off! This is a perfect and free activity for kids. Check out a local sprinkler park if you don't want to go too far and still have a fun day. We have gathered a list of the Sprinkler Parks in Jersey City.
Head To A Local Winery

Who doesn't love a glass of wine or a bottle, especially when the weather is so beautiful? Luckily, there are some fantastic wineries and vineyards near Jersey City that you can go to over the weekend. Check out our guide for the ten best wineries this summer.
Go Shopping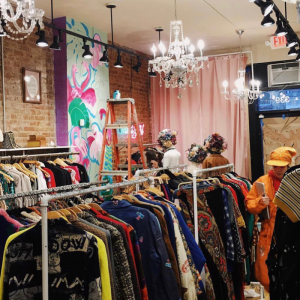 Looking for a gift for a loved one or want to go out and treat yourself? As summer is upon us, refresh your closet with fun spring and summer pieces. Jersey City and Hoboken have an abundance of local shops to shop for some fantastic things. So shop local and check out this complete guide here.
Enjoy A Meal Outdoors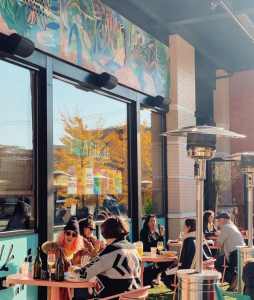 Enjoying a nice glass of wine and a delicious meal sounds perfect as the weather gets nicer. Luckily, all the fantastic Jersey City restaurants ensure a lovely outdoor seating experience in the spring! A lot of them have opened their patios and backyards this month. Check this list out to find one.
Check Out A Local Park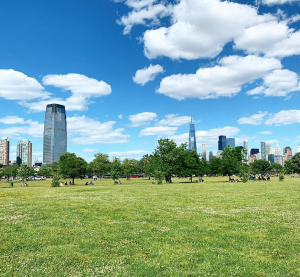 Although Jersey City is of the most populated cities in the US, it boasts dozens of parks and playgrounds for all ages to enjoy. These parks offer oases of peace in the middle of the busy, fast-paced city but also numerous activities. Please look at our guide to Jersey City parks and playgrounds and find the one (or more) that suits you best.
Get Fresh Produce At A Local Farmers Market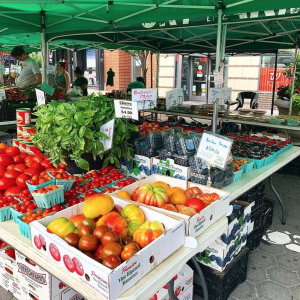 The farmers' market around Jersey City is opening as the weather gets better. Check out a local market for your fresh produce and other local products. We have created a guide of 10 farmers' markets in Jersey City here.
Go On A Hike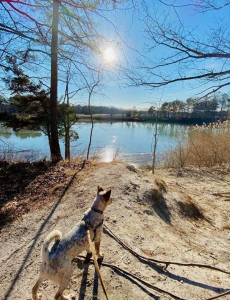 As the temperature gets warmer, it's the perfect time to grab your family and your camera and capture these unforgettable moments! Hiking is a great way to enjoy all that nature offers while spending quality time with the ones you love. Not to mention, it's a fantastic workout! To help you find the perfect trail, we've created a list of the 10 Best Hiking Trails for Families Near Jersey City here. 
Take The Kids To A Playground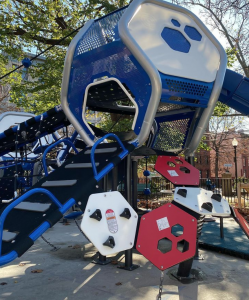 Jersey City is full of amazing playgrounds and parks for children of all ages. We have created a guide here of some of our top picks for playgrounds for kids in Jersey City. So step out and enjoy the sunshine with the little ones.
Watch A Movie At A Local Drive-In Movie Theatre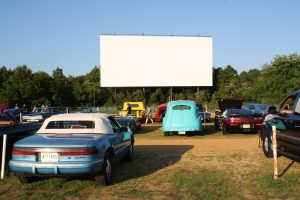 Drive-in movies have become a real hot spot during the pandemic. This is a fun activity with the family and a safe way to enjoy another move to get you and the kids out of the house. Luckily, a few drive-in movies near Jersey City continue to play your favorite movies! Here is a complete guide to them.
Experience A Drive-thru Safari Experience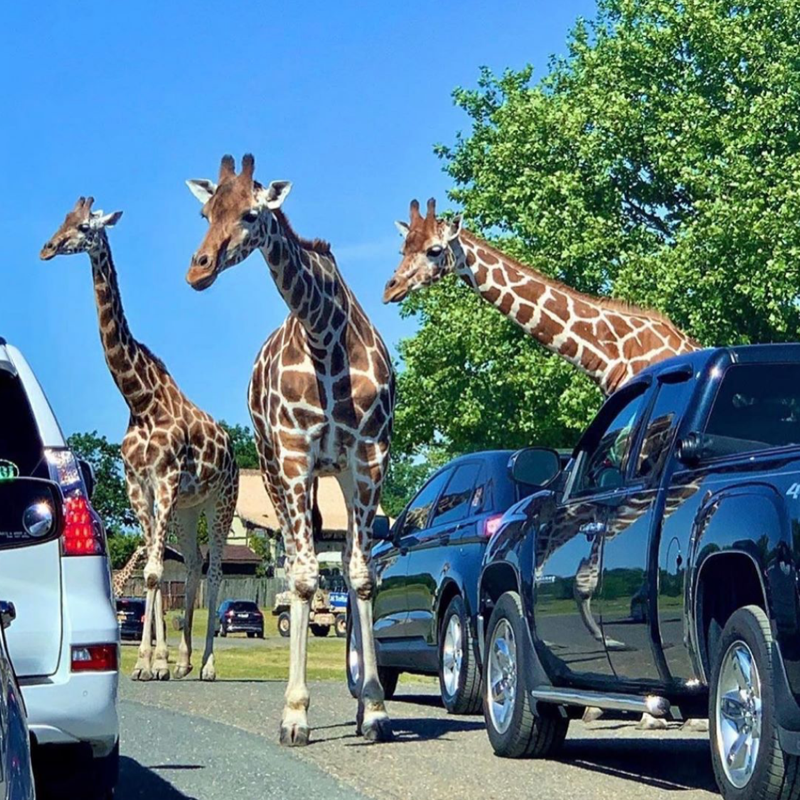 As the weather gets better, we know it is a critical time to keep the kids busy and adventure out into different activities with families. If you are interested in a fun, socially distanced activity for the kiddos, drive-thru zoos are a must. The kids would enjoy this animal-filled experience by keeping safety in mind. Check this guide out on our website.
Have Fun With Farm Animals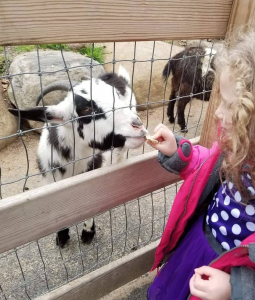 If you have small children who love animals or you're interested in having an animal-filled experience to remember, a petting zoo or pony ride might be the perfect place to take your little ones! Create unforgettable memories feeding and learning about all types of animals. Then, have fun with farm animals by checking this guide. 
Take Your Furry Friend To The Park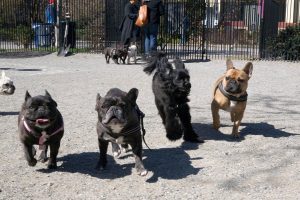 As the weather changes, our furry friends need fresh air. So take your pup to a local dog park. We have created a list of all the gardens open in Jersey City here. 
Check Out A Garden Near Jersey City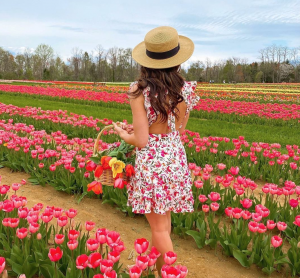 Are you looking for an activity where you can connect with nature this summer? Near Jersey City, gorgeous and luscious gardens are open to the public. We have created a complete guide on it here. 
Head to Governors Island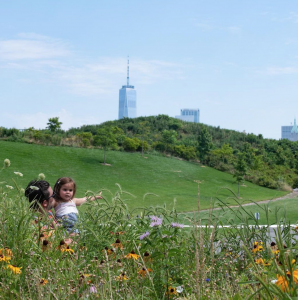 We know that families are always looking for new, fun, exciting places to visit during summertime. Governors Island, New York, is a 172-acre island in the heart of New York Harbor. It is a world unto itself, unique and full of promise. So if you want to escape the daily city life without going too far, check out Governors Island, New York. With a ton of exciting activities for the family, beautiful views, good food, and so much more, you can have a perfect weekend here. More information here. 
Get Some Baked Goodies From A Local Bakery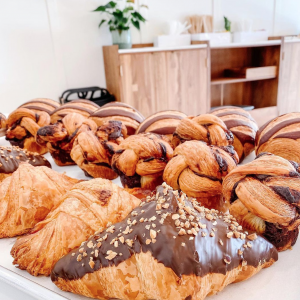 When it comes to fresh baked goods or the most delicious desserts, Jersey City bakeries do not disappoint! One great thing about a city as vibrant as Jersey City is that within each neighborhood, there's a great bakery filled with an array of bread and pastries. Therefore, we have created this list of the best 15 bakeries you have to check out.
Check Out A Local Zoo or Aquarium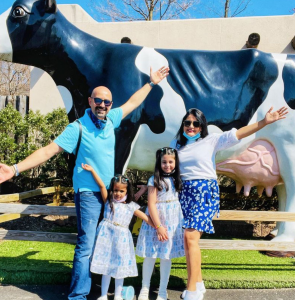 You don't have to travel very far to find educational and fun activities near Jersey City; there are many great zoos and aquariums nearby to keep your family entertained all season long. Check out our list of some of the best ones to spend quality time with your family while also learning about wildlife!
Check Out A Beer Garden
Sometimes there is nothing like sitting outside, drinking a beer, and enjoying a fantastic view on a warm summer day or evening. Luckily, we have several Beer Gardens in Jersey City to choose from. Each has some great beer and delicious foods; most are kid and family-friendly! Check the list here.
Visit A Beautiful Lake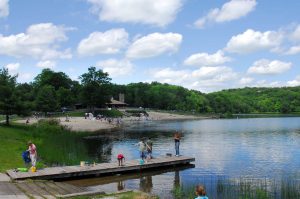 We know how much families want to enjoy the beautiful outdoors as the weather gets warmer. Luckily, there are endless opportunities to make unforgettable memories and experiences. New Jersey has some of the best lakes and clean water for swimming, sailing, fishing, paddle boarding, and even kayaking. Check out the list we've created for you of New Jersey's most beautiful lakes.
Mini Golf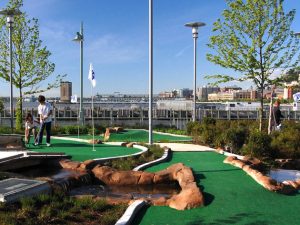 Nothing screams summer like mini-golf! It is the perfect activity to do with the family and kids. Luckily, there are a ton of mini-golf places that you can visit near Jersey City. Make a full day out of it as most businesses have lots of other activities like swings, games, vending machines, food, and some with gorgeous views. Pick one from our guide here.
Visit Furry Alpacas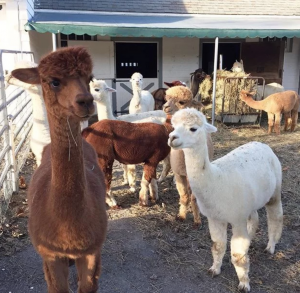 There is nothing cuter than going and visiting these furry, adorable alpacas with the kids. There are many petting zoos and zoos around Jersey City, but if you want to meet these beautiful creatures, check out these farms. We have created this guide of the ten alpaca farms to visit near Jersey City.
Visit a Waterpark

There are heaps of indoor and outdoor water parks around Jersey City. But did you know that an hour or two of driving will land you in some fabulous water park getaways? We have a complete guide here.
Head To A Carousel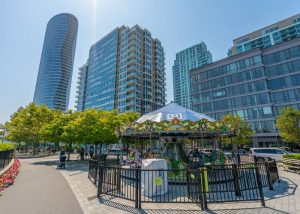 There are many exciting things for kids to do, like mini-golf, thrill rides at amusement parks, and waterparks, but there is something unique and magical when you hop on a pretend pony and ride a carousel. Even babies love an excellent merry-go-round! The Jersey City/New Jersey area offers some of the dreamiest carousels.
Go Camping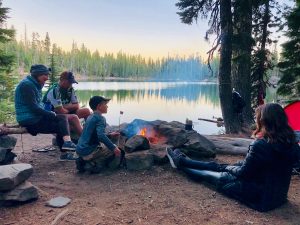 There are a lot of reasons to go camping. The most important one is to disconnect from the hustle and bustle of the city but also to get a break from your wired devices to enjoy nature. A perfect activity to enjoy with your family or friends, there are many places to go camping near Jersey City that would make it an ideal exercise in June. We have a complete guide here. 
Head to A Movie In The Park

Movies in the parks are back in Jersey City and Hoboken. So enjoy a movie under the stars curled up in a blanket and enjoy a movie with the family. We have the complete guide to filming in the park here.
Treat Yourself To Ice Cream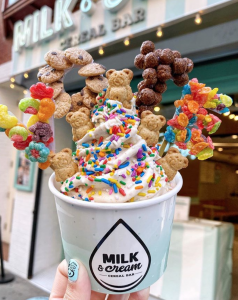 Jersey City is filled with yummy ice cream spots you can check out after an activity-filled day. There are many ice cream places to choose from in Jersey City, and each shop offers something a bit different in taste, flavor, and shop atmosphere. Check this list here.
Visit Little Island At Pier 55, New York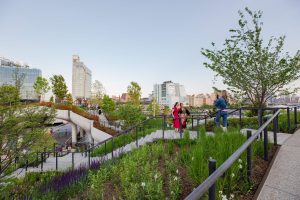 Little Island in New York City is a new, accessible public Park pier within the larger Hudson River Park. They opened to the public on May 21, 2021. It is a 2.4-acre public park in Hudson River Park on the West side of Manhattan. Components of the pier, nestled among more than 350 species of flowers, trees, and shrubs, include a 687-seat amphitheater, an intimate stage and lawn space, and dazzling views of other portions of Hudson River Park, New York City, and the Hudson River.
Visit Lavender Fields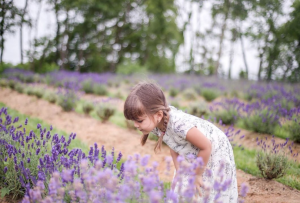 With summer comes lavender season too. Once June hits, Lavender fields are filled with beautiful and luscious-smelling lavender. Lavender farms are a must-visit; luckily, there are a few in New Jersey that you can check out with the family. There are many other activities at these farms, which would make it a great day for the whole family! Check out this list of all the Lavender fields near Jersey City.
Go, Strawberry Picking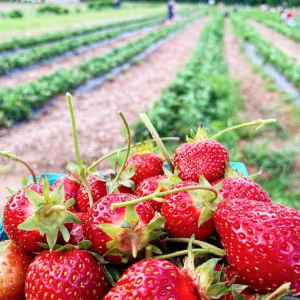 If you are looking for a fun and active way to get the whole family outside in the summer sun, give strawberry picking a try! There are plenty of strawberry picking farms around Jersey City, NJ, so you have no shortage of options. We have a complete guide of farms to visit for strawberry picking near Jersey City. 
Go, Blueberry Picking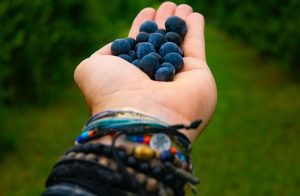 If you are looking for a fun and active way to get outside, blueberry picking can be a perfect way! There is a ton of blueberry picking and fruit picking around Jersey City. We have a complete guide listed here.
Pick Your Own Fruits and Vegetables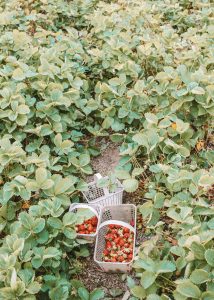 Summer is officially here, and picking your own fruits is a big part! Pick-Your-Own fruit is a fun activity to get the whole family outside and some fresh produce for your house.
Go on a Boat Ride/Cruise With Your Child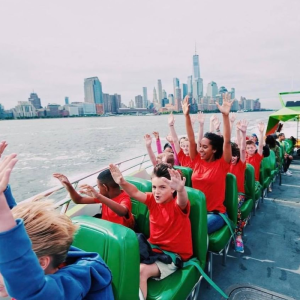 When summer hits, parents always look for unique and fun activities for kids. Cruise rides for kids are a different and memorable experience. Boat rides and cruises are not just for adults. Make an adventure out of the day with the little ones, and get on board for some unlimited fun! Check the guide out here. 
Go Pick Some Delicious Peaches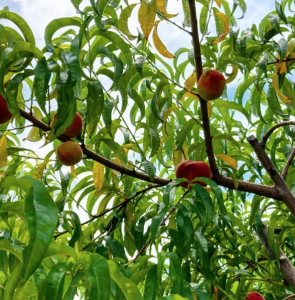 Just like our posts about picking your own blueberries and strawberries around Jersey City, there is an abundance of farms to pick your own peaches as well. As we are entering the peach season, the fruits are super sweet, juicy, and fresh. So to ensure you are getting the freshest peaches possible, we suggest you take out the family and pick your own. Check out the guide here. 
Visit a Sunflower Farm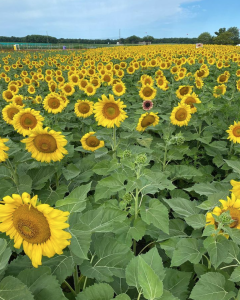 Sunflowers are the happiest flowers on Earth, and they are gorgeous, especially an entire field of them. So before the peak season of sunflowers end, make sure to visit a local farm! Not only are they beautiful to look at, but you can also even get the most stunning photos and create memories with your loved ones. Some of these farms are doing tours, and some are offering pick-your-own. Check out this complete list of all the sunflower farms near Jersey City.
Go Glamping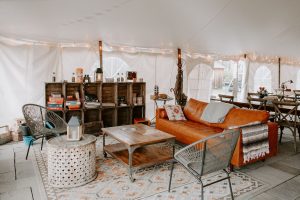 We have all heard of camping, but have you ever gone glamping? Glamping is the more luxurious way of camping! Why sleep on the ground when you can snuggle beneath a comfy blanket under the stars in a queen size bed? Glamping is the perfect getaway to enjoy the experience of camping but with a bit of added ease. Lucky for you, there are some great spots near Jersey City where you can go glamping. Check out the guide here. 
Thankfully, Jersey City/New Jersey is filled with infinite possibilities on what to do, places to see, and foods to eat. If you feel like learning about the history of winemaking and how wine is made, consider a one or two-hour excursion to one of the wineries in New Jersey. Then, capture the summertime vibe by planning a trip to a lavender farm or sunflower fields and bring home fresh lavender, sunflowers, and handmade products. Looking to stay close to home? Explore one of the many parks or dine at top restaurants in the state's most diverse city, Jersey City. 
Updated August 11th, 2022