Amusement Parks Near Jersey City
We are always looking for new and interesting (not to mention fun) things to do with our kids and when it comes to the summer, amusement parks are a must-visit with the family. There are quite a few amusement/theme parks that are now open near Jersey City. Have a fun-filled day with family or friends on some thrill rides and take in the adventure for the day. If you are looking for other things to do around Jersey City, check out our '30 Places to Visit in New Jersey This Summer' for some ideas.
Please call or check the website of each park to make sure they have availability and are open as hours are subject to change.
Six Flags Great Adventure
1 Six Flags Boulevard in Jackson, NJ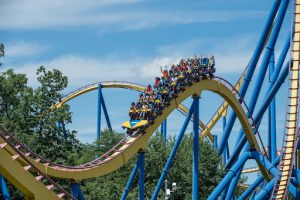 Six Flags Great Adventure is a staple on the east coast making it the perfect addition to this list. While Six Flags has several locations, the largest one is right here in Jackson, New Jersey. Whether it's flying like Superman, facing your fears on Kingda Ka, the tallest coaster in the world and fastest roller coaster in North America or twirling the day away on Pepe' Le Pew's Hearts Aweigh, there's something for everyone at Six Flags! Ticket options include a daily ticket, gold season pass and a Six Flags Membership. Before you enter the park you can also explore the Six Flags Safari!
Jenkinson's Family Amusement Boardwalk
500 Boardwalk, Point Pleasant Beach, NJ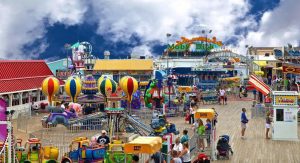 Take a stroll down the boardwalk at Jenkinson's! There are so many fun things to do for the whole family to enjoy! Jenkinson's has tons of shops, candy stores, restaurants, rides, and so much more. They have awesome clean beaches to spend the whole day playing and relaxing. Win big with the boardwalk games, fill your belly with yummy treats and children can visit the onsite aquarium for just $8. If you decide to take a dive into the ocean or soak up some sun, don't worry about the fee because the beach is free! They are open daily from 10 am-10 pm.
Diggerland Construction Theme Park
100 Pinedge Dr, West Berlin, NJ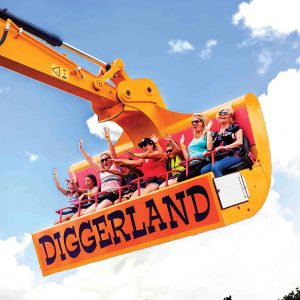 At Diggerland, kids are encouraged to get messy! This is the perfect construction-themed park for kids. Pick things up and tear things down behind the wheel of a dumper truck! There are so many construction-themed rides for you and your family to enjoy! Kids can enjoy operating diggers, backhoes, tractors, and more. Diggerland XL is the adult-friendly part of the park that allows adults to feel the thrill of operating heavy machinery. The park is an hour and a 1/2 drive from Jersey City.
Keansburg Amusement Park
275 Beachway Ave, Keansburg, NJ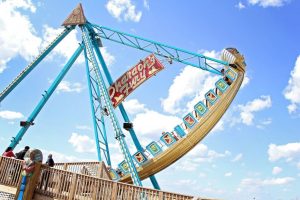 Keansburg Amusement Park offers over 40 rides including kiddie family and thrill rides. They have rides appropriate for all ages. Also, they have reopened and masks are required on all rides. With the amusement park, they also have a water park called Runaway Rapids which is perfect to the beat heat when you visit there.
Land of Make Believe
354 Great Meadows Rd, Hope, NJ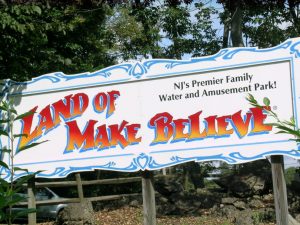 The Land of Make Believe and Pirate's Cove is a family water park and amusement park! The park offers many rides like the Jump Around Frog, the Rockin Tug, Action River Ride and many more. The little ones will love the turn of the century Grand Carousel and Old McDonald's farm with live farm animals! Get the whole family involved with boardwalk games and prizes. There are 9 food areas on-site that serve everything from burgers, hot dogs, chicken nuggets, homemade fudge, caramel corn, ice cream, and more! The park offers free parking and a free picnic area too. Admission to the water park is free with amusement park admission.
Storybook Land
6415 E Black Horse Pike, Egg Harbor Township, NJ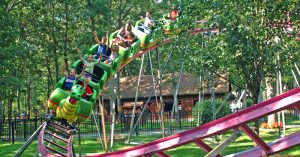 For over 60 years, since its establishment in 1955, Storybook Land has been keeping the spirit of childhood alive in an entertaining and educational atmosphere. Storybook Land is a magical park for kids and families. The timelessness of childhood will ring true as your family literally walks through its all-time favorite stories and nursery rhymes at Storybook Land. Children's classics are interspersed with exciting new family rides and attractions in a remarkably clean and enjoyable park setting!
Wild West City
50 Lackawanna Dr, Stanhope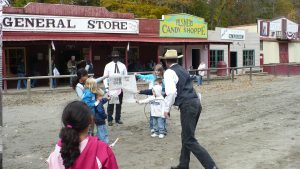 This is the perfect place for the little cowboy or cowgirl in your life! Wild West City is a town rooted in traditional family values where history and entertainment create an unforgettable moment in time.  Wild West City is the only western heritage theme park on the East coast and their shows and activities have at their very core the important, ageless theme of the triumph of good over evil, where justice prevails and the good guys still win! Casino Pier
800 Ocean Terrace, Seaside Heights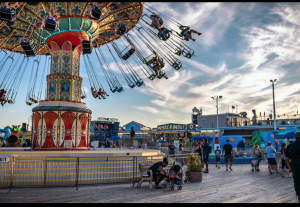 Casino Pier is an amusement park situated on a pier, in Seaside Heights, New Jersey. The pier opened in 1932 and formerly extended approximately 300 ft into the Atlantic Ocean, from the narrow strip of the Barnegat Peninsula in which Seaside Heights is situated. Now it's filled with fun rides, a Ferris wheel, race cars and so much more. They also have a water park which is perfect for the summer heat.
Fantasy Island
750 North Bay Ave Beach Haven, NJ

Boasting 17 amusement rides, over a dozen boardwalk games, an arcade, boardwalk grille, a classic carousel, private parties and so much more, Fantasy Island is a clean, safe amusement park that is fun for people of all ages. They are located in the heart of Beach Haven right on Long Beach Island and we are the ONLY amusement park on LBI. Bring the whole family! Fantasy Island is the kind of amusement park that has become a rarity, a warm, family-friendly place that will remind you of the wonderful times you had as a kid. Enjoy some cotton candy. Throw some skee-ball. Play a few games before jumping onto our spinning roller coaster, Tilt-A-Whirl, and iconic Giant Wheel.
Sesame Place
100 Sesame Rd, Langhorne, PA 19047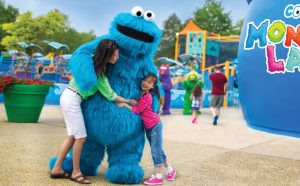 The show we love comes to life with this colorful and fun theme and water park! Join Elmo, Cookie Monster, Big Bird and the rest of the lovable Sesame Street gang and explore all the excitement at Sesame Place. Sesame Place is about an hour and a half away from downtown Jersey City.
Playland's Castaway Cove
1020 Boardwalk, Ocean City, NJ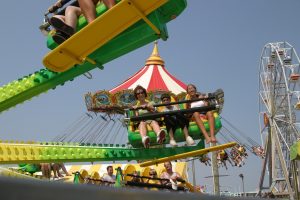 Playland's Castaway Cove is an amusement park situated on a pier, in Ocean City, New Jersey. The pier opened in 1959 and features 28 ride and attractions, including 4 roller coasters. Take the kids for a spin on the 90-foot Ferris wheel as well for some gorgeous views. They are about 2 hours away from Jersey City so this can be a great place to spend the whole day with the family.
Victorian Gardens at Wollman Rink in Central Park(Closed)
830 5th Ave, New York, NY 10065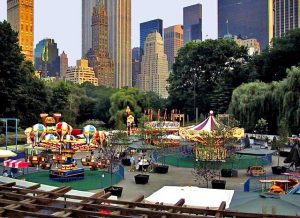 Victorian Gardens is a seasonal traditional-style amusement park that is set up at Wollman Rink in Central Park, Manhattan, New York City, from spring through fall each year. Your little ones can enjoy traditional rides and carnival games like the Happy Swing and Whac-A-Mole while enjoying popular treats such as cotton candy and so much more! Live entertainment can also be seen on the weekends. This park is about a 51 minute drive or train ride from Jersey City.
Updated July 26th, 2022