Mathematics Classes For Jersey City Kids
Mathematics Classes Jersey City. Amongst all the academic subjects in school, math can be quite an overwhelming subject for many children and can often scare them away from learning it. Luckily, Jersey City and Hoboken have a ton of mathematics classes for children to improve their skills and get over their math phobia! Therefore, we have created a list of businesses that offer these classes online and some via in-person so feel free to pick the best option for your child.

AlphaMinds Academy
At AlphaMinds Academy, we teach mathematics based on the same curriculum that is taught in Singapore, a tiny Asian nation that leads the world in assessment tests for math and whose students are routinely rated amongst the best in the world in math. What sets the Singapore Math curriculum apart is that it emphasizes core understanding of mathematical concepts and develops problem-solving skills through questions that become more complex with each level. Singapore Math not only helps students become more successful problem solvers, it helps them gain a sense of confidence and resourcefulness because it insists on conceptual depth. Whether your child needs additional help in their Math studies or is looking for extra challenges, our small group classes and one on one tutoring offer an individualized curriculum that helps students succeed in their learning!
MATH & LOGIC*:
Logic PreK (3-4 yo) & Logic K (4-5 yo)
Mathematics (gr. 1-6)
Pre-Algebra
Algebra I & Algebra I Advanced
Geometry (gr. 7-9)
Mathnasium of Jersey City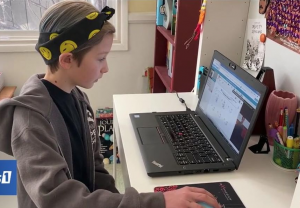 This is a math-only learning center that focuses on helping kids to understand maths and the logic behind each problem by using methods that can be easily grasped by children of all ages. Boasting of specially trained math instructors, these coaching classes create an encouraging and caring environment for kids allowing them to open up about their apprehensions about the subject so that the instructors can pinpoint the child's unique learning needs and cater to it accordingly. Additionally, their formula for teaching kids math, the Mathnasium Method™ has transformed the way kids learn math for over a decade across 1,000+ centers in the US and Canada as well. Read more here. 
Kumon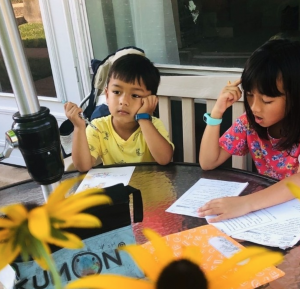 For more than 60 years, Kumon's after-school academic enrichment program has helped children achieve success worldwide. We strive to instill in children the desire to achieve and the motivation to learn on their own. Whether your child is seeking enrichment, needs help catching up, or is just beginning his or her academic career. Additionally, the Kumon Math Program is a comprehensive curriculum that develops the necessary skills to help children progress from counting through calculus. For more information about the Kumon Math Program.
101 Discoveries 
101 Discoveries bring you the same curriculum that is taught in the country of Singapore whose students top the world in math achievement, focusing on a problem-solving and in-depth understanding of the math skills. Students take part in math competitions as well. The fall semester kicks off on Tuesday, September 17, 2019, at MoRA in Jersey City. Classes will finish on Tuesday, January 28, 2020. No classes during the Winter Break on December 18, 2019 – January 1, 2020. You can find more information here and register.
JEI Learning Center
JEI Math develops interest and confidence in math through mathematical thinking, creativity, and problem-solving skills. They do this by learning based on concept and principle understanding. They offer a complete program for grades Pre-K to 9 and each level of the JEI Math program is designed with specific learning objectives. Learn more by scheduling an appointment with them here. 
Aloha Mind Math 
ALOHA Mind Math is a leader in K-6 instruction and helps students develop the academic skills needed to excel. Visit their Mind Math learning centers – for kids ages 3-12. Mind Math, is designed around Abacus classes for kids. These skills also enhance cognitive development and produce real results that last a lifetime. They are offering online classes too.
Mini Ivy

Our Math classes take a unique approach – instead of solving many questions in each class, we focus on one question per class. We start by developing a generic framework around the concept: from learning the fundamental math principles, to translating the word problem into math equations, and solving it in multiple ways (brute-force method, logic, pattern recognition, algebra, geometry, and coding).
Updated August 8th, 2022