Luna de Papel Turns 3!
This month, Luna de Papel, a beautiful crafting space that has become a Jersey City staple, celebrates its 3 year anniversary. Ruth and Marcelo Salas, along with their 2 daughters, have become such an integral part of the family community here in Jersey City and have brought something special to their corner of our great town.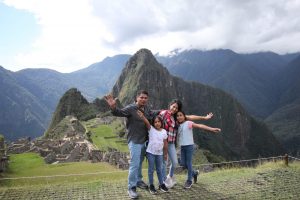 The idea for Luna de Papel came out of a conversation Ruth had with one of her daughters several years ago. When her daughter wanted to throw away a pair of jeans because there was a hole in them, Ruth realized she needed and wanted to teach her daughters about resourcefulness through sewing, crafting, repurposing and more. Ruth, who had grown up in the mountains of Peru, had come from a background where every toy, piece of clothing, accessory, etc. was handmade. She felt a strong desire to pass this along to her own children.
At the time Ruth and Marcelo opened their space on Communipaw Avenue, the area was still growing. Even though they were located a short distance from the Liberty Science Center and the Hudson Light rail, they were not getting a lot of foot traffic and the business was slow to build momentum. However, through continued community presence, going to events such as those with JCFamilies, and word of mouth, the business has continued to grow and expand. There are even several families who come in from other cities such as Hoboken!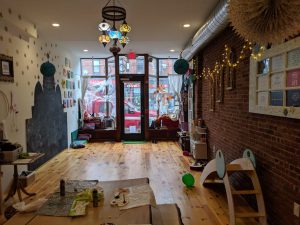 Currently, Luna de Papel offers daytime classes including Mommy/Daddy & Me classes, Drop-In & Play hours, and Creative Little Hands. After school workshops run from 3:30-5:00 Tuesday through Friday. The space also offers adult classes through their Crafter Hour series, and camps for school breaks and holidays.
Another really special thing Ruth does through Luna de Papel is customized birthday parties and private events. She will meet with you to discuss your theme, create a beautiful custom-made backdrop and develop crafts for the kids that relate to the party's theme. Luna de Papel offers incredibly original and beautiful celebratory experiences.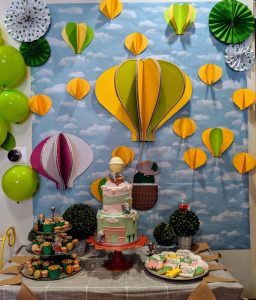 Ruth, Marcelo, and their children invite all of their friends, family, and supportive community to their space this Saturday, November 23rd from 1:00 pm-4:00 pm. In addition to coming to say hello to the Salas family, there will be face painting provided by JCFamilies, treats by Bread N' Spoon Bakery, and craft stations where visitors can make their own special creations. Additionally, each guest will receive a 20% off coupon for a class of your choice! FULL DETAILS HERE.