The Growing Tree II Learning Center In Jersey City Is Open
The Growing Tree II Learning Center Jersey City, a program of UCP of Hudson County, provides daycare services for children 6 weeks to 4 years of age. Their program is housed in a one-story building with ADA accessibility and an enclosed playground. The Growing Tree II is made up of four classrooms which each serve a separate age group as specified by the New Jersey Office of Licensing and maintains child/staff ratios in accordance with these regulations as well.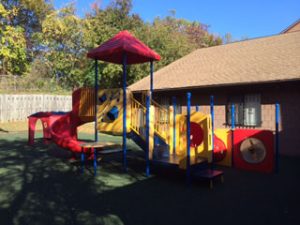 Their center, located in downtown Jersey City, is within walking distance for many of the families served. Public transportation is also easily accessible (bus lines, light rail, and the path train are within 2-3 blocks) making it an easy commute into New York City.
The center offers a nurturing, loving, and warm environment where the children are treated as individuals. The children learn and develop at their center following the guidance of our diverse and certified staff using developmentally appropriate practices as outlines by NAEYC. All of their staff members are also First Aid and CPR certified and re-certification is completed yearly. The classrooms are rich in literacy and multicultural experiences since all toys and areas are labeled using the languages that are represented within our center.
Providing services to children 6 weeks of age to 4 years old year-round!
Set up a virtual meeting by calling us at (201) 386-1502 or email us at [email protected]. 
Hours of Operation are from 7:30 a.m. – 5:30 p.m. 
The Growing Tree II is approved by the NJ Department of Children & Families for meeting Health and Safety CDC COVID-19 Guidelines.
As per COVID regulations parents and/or visitors are no longer permitted inside the center during operating hours. The Director or supervisor is on sight and available to provide assistance to families.
What you can expect at Growing Tree 2:
This School experience is one-of-a-kind! Our Facility offers…
Developmentally appropriate practices, a private fully enclosed Playground, and safe paths for daily walks.
Stroller storage area, located through the Playground entrance.
Certified staff members are First Aid & CPR Certified.
Daily temperature screenings are taken during drop off and pick up. Each classroom has a designated entrance, allowing families to drop off and maintain distance efficiently.
Spacious classrooms disinfected daily
Social distancing is encouraged and our space is designed in a way that helps children interact safely. Social distancing signs and marking are visible around the perimeter of the school as well as inside the classrooms.
Children 2 years and up are encouraged to wear facial masks with the exemption of meal and nap times.
Teachers are also required to wear masks at all times.
To minimize physical staff interaction, we have implemented food such as breakfast and lunch provided by parents. We would now solely provide 3:00 pm snacks and water. All belongings are sent home daily.
They take pride in establishing a nurturing, family-oriented, warm environment. Their team thrives in adapting to complying with the office of licensing approved protocols. Staff members are consistent with daily rigorous health/cleaning protocols to ensure safety with the prevention of transmission.
As September is approaching, their teachers are ready to work with children on literacy enrichment and reading readiness. They are eager to welcome new families to the Growing Tree. They hope to ease the uncertainty so many parents are experiencing during these difficult times. Finding a trusting daycare could be a challenge in itself, they are here to help and provide the best service a school could offer.
They are here to serve our community and provide a safe and secure learning place. We are all in this together!