What To Do When Your Child Is Afraid of the Dentist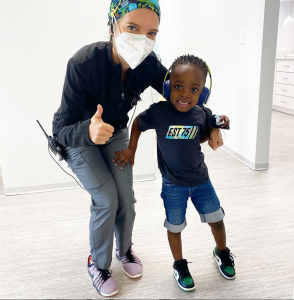 By: True Dental Care
Early, routine dentist visits are so important for helping children learn lifelong habits for healthy teeth and good oral hygiene. Pediatric dentistry differs from general dentistry because pediatric dentists receive specialized training for diagnosing, treating, and managing dental and oral conditions specific to children. The focus is on delivering effective, gentle care while catering to the curiosity, fears and sensibilities of kids.
While some kids jump for joy when they think of all of the "cool" equipment at the dentist's office, others experience dread and anxiety at the mere mention of having their teeth looked at. Parents shouldn't worry if their kids are afraid of going to the dentist because it's perfectly common and natural. 
At True Dental Care, we've seen that the best way to help your child get over the fear is to create a very positive, encouraging experience. The right approach can help to create a lifetime of healthy smiles! Of course, it's expected that some children will feel a little bit of extra fear as they return to their regular checkup schedules following COVID-19. This is where creating that safe, gentle environment becomes even more critical. 
Top Ways To Ease Your Child's Fear of the Dentist 
Take a look at some fear-busting tips for easing kids back into dental visits:
Focus on fun and learning!

Let your child know what to expect from an upbeat, exploratory perspective. Preparing them for what to expect is a great way to reduce anxiety because "fear of the dentist" is often just fear of the unknown. You can also remind them that the dental staff is excited to see them, talk to them and help them learn some fun facts about how to keep their teeth healthy and clean!

Give it to them straight.

Kids will notice that something is different when they visit the dentist during COVID-19 from the moment they walk in to see things like extra PPE on the staff and expanded sanitizing measures. Be upfront by letting your child know that it's all there for their added safety. At our office, we've gone above and beyond to create the safest environment possible for our guests and staff. First, we've expanded our space to ensure that our waiting room remains mostly empty. We've also introduced safety measures like advanced HEPPA and UV light air purification in each room. We've also utilized special air suction units and vapor to sterilize our rooms. In addition to pre-screening, we require that everyone keeps a mask on unless they are the patient in the chair. Let your child know, their temperature will be checked by a touchless thermometer soon after arriving.

It's okay to use distractions.

Like adults, children can reduce stress levels by thinking of other things in the moment. When bringing your child to see us at

True Dental Care

, you can always mention the cool prize they'll be getting at the end of their visit if they're feeling a bit antsy building up to their examination. Also, our pediatric patients can "get out of their heads" a bit with help from our waiting room's iPad, ceiling television with Netflix and Disney+ and plenty of cool toys.
As you prepare for a first or return visit with a pediatric dentist, it's essential to know that it's perfectly normal for kids to be a little anxious or uncertain. Dr. Mila Cohen from True Dental Care, is specially trained to use age-appropriate techniques to turn your visit into a very positive experience that allows your child to receive the essential screening and cleaning measures. You can talk to the team at True Dental Care to help make sure that fears don't stand in the way of your child receiving the dental and oral care and detection that is so important for kids at all growth stages!