10 Gardens near Jersey City, you should explore this summer
Hey Families! Spring is here, and the outdoors is beckoning! Botanical gardens are another fantastic opportunity to experience nature, similar to camping and hiking, where you can absorb the beauty of your surroundings without being distracted. The towering vibrant trees, the fresh aroma of the blossoming flowers, and the ericaceous plants that are beautifying these exquisite gardens capture people searching for a peaceful retreat conveniently located near Jersey City, allowing families like yours to spend the entire day in these scenic landscapes. If you would like to stay local and enjoy nature, you can visit a local park in Jersey City.
There are many other fun activities you can do with the little ones near Jersey City, like strawberry picking, going to a park, hiking, and heading out to a petting zoo coming up this season.
Please call and confirm before you visit any of these gardens, as the schedule is subject to change.
New Jersey State Botanical Garden & Skylands Manor (Open)
2 Morris Rd, Ringwood, NJ 07456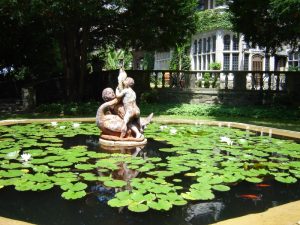 New Jersey Botanical Garden is a 96-acre garden, and it is open to the public. It is located about an hour away from downtown Jersey City. The gardens are surrounded by 1,000 acres of woodlands with extensive views of the Ramapo Mountains and the mansion – Skylands Manor. The gardens contain various plants, evergreens, and deciduous trees and shrubs in specialty areas. Make sure to wear a mask when you visit. Admission to the Botanical Garden itself is always free; however, there is a parking fee charged by the state during the summer months.
New York Botanical Garden (Open)
2900 Southern Boulevard Bronx, NY 10458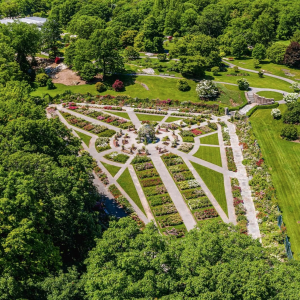 The New York Botanical Garden near Jersey City is an advocate for the plant kingdom. The Garden pursues its mission through its role as a museum of living plant collections arranged in gardens and landscapes across its National Historic Landmark site, comprehensive education programs in horticulture and plant science; and wide-ranging research programs of the International Plant Science Center. It is about 45 minutes to an hour away from downtown Jersey City by car. You can also take the train there. Today, the 250-acre Garden—the largest in any city in the United States—is a National Historic Landmark. It encompasses 50 specialty gardens and collections comprising more than one million plants, as well as the nation's preeminent Victorian-style glasshouse. It is a must-visit.
Brooklyn Botanic Garden (Open)
990 Washington Ave, Brooklyn, NY 11225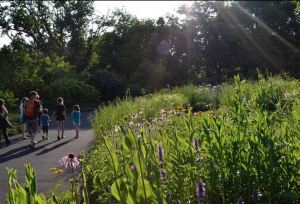 Brooklyn Botanic Garden is an urban botanic garden that connects people to the world of plants, fostering delight and curiosity while inspiring an appreciation and sense of stewardship of the environment. Advance timed-entry tickets are required to enter; masks must be worn. The garden is about 45 minutes to an hour away from downtown Jersey City. So isn't this worth a visit to gardens near Jersey City?
Queens Botanical Garden (Open)
43-50 Main St, Flushing, NY 11355
Queens Botanical Garden (QBG) is an urban oasis where people, plants, and cultures are celebrated through inspiring gardens, innovative educational programs, and real-world applications of environmental stewardship. The 39-acre site features rose, bee, herb, wedding, and perennial gardens; an arboretum; an art gallery; and a LEED-certified Visitor & Administration Building. It is about 45 minutes to an hour away from downtown Jersey City. The Garden is OPEN with limited operating hours, Tuesday-Sunday, 10 am-6 pm! Please keep social distance and wear a mask when you visit. Plan your visit to these beautiful gardens near Jersey City.
Van Vleck House & Gardens (Open)
21 Van Vleck St, Montclair, NJ 07042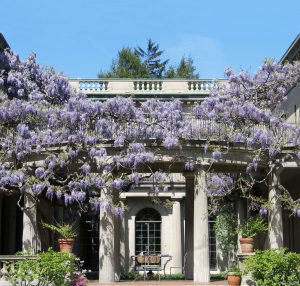 Van Vleck House and Gardens, a former private estate by the eponymous family, is a non-profit community resource in Montclair in Essex County, New Jersey, displaying a public botanical garden of mostly ericaceous plants that have been developed over several generations. They are filled with gorgeous flowers that are blooming every season. The garden is about an hour and 45 minutes away from downtown Jersey City. The gardens are open 365 days a year and free to all. There is no restroom access, and masks are required.
Holland Ridge Farms (Open)
86 Rues Road, Cream Ridge, NJ 08514
Holland Ridge Farms is a family-owned flower grower and flower farm in central New Jersey. Order fresh-cut flowers for delivery. Visit our u-pick flower seasons – tulips in the spring and sunflowers in the fall. They are about an hour away from Jersey City and are a beautiful place to visit with the family to see flowers bloom. You have to purchase tickets online in advance if you want to visit.
Rutgers Gardens (Open)
130 Log Cabin Road New Brunswick NJ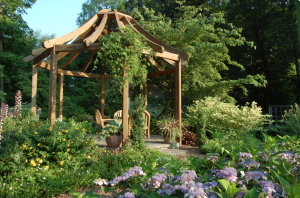 Rutgers Gardens is a 180-acre botanic garden consisting of designed gardens, plant collections, a student farm, a farmers market, and natural habitats. As part of Rutgers University, Rutgers Gardens serves as a living laboratory for faculty and staff while providing experiential and service-learning opportunities for undergraduate and graduate students. Their hours are revised due to COVID, so get a heads up on their social distancing measures and guidelines before you go here.
Camden Children's Garden (Closed)
3 Riverside Drive, Camden, NJ 08103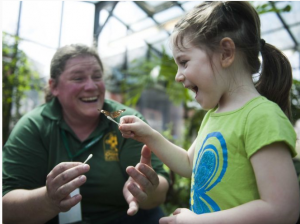 This is the perfect garden to go with the family! The Camden Children's Garden is operated by the Camden City Garden Club, Inc and is located on the Camden Waterfront, across from downtown Philadelphia. This venue was created in 1999 and is designed for children and families. It is about an hour and 30 minutes away from downtown Jersey City. The Garden is open to the public and hours are Fri. & Sat 10 am – 3 pm, Sun. 10 am – 4 pm. They have a ton of activities for kids from storybook gardens, potting sheds, and more.
Essex County Rose Garden (Open)
Brookdale Park, Essex County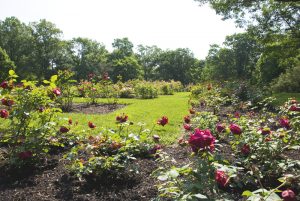 Open since 1959 and the garden is thriving still and has grown to 15,000 square feet divided up into 29 separate beds of hybrid tea, floribunda, shrub, hybrid musk, polyanthas, rugosas, and antique roses. It includes 1,500 bushes of over 100 varieties. Roses have been selected for their disease resistance, color, fragrance, and blooms throughout the growing season. They are open to the public now and are about an hour away from downtown Jersey City. Social distancing and masks are a must.
Sayen Park Botanical Garden (Open)
155 Hughes Drive, Hamilton Square Hamilton Township, NJ
Situated in historic Hamilton Square, Sayen House and Gardens provide a welcome sanctuary for nature lovers, garden enthusiasts and history buffs alike. Along with this breathtaking scenery as nature's perfect background, Sayen Gardens is available for a variety of functions and gatherings, including wedding receptions, bar and bat mitzvahs, private parties, holiday parties, showers, and business meetings and luncheons. It is about an hour drive from downtown Jersey City.
Gardens, as well as farms, are beautiful places to be surrounded by nature. Pick some of your favorite fruits, including blueberries, strawberries, and peaches, with your friends, family, or significant other. Don't feel like going fruit picking? Visit farms that have a variety of animals for fun and educational experiences, or farms that specialize in Alpacas.
Updated April 17th, 2023