9 Best Places to Go Camping in New Jersey That You Can't Help but Fall in Love With
There are a lot of reasons to go camping. The most important one is to disconnect from the rush of the city (and your wired devices) and connect to the great outdoors and really look at the stars. A perfect activity to enjoy with your family or friends. Now you have your why, the next question is where? We have made a roundup of the best places to go camping in New Jersey close to Jersey City according to Google business ratings. If you are interested in other nature activities, check out our blog on the best hiking trails near Jersey City.
Please make sure to call and check each camping ground's website to make sure they have availability and are open as availability may change. 
1. The Great Divide Campground, Newton 
Rating: 4.7, 80 reviews
Image source: www.campthegreatdivide.com
The Great Divide Campground is one of the many family-oriented campsites, and also well-commended for its cleanliness. If you are hesitant in going all-the-way camping, you and your kids could rent out a cabin. They also offer entertainment on weekends with live bands and other entertaining themed activities.
Other things to do: go fishing and boating, swim in a pool, play basketball, play video games, playground for kids
Restaurants nearby: Cafe Pierrot, Between the Bread, Savour
Address: 68 Phillips Road, Newton, NJ 07860
2. Pleasant Acres Farm Campground, Sussex
Rating: 4.7, 34 reviews
Image source: www.pleasantacres.com
Pleasant Acres is the place to be if you want spectacular views of the Sussex scenery from a high altitude. Its rural setting is coupled with rural activities, such as animal petting, pig chases, and horse-drawn hayrides make it an exciting experience for kids and adults alike.
Other things to do: go fishing, play basketball, volleyball, baseball and mini-golf, swim in a pool, ride a pony.
Restaurants nearby: Elias Cole, Yamato Hibachi, The Green Olive
Address: 61 Dewitt Rd, Sussex, NJ 07461
3. Brendan T. Byrne State Forest, New Lisbon
Rating: 4.5, 106 reviews
Image source: http://www.pinelandsadventures.org/explore-the-pine-barrens/gateway/
If you're looking for a manageable hiking trail before settling into camp, then you should try the state forest in New Lisbon. You will encounter large pine trees, swamps, sandy trails, and remnants of an old town. You will have to book the campsite before you visit.
Other things to do: Picnic, Hunting, Skiing, Mountain Biking
Restaurants nearby: Alba Pizza, Red Lion Diner & Bakery, Hot Diggidy Dog
Address: Highway Route 72 East, New Lisbon, NJ 08064, USA
4. Triplebrook Campground, Blairstown
Rating: 4.5, 38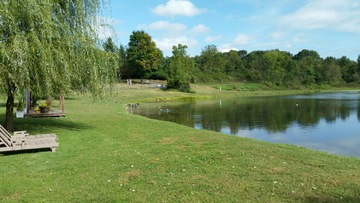 Image source: triplebrook.com
Featuring views of the Delaware Water Gap and Kittatinny Mountains, Triplebrook is one of the best places to go camping in New Jersey that will take away the stress of daily life.
Other things to do: themed weekend activities, go fishing, swim in a pool, make sandcastles
Restaurants nearby: Jargerstein Biergarten, Ellias, Humpty Juniors
Address: 58 Honey Run Rd., Blairstown, New Jersey
5. Whippoorwill Camp Grounds, Marmora
Rating: 4.5, 40 reviews

Image source: rvbuddy.com
Located near Ocean City, it has a nice, scenic seashore that's perfect for a weekend getaway or even longer.
Other things to do: swim in Olympic-size pool and kiddie pool, play tennis, basketball and volleyball, arts and crafts, playground
Restaurants nearby: Upper Sandwiches, Island Shore Chinese Restaurant, Village Kitchen
Address: 810 South Shore Road, Marmora, NJ 08223
6. Seashore Campsites & RV Resort, Cape May
Rating: 4.4, 73 reviews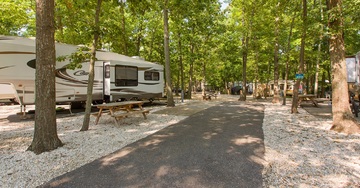 Image source: survresorts.com
Another camping ground to add to the list of best places to go camping in New Jersey is Seashore Campsite and RV Resort. Seashore is a campsite with a resort feel and has complete, premium facilities. One of its features that kids will love is the private lake with sandy beach.
Other things to do: Dip in the heated swimming pool and kiddie pool, go to the gym, watch a movie, go fishing, tennis, volleyball, basketball, mini-golf
Restaurants nearby: Cold Spring Grange, Flight Deck Diner, El Pueblo Taqueria
Address: 720 Seashore Rd, Cape May, NJ 08204
7. Ocean View Resort Campground, Ocean View
Rating: 4.3, 87 reviews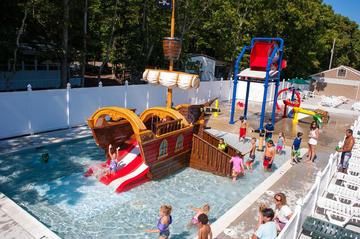 image source: ovresort.com
Ocean View is another adventure-packed and kid-friendly campsite. The splash park with a pirate ship and water cannons is a highlight that will definitely keep your family entertained.
Other things to do: swimming, fishing, playground, basketball, tennis, volleyball, softball, paddle boating, arcades
Restaurants nearby: The campground has a cafe offers course meals and a pavilion that sells snacks like sandwiches and hotdogs
Address: 2555 Route 9, P.O. Box 607, Ocean View, NJ 08230
8. Baker's Acres Campground, Little Egg Harbor
Rating: 4.3, 33 reviews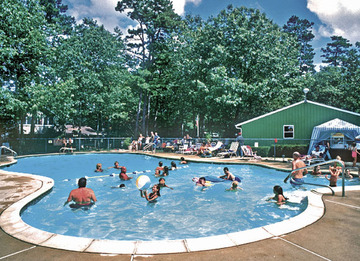 Image source: bakersacres.com
This historical campsite is near Long Beach Island, making it an ideal location for rest and recreation. The grounds allow for tents, RV, and cabin accommodation. Proud to be pet-friendly, the campsite has lined up weekend activities for your entertainment, making it one of the best places to go camping in New Jersey.
Other things to do: Swimming pool, playground, picnic, volleyball, arcade
Restaurants nearby: Kostas Grill, Grapevine, Dockside Cafe
Address: 230 Willets Avenue, Little Egg Harbor, New Jersey 08087
9. Hospitality Creek Campground, Williamstown
Rating: 4.4, 43 reviews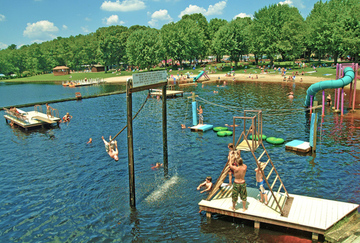 Image source: hospitalitycreek.com
You can take your family to this campsite that's in the middle of an urban area, but it will still feel that you're in a far place for relaxation. Known for their top-of-the-line amenities and fun activities, people keep coming back even if it's a bit pricey.
Other things to do: swim in the olympic-sized pool and sandy beach, diving, slides and rope swings, water volleyball, log slide
Restaurants nearby: Peter's Diner, Mona Lisia, Henri's Hotts Barbecue
Address: 117 Coles Mill Road, Williamstown, NJ 08094
We hope you found this list of the best places to go camping in New Jersey helpful! Happy Camping! 
Updated August 1st, 2022