12 Best Hiking Trails for Families Near Jersey City
As the temperature gets warmer, it's the perfect time to grab your family and your camera and capture these amazing moments! Hiking is a great way to enjoy all that nature has to offer while spending quality time with the ones you love. Not to mention, it's an amazing workout! To help you find the perfect trail, we've created a list of the 10 Best Hiking Trails for Families Near Jersey City. Now go take a hike!

Palisades Interstate Park is about twelve miles long and half a mile wide, containing 2,500 acres of wild Hudson River shorefront, uplands, and cliffs. This National Historic Landmark offers more than 30 miles of hiking trails for visitors to explore! Trails are open year-round during the daylight only. There is a Long Path and Shore Trail which are the two main National Recreational Trails each covering most of the 12-mile length of the park. But that isn't all! There are more trails for you and your family to explore. Make sure to download their park map so you can get familiar with the area! This park is located about 40 minutes from Jersey City!

Cheesequake State Park's uniqueness lies in its geographical location. Open fields, saltwater and freshwater marshes, a white cedar swamp, Pine Barrens, and a northeastern hardwood forest are the main characteristics of the park. There are five designated trails at the park. The Red, Yellow, Green and Blue pathways are for hiking and walking. The White Trail is a multi-use train for bikers and hiking. The park is open daily from 8 AM – 7 PM! Make sure to keep the park clean! Cheesequake's Carry-In/Carry-Out program requires visitors to carry out any trash that they carry in. Bags are provided throughout the site! This park is located about 40 minutes from Jersey City.

Pyramid Mountain's 1,545 acres of rugged trails, fields, forests and wetlands are just a 50 minute drive from Jersey City! You'll also be walking through history! Over three hundred years ago, the Lenape Indians experienced their first encounter with European colonizers. Easily visible to hikers are the unusual glacial erratics, such as Tripod Rock, a 180-ton boulder balanced on three smaller boulders deposited by the Wisconsin Glacier over 18,000 years ago and Bear Rock, located nearby, is one of New Jersey's largest glacial erratics. After an exhilarating hike on the trails, stop by the Pyramid Mountain Visitor Center to experience a variety of interactive educational exhibits about the history and wildlife of the area! The park's trails are open daily from sunrise to sunset while the Visitors Center is open 7 days a week from 9 AM- 4:30 PM. You can find a copy of the map online!

There will be no shortage of animal sightings on this hike! This hilly forest provides a sanctuary for wildlife and located about an hour from Jersey City. Ramapo Mountain State Forest includes 14 official trails, totaling more than 28 miles. Many multi-use trails are suitable for hiking, mountain biking, horseback riding, and cross-country skiing. A 120-acre clearwater mountain lake provides an excellent spot for fishing and birdwatching. There is no swimming permitted in this lake. The area is open every day from 8 AM-8PM and is a 1 hour drive from Jersey City.

The undisturbed forest and rugged terrain of Norvin Green offers sanctuary for birds and other wildlife about 50 minutes from Jersey City. The forest is near the Wanaque Reservoir and is home to an extensive trail system built from old logging roads. There are 18 official trails totaling more than 50 miles in Norvin Green State Forest. The trails are well-marked and hikers can vary their hiking distance and challenges by connecting sections of trails to suit their needs. With hills ranging from 400 to 1,300 feet in elevation, Norvin Green provides the avid hiker with scenic vistas, including the New York skyline, Burnt Meadow Brook and Lake Sonoma. This area is accessible only by foot and is open daily from sunrise to sunset!

The Manasquan Reservoir is both a water source for towns and a natural setting for recreational and outdoor enjoyment located an hour from Jersey City! You can spend your day fishing, boating and walking the 5-mile perimeter trail and a 1-mile nature trail. This trail is highly recommended if you prefer light strolling instead of hiking over difficult terrain. The park is open daily but times do vary depending on the time of the year. From November 1st-March 31st the park opens at 7 AM and 6 AM April 1st-October 31st! Learn more about the reservoir's history and about other activities here!

The freshwater Black River briskly cuts its way through rocky Hacklebarney State Park which is located an hour from Jersey City. Today Hacklebarney is a favorite place for avid anglers, hikers and picnickers, yet in the 19th century the park was a mined iron ore site. The park offers 9 official trails, totaling almost 5 miles. The area may be small but the terrain is quite diverse. The park is open daily from dawn to dusk and only hiking is permitted on the trails.

Located a little under 40 minutes from Jersey City is Bridal Veil Falls. This prettily named fall is located on the campus of William Paterson University. It is one of New Jersey's most accessible falls and is perfect for the novice hiker. A trail passes behind the falls, allowing visitors to stand in a "cave" of falling water. In the winter, the fall freezes into a stack of huge icicles.

Mills Reservation is a 157.15-acre reservation located in Cedar Grove and Montclair which is just about 35 minutes from Jersey City! The park has a network of loop trails totaling six miles.  The seven individual blazed trails range from 0.1-mile up to 1.5 miles. The trail is dog friendly but please keep your furry friend on a leash!

Nestled among the hills of western Morris County, Schooley's Mountain County Park offers visitors 791.51 acres of recreational and leisure activities. Although Schooley's Mountain County Park features a large picnic area, a lodge, and other developed recreational facilities, most of the park remains in its natural state. Schooley's Mountain County Park is open daily sunrise to sunset throughout the year and is located a little over an hour from Jersey City.
You are now a hiking trail master! Well, sort of. Make sure to pack plenty of healthy snacks and water before you head out! Looking to get the most out of the great outdoors? Camping is always an option! You can also stay close to home and still enjoy nature by visiting your local parks.
Watchung Reservation Trails is a 4.7 mile lightly trafficked out and back trail located near Mountainside, New Jersey that features a river and is good for all skill levels. The trail offers a number of activity options and is accessible year-round. Dogs are also able to use this trail but must be kept on leash. Watchung Reservation is the largest nature reserve in Union County, New Jersey, United States. It is bounded by the city of Summit, the borough of Mountainside, and the townships of Berkeley Heights, Scotch Plains, and Springfield.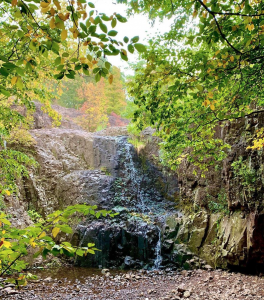 This half-mile trail has been inhabited by fairies! As you walk along the white-blazed path, look carefully and you will find where they have chosen to live. Fairies build their homes in tree hollows and roots, or from natural materials they find in their habitat, such as branches, stones, or dried fungi. Fairy houses are delicate, so be very gentle and try not to disturb any fairies that may be inside.