The Best Carousels In and Around Jersey City
There are a ton of exciting things for kids to do like mini golf, thrill rides at amusement parks, and waterparks but there is something special and magical when you hop on a pretend pony and ride a carousel. Even babies love a good merry-go-round! Luckily, the Jersey City/New Jersey area offers some of the dreamiest carousels around.
Spend the day at one of Jersey City's/New Jersey's/ New York's most enchanting carousels. It is the breathtaking views of the Manhattan skyline or Battery Park's grand underwater-themed carousel that make this inexpensive pastime difficult to pass up. Therefore, we created this list of the best carousels in and around Jersey City.
Newport Green
Green Park, 14th St, Jersey City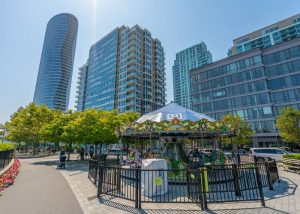 Newport Green Park is an excellent place for all ages to spend warm, sunny days. Picnic tables and chairs and lovely walking trails enchant all visitors. But, what makes this park unique is the beautiful carousel for kids with an impressive view of the Manhattan skyline. You can soak in the sun and enjoy the view at the same time. The iconic old-fashioned carousel is located directly on the waterfront and boasts with 12 horses and two chariot benches. It is one of the only carousels in the area and a great new attraction for Newport residents and visitors.
 Jane's Carousel
New Dock St, Brooklyn, NY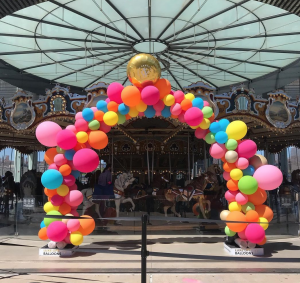 Jane's Carousel is a classic 3-row machine with 48 exquisitely carved horses and two superb chariots. It was created in 1922, the heyday of the American Carousel, by the Philadelphia Toboggan Company (P.T.C.) Designated as PTC. No. 61, was originally installed in Idora Park in Youngstown, Ohio, then a prosperous steel-making city. Prices are: $2/ride; children 3 and under (or less than 42" tall) free if accompanied by paying adult; 12 tickets $20.
SeaGlass Carousel
Water St &, State St, New York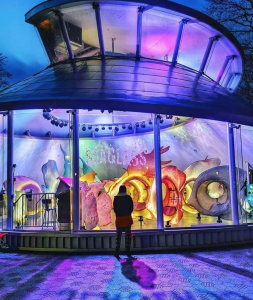 SeaGlass Carousel is where to enjoy an underwater experience without the scuba gear. There are beautiful horses, lionfish, and angelfish that children can sit on and ride. Inspired by the original location of the New York Aquarium, the Battery's picture-perfect carousel is set aglow thanks to color-changing LED light fixtures that look like an underwater atmosphere. The price is $5 a ride.
Central Park Carousel
1802 E 65th St, New York, NY
This iconic Central Park carousel is a must-visit. Considering over 250,000 people per year hop on for a ride, you know it's worth a trip. The Central Park Carousel, officially the Michael Friedsam Memorial Carousel, is a vintage carousel at the southern end of the park, near East 65th Street. The ride is $3.25/ride and cash only.
Le Carrousel (Bryant Park)
35 W 40th St, New York, NY
Bryant Park carousel is super charming. Even though it lacks in size it is one not to miss with the kids. Get the kids. Le Carrousel in Bryant Park, specially created to complement the park's French classical style, is an homage to both European and American traditions. Fabricon Carousel Company, whose artists designed and created Le Carrousel, was based in Brooklyn, NY, and has hundreds of other installations as far away as China and as close as Riverbank State Park on the Upper West Side of Manhattan. The price: $3/ride; discount card $10 for 20 rides.
The Pier 62 Carousel
Hudson River Park at Pier 62 Between W 22nd and, W 23rd St, New York, NY

Take a ride on Hudson River Park's Pier 62 Carousel featuring 33 hand-carved, custom-designed Hudson River Valley animals. The carousel structure has a green roof and opens to a sprawling lawn and tree-lined pathways. While you're there, take a walk along the pier to the west of the carousel where you will find a nautical wooden deck offering views of the Hudson River. It's a quiet and inspiring place to watch the sunset or to do your morning stretches. You can also walk along Pier 63 's esplanade, up the inclined hill to the end of Pier 64 and get a beautiful vantage all the way down the Hudson; catch a glimpse of Lady Liberty and the Verrazano Bridge! The price: $3/ride, $25 for 10 tickets.
Turtle Back Zoo
560 Northfield Ave, West Orange, NJ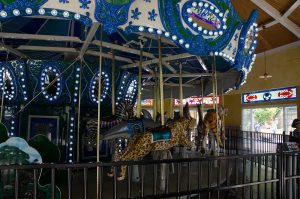 Visitors of all ages can take a spin on our endangered species carousel. Ride on a panda, alligator, tiger or one of the 30 other rare creatures featured on this unique ride that was custom built for Turtle Back Zoo. Housed inside a beautiful classic carousel house with mosaic floors and stained glass windows.
Van Saun Park
216 Forest Ave, Paramus, NJ 

Van Saun Park is the perfect summer carousel to check out. The Millennium Carousel with horses, tigers, and pigs is a ton of fun for the little ones. Within its 146 acres, Van Saun County Park also offers a wide-range of activities that is sure to please the entire family. Some of its popular attractions include the nationally accredited Bergen County Zoological Park, the historic Washington Spring Garden, train, , several age-appropriate playgrounds and picnic and fishing areas.
Military Park Carousel
Military Park, 51 Park Pl, Newark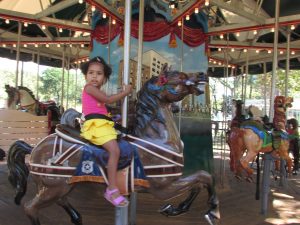 The Chambers Family Carousel hours are Wednesday – Saturday from 11:00 AM – 7:00 PM, and Sunday from 12:00 PM – 7:00 PM. Tickets cost $2 per person. It features 16 ride-able horses that are based not only on historical events but meant to depict actual horses that played a role in the development of Newark over its 350-year history.
Carousel for All Children (Willowbrook Park)
2 Eton Pl, Staten Island, NY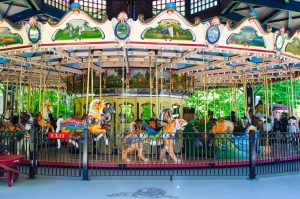 The Carousel For All Children in Willowbrook Park is a turn-of-the-century, Victorian-style merry-go-round that opened in 1999. The carousel boasts 51 carved wooden figures of mythical beasts, endangered species, and traditional carousel horses. It also showcases twenty hand-painted renderings of Staten Island landmarks, past and present. The Carousel is fully accessible. The Carousel For All Children is maintained by the Greenbelt Conservancy in partnership with NYC Parks. The price is $2.25 per person.
Prospect Park Carousel
452 Flatbush Ave, Brooklyn, NY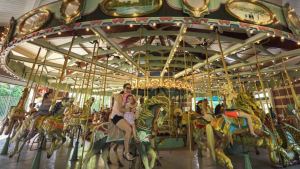 Excited to explore carousels in Jersey City? Located in Prospect Park's Children's Corner, the Carousel is one of the park's most popular attractions. Its 53 magnificent horses ride alongside a lion, a giraffe, a deer, and two dragon-pulled chariots. Carved in 1912 by Charles Carmel, one of the foremost carousel designers of his time, the Carousel was restored by the Prospect Park Alliance in 1990, with subsequent improvements in 2020 through funding from the New York City Council. It is one of the only wheelchair-accessible carousels in the nation. It remains a popular destination for birthday parties and other special events.
Who doesn't love the exciting things that come with Summer fun? From exhilarating rides in amusement parks and waterparks, to chill games of mini-golf that keep families engaged and entertained. If you're interested in more sensational and family-friendly activities, consider looking at our list of local playgrounds, zoos, and aquariums!
Updated June 21st, 2022