Playgrounds and Sprinkler Parks Open in Jersey City
The sun is shining and as the weather changes, local playgrounds and sprinkler parks are on the top of the list to check out. Therefore, we have created a list of all the playgrounds and sprinkler parks for your child to enjoy this summer.
Please make sure to check the park's website or call them directly before your visit. 
Van Vorst Park
257-287 Montgomery St, Jersey City, NJ 07302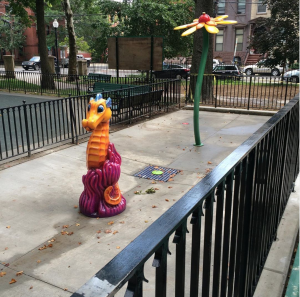 Van Vorst Park is the centerpiece of the downtown Jersey City neighborhood and historic district that bears the same name. Called "one of the most formal of Jersey City's parks," Occupying the entire rectangular city block between Montgomery Street, York Street, Jersey Avenue, and Barrow Street, Van Vorst Park, it is in the heart of downtown Jersey City. They have a great playground for kids with swings as well as a sprinkler area for kids to enjoy in the summer which will be open every day. Kids over two wear face coverings and limit your time, so others may use the equipment.
Hamiton Park Playground and Splash Pad
McWilliams Pl 8th St Jersey City, NJ 07302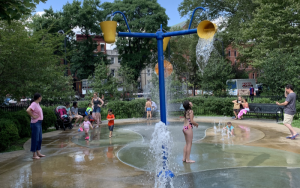 Hamilton Park is a beautiful neighborhood park in Jersey City. Hamilton Park is nestled in the heart of downtown Jersey City. The sprinkler park is perfect for your little ones. The sprinklers are on from 11:00 AM – 7:00 PM. The splash pad is fenced in and features in-ground sprinklers and buckets of water dropped from overhead. The park also has three playgrounds that are now open for kids to enjoy!
Newport Green
14th St, Jersey City, NJ 07310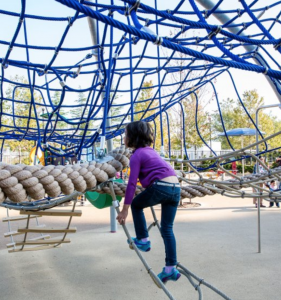 Newport Green is a unique little park! Not only does it offer a fun sprinkler area, but it also has a large and modern playground — complete with something for kids of all ages. This park also boasts a small carousel that's a huge hit with the younger kids. A small sandy beach with umbrellas completes this downtown oasis.
Berry Lane Park(Not Open)
1000 Garfield Ave, Jersey City, NJ 07304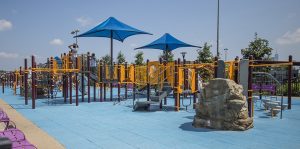 In the Bergen-Lafayette section of Jersey City, there is a playground named Berry Lane Park that is now open. It is right across the street from New Jersey Transit's Garfield Avenue Hudson-Bergen Light Rail station. They have a sprinkler park and a beautiful playground which is perfect for all kids. The splash pad is on an automatic timer and is set to open from 9am-8pm, 7 days a week.
Enos Jones Park
237 Brunswick St, Jersey City, NJ 07302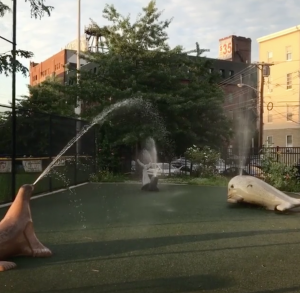 Enos Jones' playground and sprinkler is cute with a whale, dolphin, and seal squirting water and kids have an area to run around and play while cooling off. The playground is right there, so kids can run from one to the other, plus the entire area is gated. A small, pretty community garden project is in the corner of the area.
Lincoln Park
1 Lincoln Park, West Side Ave, Jersey City, NJ 07304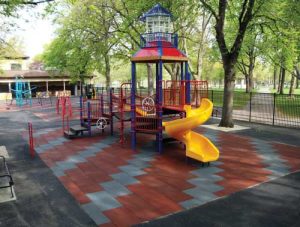 Located on West Side Avenue, Lincoln Park is a historic park founded in 1905 and known as West Side Park. It was among the first parks and playgrounds to be built for Jersey City kids. The park features 21 tennis courts, three playgrounds, a public golf course, a dog run, and several sports fields.  The pre-schooler playground is very clean and safe with fun climbing areas, slides, and lots of parts that children can turn, push, and pull. Their spray park is also open for kiddos to enjoy.
Pershing Field Park
201 Central Ave, Jersey City, NJ 07307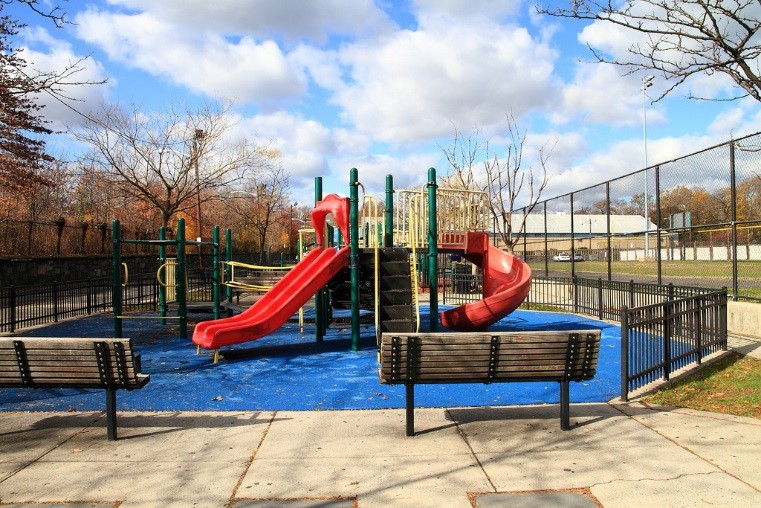 Pershing Field Memorial Park is a large park full of fun activities for residents and visitors. They have a playground and splash park area that kids can enjoy. Pershing Field is a city square and the park is located in the Heights of Jersey City.
JC Riverview Fisk Park
498 Palisade Ave, Jersey City, NJ 07307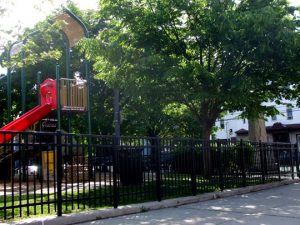 Riverview Fisk Park is a wonderful park located at the edge of the Heights. Riverview is located on Palisade Avenue. The park contains magnificent views of both the New York City Skyline and the Hudson River as well as the Verrazano Bridge and the George Washington Bridge. They have a playground perfect for all kids.
Washington Park Playground
2nd Street & Bergenline Avenue, Union City, NJ 07087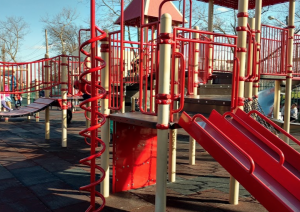 Washington Park is a 100-year-old, 22-acre park in Hudson County between Union City and Jersey City. Washington Park Association of Hudson County, Inc. (WPA) was founded in 2008 by a group of residents in the vicinity of the Park. They have a great playground for kids of all ages and are now open.
Liberty State Playground Park
535 Freedom Way, Jersey City, NJ 07305
This park features amazing views of the Hudson River, the majestic Statue of Liberty, Ellis Island and the Freedom Tower. It features sprawling lawns, perfect picnic areas, a two-mile riverfront promenade, and a gigantic playground. Kids can now enjoy spending the day at this playground and enjoy the beautiful views.
Bayside Park
480 Garfield Avenue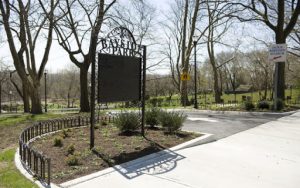 They have a sprinkler park where they have a playground, sprinkler park, basketball court and more. Enjoy a picnic here during the week as they have enough space for all. Splash pad open from 11am-7pm.
Boyd McGuinness Park
Corner of Duncan Avenue and Kennedy Blvd.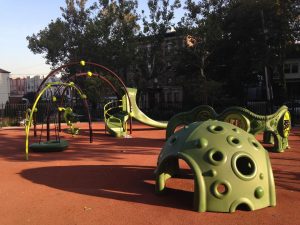 The Boyd-McGuiness Park is also known as the "Best Little Park In Town" at the corner of Duncan Ave and Kennedy Boulevard – is an oasis for seniors and children. The newly renovated two-acre park is now twice its original size. Children playground, splash-pad, checkers/chess tables and more. The splash pad is open from 11am-7pm.
Arlington Park
Btw Grand Street and Arlington Avenue, Jersey City, NJ, 07304

Small urban park featuring lots of open green space, a playground, basketball court & picnic tables. This past year Arlington Park opened up its new and improved basketball court. The development is part of the City's initiative of renovating parks and open spaces that are lacking the amenities necessary for community use. Also, over the past year members of the community teamed up to create the Arlington Park first Farmer's Market!
Updated July 5th, 2022