Things To Do Around Hamilton Park in Jersey City
The weather gives us hope of warmer days ahead and with rising temperatures, our love for one of Jersey city's most beloved parks only increases. And here we are with things to do around Hamilton Park in Jersey City.
Hamilton Park – a 5.4-acre square green space in downtown Jersey City is one of its resident's and visitors' favorite destinations. Engulfed in tall trees and sporting an array of historic houses and shop fronts, charming boutiques, and restaurants. Hamilton Park offers many activities for people of all age groups.  Here is a curated list of things to do around Hamilton Park in Jersey City.
Inside Hamilton Park
Play Areas

Children of all ages love Hamilton Park. Besides the large space to run, play and scooter around, this park has two lovely dedicated children's playground. Split between ages (0-5) and (5-12) both the playgrounds have age appropriate equipment. Children love to spend time sliding, swinging or climbing. Another major attraction is the Hamilton park splash pad. A small fenced –in water playground featuring sprinklers and colorful buckets of water dropping overhead,  bound to form an immediate love affair with little ones. There are so many things to do around Hamilton Park in  Jersey city that you might find it difficult to leave!
If you have a fur baby, look no further. This park is pet-friendly and features a dog park. Let your furry ones run, play, and enjoy!
Sporting Fun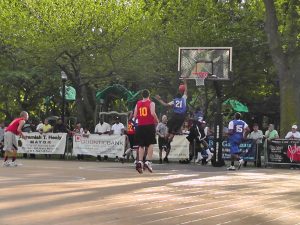 Hamilton Park is the focal point of families engaged in recreational fun. Its basketball court and a tennis court typically run busy during the summer months, with some wait time for your turn. If you wish to play, land here early or get your name entered in and wait for your turn. Either way, have fun while you shoot hoops or practice your serve!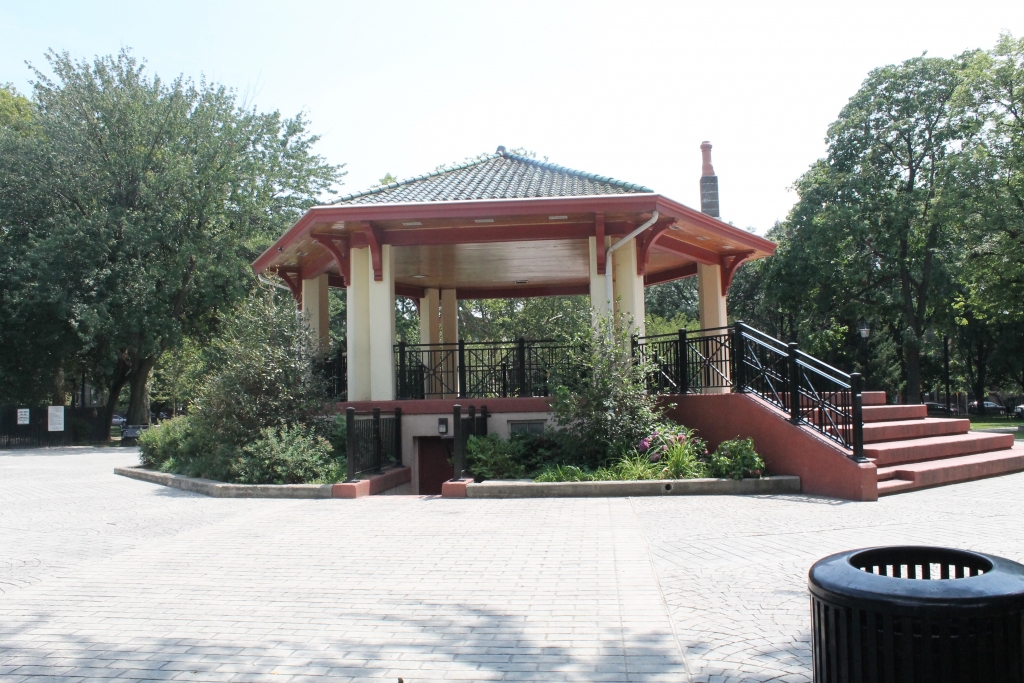 Walk around the park under the leafy trees, relax in the Gazebo or look at the little free library, a small space shaped like an owl meant for a free exchange of children's books. Select what you want and give back what others could use! It's absolutely free!
These carefree walks are simple, joyful and one big attraction of things to do around Hamilton Park in Jersey City. After all who does not want to spend time amongst birds, trees, flowers, and nature.
Events
The Hamilton Park neighborhood association (HPNA) conducts events that are a hit amongst the local community. Some of the popular events are the farmers market, Shakespeare in the park, the great egg hunt, movies in the park, the education fair and many more.
During the summer months, the park participates in outdoor movie nights, the schedule of which is displayed both on the website as well as on a large colorful banner at the entrance of the park. In the month of June, the community holds the Hamilton Park Festival- a great time to enjoy music, food, and a plethora of fun, engaging activities.
The farmers market is set up around the Gazebo every Wednesday between 3:00 and 7:30 PM from May to December. Over 20 vendors and their fresh produce is a source of high traffic and buzz on these days. Enjoy the fresh lemonade on hot summer days and head to the popping aromatic popcorn. Indulge in sumptuous Stella's empanadas while browsing fresh apples, strawberries, Jams or fresh green vegetables. Don't forget to bring your bag to carry home your purchases!
Shakespeare In The Park At Hamilton Park 
Tuesday, July 26th: 7 pm
Ensure to check the event calendar if you want to attend a specific event. This is one of the most sought after events and much featured in things to do around Hamilton Park in Jersey City.
Movies In The Park
Join HPNA for movies in the park. Bring your blanket or chair and enjoy a movie for free under the stars.
Friday, July 15:  Encanto
Friday, August 19:  The Karate Kid
Friday, September 16:  Respect
Friday, October 21:  E.T.
Families and fun
Besides the regular events, Picnics all around the park and an occasional birthday celebration are other ways families enjoy this charming and splendid green spot – ' Hamilton Park '. However, if you wish to use the Gazebo or conduct a private event, we encourage you to seek permission from Jersey City cultural affairs.
Around the Hamilton Park
Walk around the perimeter of Hamilton Park: Enjoy the neighborhood. Not only children but also people of all age groups are bound to be smitten by the charm and warmth of this place.
Musically or creatively inclined and want to experience a new instrument or dance form? Head to Next step broadway at 9th street. Looking to engage young children in meaningful play, parties or events step into My Gym also located at 9th street.
About 50 steps ahead is another children's favorite creamery and bake shop ' Milk, Sugar, Love'. Indulge in some delightfully delicious, churned out of organic milk – ice cream. Don't miss to try the delectable and tantalizing baked goods.
Keep walking till you find a large wall mural of a young girl peeking through a window. The graffiti is loved by adults and children alike, evoking imagination, creative thinking, and storytelling.
Sightseeing: Take a walk around Hamilton park to witness history. Stand and stare at the Victorian-style residences in this part of town. Wander around the streets surrounding the park to see well-preserved examples of these Victorian abodes. Don't miss the little benches dotted around the perimeter of the park and the lamp posts that offer splendid & picturesque scenery! As we said, you are spoilt for choices when narrowing on things to do around Hamilton Park in Jersey City.
Places to Eat near Hamilton Park 
Hungry? You are spoilt for choices when near Hamilton Park. Here is a list of top places to indulge and tantalize the taste buds! This is just a small list, Hamilton park area is dotted with eateries and cafes.
Ahri's Kitchen: 227, 7th Street
Ahri's Kitchen serves authentic home-style authentic Korean food. A BYOB and order at the counter-style restaurant. The serving size is large and the mood easy. Just seat yourself and enjoy their soups, dumpling, and some authentic Korean cuisine.
Psst, don't miss out on the décor of the place, tastefully and meticulously done, bring on that camera and capture the memories you make here!
White Star Bar: 179 Warren Street
A juicy burger and a bottle of wine or maple salmon and a sumptuous spread of appetizers, either way, White Star Bar friendly place with a great ambiance is just a hop, skip, and jump away from Hamilton Park. Open till late at night, White star has a vibe you cannot miss.
Carmine's Pizza: 366 8th St, Jersey City, NJ 07302
Another favorite in all age groups is carmine's pizza factory. Serving thin crust Pizza with incredible flavors, delicious spaghetti, and everything Italian! A corner brownstone with large glass windows and outside seating during the summer months. Just what you want at the end of a long summery day!
Hamilton Inn :708 Jersey Ave, Jersey City, NJ 07302
Another local favorite is The Hamilton Inn. This is a great place to enjoy brunch, dinner, or late-night food with friends and family. The Hamilton Inn was awarded open Table's best 100 brunch restaurants in the country. You know you can't go wrong if choosing this place. Get there early to avoid long waiting time, especially during weekend brunch
Basic: 231 8th St, Jersey City, NJ 07302
You can't miss the Basic Deli. Located at 231 8th St, it Delightful place, with large glass windows and quirky outside seating with a spread of some great coffees and teas. You can't miss the place boasting ' the best coffee in town ' can you?
O' Kafé: 230 Pavonia Ave: Previously Smith and Chang's general foods, now called O' Café.
This is not just a coffee shop but a great place to meet up or work. The coffee shop is great for anyone who loves their coffee to be made in a specific way with many options for Vegans. Kickstart your morning here with the sun falling on the large windows and making everything brighter. This place has cute interiors and some amazing food options- full of baked goods, acai bowls, salads, and sandwiches.
Spend an entire day, evening, and night enjoying the many facets of things to do around Hamilton Park in Jersey City.
Getting to Hamilton Park
Getting to Hamilton park is easy. The closest stations are Grove street and Newport light rail. About 8 minutes of walking distance from Newport light rail, and similar from Grove street. If you are driving, parking is on the street and free. However, it could be tough to get a spot during evenings and high traffic times. Arrive early and secure a spot!
If you enjoy any of the above features and would like to add to the list of things to do around Hamilton Park in Jersey city do write to us!
Happy warmer months ahead!
PS: There are many other green pastures and parks to explore in Jersey city. If you are in the Paulus hook area head to Van Vorst Park, Lincoln Park and Liberty state park are other beautiful parks to explore.
Updated June 27th, 2022