Halloween Events in and around Jersey City
The weather has started changing now, and with autumn comes Halloween! There are a ton of spooky and scary Halloween events and activities happening around Jersey City. From ghostly haunted houses to Jack O'Lantern's experience, we know how much families love their spooky activities this month. Therefore, we created this guide of fun Halloween activities for families near Jersey City. You can enjoy many other fall activities with the family, such as apple picking, corn mazes, pumpkin patches, sunflower farms, and more.
Local Events:
Trunk Or Treat
October 29th, 2021: 3-5pm
OCTOBER 29, 3:00 – 5:00 P.M.
Location: 7th Street between
Manila and Erie street
Bring your little ghouls and goblins to "Trunk or Treat" with the Jersey City Police Department-East District. They will have emergency vehicles decorated and will pass out candy to trick-or-treaters. For more information, please call 201-547-5470.
October 30, 2021: 5-7 pm
Join the Cottage and Luna De Papel for an evening of handcrafts that you can showcase this season!
October 30th, 2021: 9am-1pm
Calling all CHILDREN | The Sanderson Sisters are coming to Jersey City right in time for All Hallow's Eve. To save The Date & don't say we didn't warn you! Join them for a fun meet and greet! It is a free event.
October 30, 2021: 4-8 pm
Join NJCU Community Recreation for a fun spooky Halloween event. Tickets are $5 per person, and there will lot of games, contests, food trucks, and more.
October 30th, 2021: 11am-2pm
Athletes for a Better Community Inc. would like to present to you our 3rd Annual Halloween Event, "Trunk or Treat" We are calling all parents and grammar school children to come out and participate in this fun-filled free event. There will be food, music, raffles, and more. Please RSVP.

October 30, 2021: 1-3 pm

ATTENTION ALL FAMILIES!  SSA presents our Spooky Spectacular Event! At the Jersey Ave location! October 30 from 1 pm to 3 pm. Open to the public, ages 2-6. They will be having music, treats, and fun activities for all. Make sure to follow them on all social media accounts for a FREE admission ?.
October 30, 2021: 9 pm
Get ready for a Saturday night Halloween party at Zeppelin Hall. The first prize for best costume will receive a prize of $1000. In addition, there will be a DJ, dancing and more. Admission is FREE.
October 30th, 2021: 5-6 pm
Who is ready for a Halloween craft event? Please put on your costume and Join them Saturday 30 for one hour of fun; choose Two crafts per registered child from various options.
Giveaways, Treats, Music/Dance, Doughnuts and apple cider (while supplies last), and a Photobooth!
October 30th, 2021: 5-9 pm
Check out this kid-friendly event on October 30 at 43rd Street & JFK Blvd, Bayonne, NJ, at Hudson County Park. There will be games, candy, prizes and more!
October 30th, 2021: 8 pm
The Terminal of Terror 5 is a unique energy-filled Halloween costume party located in a new outdoor Art Deco venue under a bridge – 227 Coles Street in Jersey City. $500 cash prize to the best costume of the night. There will be drinks, food trucks, live DJs, live art, cannabis education, and more. Learn more here. 
October 30th, 2021: 3-6pm
Don't miss the Waldo Avenue Pop-Up Park Halloween Party!⠀
? Free cotton candy!⠀
? Free giveaways!⠀
? This Saturday 10/30 – 3 – 6 pm⠀
⠀
The Waldo Avenue Pop-Up Park is also seeking feedback. Fill out their satisfaction survey to help:⠀
https://bit.ly/3nt9Lrm⠀
October 31st: 12-8pm

Have a family fun Halloween bash at the Grove PATH Plaza and Grove Street. There will be face painting, music, popcorn, corn maze, sand art, and CANDY!
FREE EVENT
Need more info? JCdowntown.org.
October 31, 2021: 6 pm
Come by Hamilton Park for this free and fun Halloween Opera event on October 31, 6:00 pm on Jersey Ave between 6th and 7th Street.
Let's Get Spooky
October 31, 2021: 12-4 pm

Let's get spooky is a fun event on Halloween that will include pumpkin decorating, photos, treat, and more. It is a free event at 95 Morgan Street. It sounds like there are so many fun Halloween Events in Jersey City.
October 31, 2021: 12-3 pm
Enjoy a fun day with the kids at Columbia Park with food, treats, games, candy, and more! Free event.
Hoboken's Halloween Ragamuffin Parade 
October 31,2021: 11 am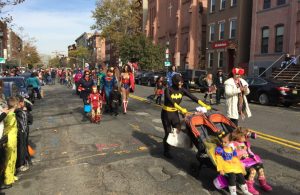 The Hoboken Ragamuffin Parade will return to Washington Street on Sunday, October 31, at 11 am! The annual tradition features local live music, floats, lots of great costumes, music, and so much more. All are welcome to participate in the parade. Marchers are invited to meet at 13th Street, and Washington beginning at 10:15 am, while the parade steps off at 11.
October 31st, 2021: 9am-11am
Enjoy Halloween Breakfast at The Cottage!
Events Around Jersey City:
October 30th:12pm-2pm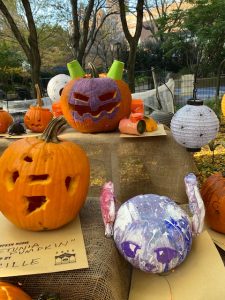 This fun, free and festive pumpkin carving/decorating contest has grown into a community favorite! Prizes are awarded to one overall winner and the winners of the five categories: scariest, funniest, cutest, most realistic, and most creative. Additionally, bring your jack-o-lantern to enter, or walk by with your family to enjoy the festive pumpkin patch display… this year along Greenwich Street between Duane and Reade Streets!
Saturday, October 30, 2021
The Drop: 12 pm – 2 pm
Winners announced: 2:30 pm via the park's Instagram account
October 29th: 1-3pm
This long-standing Tribeca tradition brings the entire neighborhood together for a parade down Greenwich Street, culminating at our park!
Sunday, October 30, 2021
timing + details coming soon
Get ready for the Skylands stadium Jack O' Lantern experience. This October, Skylands Stadium will be transformed with over 6,000+ Jack-O-Lanterns, on a 45-minute walk. Sussex County's Family Entertainment Destination is set ablaze with spectacular visuals and a thrilling Fall Festival. Perfect for families, date nights, and lovers of Halloween spirit. The tickets must be purchased in advance. Kids under 36″ go free. Isn't this a fun Halloween Events Jersey City?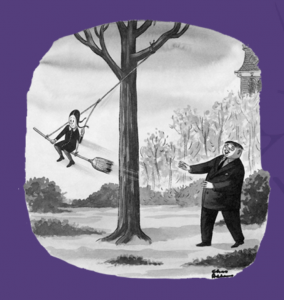 The town-wide celebration of Westfield's own Charles Addams returns this October! From Pugsley to Grandmama, there's something fun for everyone at Addams Family Fun Day. Head on over to Quimby Street in Downtown Westfield, which will be closed to cars for a day of family fun — including Addams Family character visits, live performances, incredible displays by the Maniac Pumpkin Carvers, activities with some of our local merchants, and more. More information here.
Fright Fest is one of the best Halloween activities to go to in the fall. There are so many rides, shows, entertainment, haunted attractions, scare zones, and lots more! Don't worry if your littles don't want to be frightened because there are family-friendly events throughout the day and at night transforms to this scary fest.
Bronx Zoo's annual Halloween tradition is back! They have family-friendly activities and have taken all the safety precautions for you to have a great experience. Come dressed in your Halloween best and enjoy it! Delight in amazing costumed entertainment by their stilt walkers and Halloween-themed puppets. Also, join in the fun and make sure you're showing off your Halloween best! Stop by the eerie graveyard of animal species that are no longer with them and learn how to prevent it from happening in the future.

Meander through an 18th-century landscape and discover a breathtaking display of more than 7,000 illuminated jack o' lanterns—all designed and hand-carved on-site by our team of artisans. New for 2021, gawk at the always-impressive New York City skyline's pumpkin treatment and take a stroll under the sea in our immersive river display.
Complete with synchronized lighting and an original soundtrack, this one-of-a-kind event is not to be missed! Buy your tickets online here.

Returning for the 10th year, Wagner Farm Arboretum's spectacular Halloween-themed event "Brite Nites" showcases an elaborate display of intricately and creatively hand-carved and lighted pumpkins. These breathtaking pumpkin sculptures have been updated with new themes, LED bulbs, and new special effects. New for 2021 will be, among other new displays, Barnegat Lighthouse! Due to Covid-19 precautions, the event has turned 100% contactless and you will be able to buy your ticket online, queue up for your time slot, have your ticket scanned, and then enjoy the displays as you drive down the Pumpkin Path. The anticipated amount of time to get through the path is about 20 minutes. More importantly, you get to safely remain in your vehicle, at all times.
Spend 45 minutes making your way through 200+ acres of Fright. It starts with their Hair Raising Hayride that "Scares the YELL out of You", then we let you off in the middle of nowhere for a Treacherous Trek through the "Trail of Terror", then just when you think you have had enough and begin to see that you are almost home, you realize the only way back is through the MassAcre Maize, a Casual Run for your Life; once it is over you find that the path is blocked, and you must enter your final Nightmare, the Carnevil of Chaos!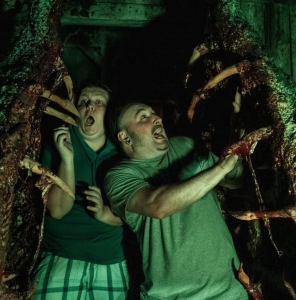 This one is definitely for the adults. This legendary haunted asylum complex featured on The Today Show, Cake Boss, Buzz feed, ABC, NBC, FOX, and media outlets all over the country, shut down in 1952 due to staff and patient disappearances, as well as intolerable living conditions. Now, the asylum has re-opened and is accepting new patients so get ready to get horrified! Brighton Asylum is a massive walk-through dark attraction filled with terrifying live actors, horror movie style scares, and Hollywood quality special effects.
They feature 3 Haunted House attractions complete with special effects and movie quality sets. Try their 6 award-winning 60-minute Escape Rooms and all-new 60-minute Virtual Reality Escape Rooms.
If you are looking for a real haunted experience, check out Casola Farms. Take a Haunted Hayride into the backwoods of New Jersey or check out their other 5 attractions. Open every Friday and Saturday from September 24 through October 31 at 7:00 pm; ticket sales begin at 6:30 pm & end at 10:30 pm, but the haunted attraction stays open until the last soul has exited.
Let us know in the comments if this blog helped you to find fun Halloween Events in Jersey City and if you got what you were looking for.
Updated October 25, 2021