Halloween Events in and around Jersey City
The weather has started changing now, and with autumn comes Halloween! There are a ton of spooky and scary Halloween events and activities happening around Jersey City. From ghostly haunted houses to Jack O'Lantern's experience, we know how much families love their spooky activities this month. Therefore, we created this guide of fun Halloween activities for families near Jersey City. You can enjoy many other fall activities with the family, such as apple picking, corn mazes, pumpkin patches, sunflower farms, and more.
Local Events:
Halloween at Liberty Science Center
Ongoing
At Liberty Science Center, they love Halloween so much that they decided to celebrate it all throughout October! Throughout the month, LSC explores the spooky side of science. Make your way through the fan-favorite outdoor Spider Maze and learn about ten species of spiders along the path. Visit the giant indoor pumpkin patch, check out a 3D movie about a haunted house, and meet some of our creepiest, crawliest animals. More information here.
Trunk Or Treat 
Thursday, October 27th, 2022: 6-9pm
The Jersey City Police Department, North District, will be ghosting a Trunk or Treat. They invite everyone to join us for a spooktacular event. This event will take place on Jefferson Avenue, between Central Avenue & Summit Avenue. The event is scheduled from 6:00 pm to 9:00 pm. Trunk decoration will initiate from 4 pm to 5 pm.
East District Trunk or Treat 2022
Friday, October 28th, 2022: 4-6pm
Join East District for Trunk or Treat! More information here.
Ivy Primary Prep's Trunk or Treat 
Friday, October 28th, 2022
Let the Halloween Fun begin!
Ivy Primary Prep is hosting a Trunk or Treat this Friday, 3:00pm – 4:00pm.
Location: 675 Monmouth Street
Jersey City, NJ 07310
Halloween Fest
Saturday, October 29th, 2022: 
Boo made you look! Spooky season is so close and we can't wait for this one. Fun for all! Mark your calendar and get the kid's costumes ready and head to 902 Brewing Co. for live music, family-friendly activities, drinks, food and more. More information here. 
Halloween Costume Contest & Music Series at M Square
Saturday, October 29th, 2022: 1-3pm
McGinley Square Last Live Music Series is almost here!!!!
SAVE THE DATE – OCTOBER 29TH –
There will be a costume contest by age group.
Pick your favorite pumpkin and pose for photos.
Don't forget, there will be lots of treats!
Music by: @djdprizzy.ynvs
Story time by @newlifedreamacademy
Face painting by @blackpearlzz
Arts & Crafts by @jctapestry
Intersection of Bergen Avenue and Montgomery Street.
Jersey City, NJ 07306.
Halloween Parade at Lincoln Park 
Saturday, October 29th, 2022: 1oam-12pm
Join JCBOE at Lincoln Park outside of Hank Gallo Center near the playground for a Halloween Parade. There will be hot dogs, treats, face painting and more!
Bethune Center's Fall Festival 2022
Saturday, October 29th, 2022: 12-5pm
The Bethune Center & Department of Recreation & Youth Development Present to you our Fall Festival At The Mary Bethune Park! This event is filled with so many fun activities including a Trunk Or Treat, Pumpkin Carving, Free Food, Hay Maze, Giveaways, and more! More details here.
Jackson Hill's Creepy Corner 2022
Saturday, October 29th, 2022: 3-6pm
Enjoy Jackson Hill's creepy corner with live performers, vendors, face painting, and more! It is a free event.
Zeppelin Hall Halloween
Saturday, October 29th, 2022: 9 pm
Get ready for a Saturday night Halloween party at Zeppelin Hall. The first prize for best costume will receive a prize of $1000. In addition, there will be a DJ, dancing and more. Admission is FREE.
Zombie Opera
Saturday, October 29th, 2021: 6 pm
Jersey City-based film and theater production company Half-Light Productions will present the third annual Zombie Opera concert and fundraiser on Saturday, October 29, 2022, from 6:00 PM to 8:00 PM in Jersey City's Hamilton Park, located in downtown Jersey City. Admission is free. More information here.
Dia de Los Muertos Celebration

Sunday, October 30th, 2022: 10am
Join Riverview Park for their annual Dia de Los Muertos / Day of the Dead celebration at Riverview Park. Festivities will include our signature Giant Puppet Parade from local artist Santiago Cohen, community ofrenda, Mariachi Oro de Mexico, traditional Mexican dance group Sueño Americano, RNA's annual Dog Costume Contest, and more. More information here.
Halloween: Terrifyingly Cute Craft Party
Sunday, October 30th, 2022: 4:30-5:30pm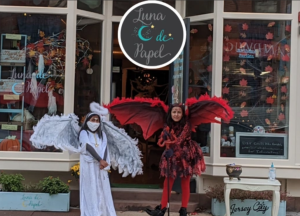 Join Luna De Papel for their Terrifyingly Cute Craft Party They will be hosting a special weekend craft activity. Come on over with your kiddos and create some holiday-themed crafts.  They look forward to seeing you. There will be snacks provided, water provided as well as cider and donuts.
Register here.
Halloween Bash at Speer Cemetery
Sunday, October 30th, 2022: 3:30pm
Speer Cemetery will be hosting a Halloween Bash on Sunday, October 30! Come out for spooky treats, walking tours, photo opportunities, and more!
All Hallows Eve at Van Vorst Park 
Sunday, October 30th, 2022: 4-8pm
The Friends of Van Vorst Park and community volunteers invite you to a Halloween display throughout the park, from 4:00pm-8:00pm, October 30th. Candy will be dispensed at the west side of the gazebo. This is a free event put on by your neighbors.
Halloween Family Bash
Monday, October 31st, 2022: 3-8pm
Have a ghoulishly good time on The Newark Ave Pedestrian Mall this Halloween! Join them for FREE Family fun day on Monday, Oct 31st for games, corn maze, pumpkins, sand art, doll design, and more! More information here. 
Hoboken's Halloween Ragamuffin Parade 
Monday, October 31st,2021: 3:15pm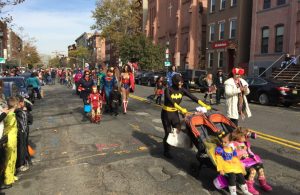 The Hoboken Ragamuffin Parade will return to Washington Street on Monday, October 31st. The march will start at 3:15pm! The annual tradition features local live music, floats, lots of great costumes, music, and so much more. All are welcome to participate in the parade.
The Brunswick School Trunk Or Treat 
October 31st,2022: 12:30pm
Join The Brunswick School is hosting Trunk or Treat for kids. They need parents to volunteer to decorate their cards while passing out fun items. More information here. 
Beyond Jersey City:
NYC Halloween Parade 2022
October 31st, 2022: 7-11pm
The Village Halloween Parade 2022—NYC's creative and spooky procession—is one of the best Halloween events in Greenwich Village and it's back this year! Each year, more than 50,000 zombies, ghouls, witches, monsters, robots, Jedis, giant puppets and more things that go bump in the night take to the streets for a night of costumed revelry. So get your costume ready, the Village is getting spooky!
Haunt O' Ween NJ 2022: Immersive Halloween Experience
September 30th- October 30th, 2022
Join Thunder 106 outside of Bell Works in Holmdel (101 Crawfords Corner Road) from 5 PM to 7 PM for Haunt O' Ween NJ 2022: Immersive Halloween Experience! Go trick-or-treating in the Town of Haunt O' Ween, walk through thousands of pumpkins, play a multitude of games and rides, get your face painted, enjoy food and drinks… the list is endless! You'll also have the chance to win some spooktacular Thunder 106 swag/prizes! More information here. 
7th Annual Pumpkin Carving Contest
October 30th:12pm-2pm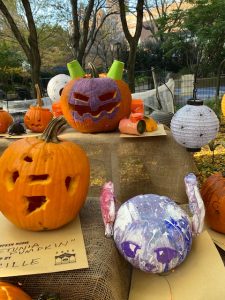 This fun, free and festive pumpkin carving/decorating contest has grown into a community favorite! Prizes are awarded to one overall winner and the winners of the five categories: scariest, funniest, cutest, most realistic, and most creative. Additionally, bring your jack-o-lantern to enter, or walk by with your family to enjoy the festive pumpkin patch display… this year along Greenwich Street between Duane and Reade Streets. You may pick-up your pumpkins the afternoon of the event OR let them spend the next few nights in the park for visitors to enjoy! Park staff will compost any remaining pumpkins next weekend. More information here. 
Outdoor Fall Festival at Skylands Stadium
September 23rd-November 6th, 2022
Get ready for the Skylands stadium Jack O' Lantern experience. This October, Skylands Stadium will be transformed with over 6,000+ Jack-O-Lanterns, on a 45-minute walk. Sussex County's Family Entertainment Destination is set ablaze with spectacular visuals and a thrilling Fall Festival. Perfect for families, date nights, and lovers of Halloween spirit. The tickets must be purchased in advance. Kids under 36″ go free. More information here. 
AddamsFest 2022
Ongoing in October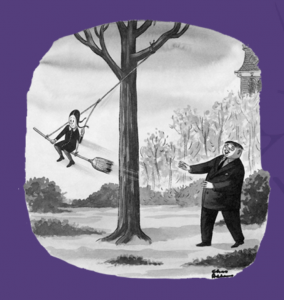 The town-wide celebration of Westfield's own Charles Addams returns this October! From Pugsley to Grandmama, there's something fun for everyone at Addams Family Fun Day. Head on over to Quimby Street in Downtown Westfield, which will be closed to cars for a day of family fun — including Addams Family character visits, live performances, incredible displays by the Maniac Pumpkin Carvers, activities with some of our local merchants, and more. More information here.
Fright Fest at Six Flag Great Adventure
Fright Fest is one of the best Halloween activities to go to in the fall. There are so many rides, shows, entertainment, haunted attractions, scare zones, and lots more! Don't worry if your littles don't want to be frightened because there are family-friendly events throughout the day and at night transforms to this scary fest. More information here. 
Boo at the Zoo 
Bronx Zoo's annual Halloween tradition is back! They have family-friendly activities ready for you to enjoy! There will be a candy trail, magic show, Halloween crafts, costume parade, and more! Come dressed in your Halloween best! Stop by the eerie graveyard of animal species that are no longer with them and learn how to prevent it from happening in the future. More information here. 
The Great Jack O'Lantern Blaze
September 16th – November 20th, 2022

Meander through an 18th-century landscape and discover a breathtaking display of more than 7,000 illuminated jack o' lanterns—all designed and hand-carved on site by our team of artisans. New for 2022, watch our animated "Jack" Smith Shop in action and keep an eye out for glowing bees. Complete with synchronized lighting and an original soundtrack, this one-of-a-kind event is not to be missed!
All proceeds from Blaze and our other Halloween events support the programs of Historic Hudson Valley, a non-profit education organization. More information here. 
Farm of Horrors
September 30th-October 30th, 2022 
Spend 45 minutes making your way through 200+ acres of Fright. It starts with their Hair Raising Hayride that "Scares the YELL out of You", then we let you off in the middle of nowhere for a Treacherous Trek through the "Trail of Terror", then just when you think you have had enough and begin to see that you are almost home, you realize the only way back is through the MassAcre Maize, a Casual Run for your Life; once it is over you find that the path is blocked, and you must enter your final Nightmare, the Carnevil of Chaos! More information here.
The 13th Hour Haunted House
October 1st- 31st
They feature 3 Haunted House attractions complete with special effects and movie-quality sets. Try their 6 award-winning 60-minute Escape Rooms and all-new 60-minute Virtual Reality Escape Rooms. More information here. 
Casola Farms – Haunted Attractions

September 30th-October 31st
If you are looking for a real haunted experience, check out Casola Farms. Take a Haunted Hayride into the backwoods of New Jersey or check out their other 5 attractions. Open every Friday and Saturday from September 24 through October 31 at 7:00 pm; ticket sales begin at 6:30 pm & end at 10:30 pm, but the haunted attraction stays open until the last soul has exited. More information here. 
Let us know in the comments if this blog helped you to find fun Halloween Events in Jersey City and if you got what you were looking for.
Updated October 27th, 2022