Jaipur Kitchen: Homestyle Food Delivery Services in NJ
We recently had a chat with the small pandemic-born business, Jaipur Kitchen about their journey and what they are bringing to families in and around Jersey City and surrounding areas. It is an Indian tiffin/food service in New Jersey.
A bit about Jaipur Kitchen
Jaipur Kitchen is a small family-owned meal delivery business that started during Covid, with the goal of providing healthy, homestyle meal delivery service of Indian food to people in North and Central New Jersey. Our food focuses on ingredients our parents, grandparents and great grandparents have been using for generations in their kitchens. This includes lentils, legumes, green vegetables, whole wheat flatbread, with low amounts of oil, cream, butter, cheese, and salt. 
The food is simpler, healthier, authentic, and perfect for every day, and it is different from restaurant-style Indian food, which is decadent and for special occasions. The food evokes nostalgia for family kitchens; that's why our motto is "From Our Kitchen to Yours." New menus are released every Sunday on our website, orders can be placed until Thursday, and deliveries are made on Sunday. Our website is www.JaipurKitchenNJ.com.  
Why and how did you start Jaipur Kitchen?
We started because of Covid in August 2020.  The two founders were delivering homemade, healthy Indian food to their children in Hoboken on a weekly basis when people did not feel comfortable eating elsewhere. After seeing how helpful this was for their children, the idea was born that others likely need the same service! 
What does Jaipur Kitchen offer, and how does it work exactly?
Jaipur Kitchen focuses on homestyle, healthy Indian food that you would find in family kitchens, rather than restaurants.  We have healthy dals, vegetables, paneer dishes, and whole wheat roti offerings every week.  We also understand that people like change, so we roll out a new menu every week!  New menus are released every Sunday on our website, orders can be placed until Thursday, and deliveries are made on Sunday.  
Because the founders are from Jaipur, Rajasthan, all the food is inspired by that region, and each menu generally contains a Rajasthani staple.  Every 2 months, we have a special Rajasthani tasting menu available, so you can have a taste of Rajasthani delicacies that you wouldn't find anywhere else.  This tasting is a huge hit, and we have customers asking for it consistently!  The tasting includes:
Panchmel Dal:

Five types of lentils in a tomato, onion, garlic gravy with traditional Indian spices

Rajasthani Gatte:

Spiced chickpea dumplings in a yogurt-based gravy

Bhindi Masala:

Stir-fried okra and onions with traditional Indian spices

Churma:

Powdered wheat flour baked with ghee, dried fruits, almonds, sugar, cardamom, and saffron 

Plain Baati:

Baked wheat dumplings dipped in ghee

Masala Baati:

Baked wheat dumplings stuffed with spiced potatoes and peas dipped in ghee

Roti:

Whole wheat flatbread

Basmati Plain Rice
All orders are easy to place on our website, www.JaipurKitchenNJ.com, and you can subscribe to our menus and e-mail reminders. We aim to make ordering as simple as possible while providing everyone an option to order a la carte. 

Do you offer weekly or monthly food subscriptions? What packages do you provide if you do? 
Currently, we allow customers to order from our a la carte menu of appetizers, vegetarian items, non-vegetarian items, sides, and desserts every week. This way, everyone can craft an order that works for them, whether that includes food for 1 person or 4, and whether that includes 3 meals for the week or just dinners for the week. Indian tiffin in New Jersey provides the maximum amount of flexibility. 
Do you provide Indian food only or other cuisines?   
We only offer Indian food at this time.
Do you provide options for people with food allergies? 
Our menu items are marked if they are vegan and contain nuts.  We also accommodate additional food allergies if made known upon ordering.
What are your favorite items on your menu? 
It is very difficult for us to choose one favorite.  Some best-sellers are the Rajasthani tasting menu, the paneer dishes, all the dals, and street-style food items like samosas, kachoris, pav bhaji, and dabeli.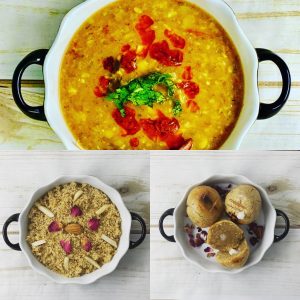 What areas do you deliver to? 
We deliver to most towns in North and Central New Jersey.  A full list of the towns can be found here: https://jaipurkitchennj.com/#delivery 
Where are your meals cooked, and what are the safety precautions you take? 
We cook our meals in a commercial kitchen. Our chefs have food handler certifications. All surfaces, pans, utensils are sanitized before cooking. In addition, masks, gloves, and hair caps are worn during prepping and cooking. Delivery is contactless. 
How is Jaipur Kitchen unique from other meal delivery services? 
We are unique in several ways:
Our food is healthy, homestyle, and authentic that you would find in everyday Indian kitchens

The food is inspired by the Jaipur, Rajasthan region, and offers Rajasthani delicacies, which are very difficult to find in the US

Our ordering system is easy, customizable, and flexible

Our delivery is seamless and does not require you to be home while providing you with updated tracking information
Where can one learn more about your business and services? 
You can find all information here:
Press About Jaipur Kitchen: 
A message for our readers. 
We are so excited for JCFamilies' readers to try out our food.  We are happy to offer readers a 30% discount on their first order with the code: JCFamilies2021 (enter at checkout).