10 Best Indian Restaurants in Jersey City and Hoboken
As the 2nd most diverse city in the country, Jersey City has a wide variety of Indian restaurants that will transport you to India using your taste buds. With different flavors from North India to South India, Jersey City carries every type of Indian cuisine you want. This list lists the 10 Best Indian Restaurants in Jersey City and Hoboken. Let us know which one is your favorite in the comments below.
101 Hudson Street, Jersey City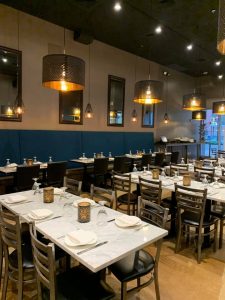 Amiya sets the perfect atmosphere for a night out on the town or a simple afternoon lunch at the center of Harborside Financial Center in Jersey City. Their atmosphere and cuisine deliver an exceptional experience in both taste and sight. Amiya serves traditional favorites like Chicken Tikka Masala, our own Amiya Paneer, halal food, and more. The delightful menu is inspired by Chef Chand's deep knowledge of Indian cuisine, skill, and boundless imagination. Also noteworthy is their excellent selection of specialty cocktails, wine, and beer. In addition, Amiya has a happy hour from 5-7, Monday to Friday.
537 Washington Blvd, Jersey City
Another fantastic option for Indian food is Raaz. Raaz(which means a secret) unlocks the secrets of the age-old Indian cuisine and presents them for your indulgence. Raaz delivers the same flavors as in the old Indian way of cooking in the earthen pots, where the fresh fragrance of soil and the exotic aroma of various herbs and spices combined create an excellent culinary experience. They have multiple options with a perfect blend of traditional and contemporary ways of cooking. It is conveniently located right across the Newport Path Station.
810 Newark Ave Jersey City
Indian eatery with a lunch buffet also serves authentic Northern-style fare by the plate. Rasoi is a favorite for a lot of the locals. They have a lunch buffet and a vast dinner menu that is just mouth-watering. The most popular menu items include garlic naan, chicken tikka masala, chicken makhani, lamb kebabs, and samosas. 

253 Washington Street, Jersey City
At Mantra, their philosophy is to emphasize refined and creative Indian cuisine. The menu incorporates traditional classic favorites and original new dishes that apply Eastern flavors with a Western twist. Mantra is yet another must-visit North Indian restaurant in the city. Its tandoori delicacies and lamb dishes are delectable and cannot be missed when dining here.
505 Washington St., Hoboken NJ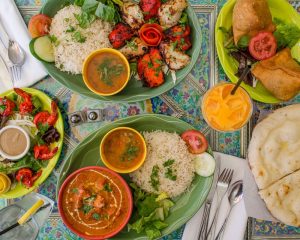 An Indian Bistro is located at 505 Washington Street, in the heart of Hoboken, NJ. Their trendsetting modern Indian restaurant opened its doors in 1999. Karma Kafe is deeply rooted in tradition but designed for today's global citizens. Karma Kafe is a must-try if you would like to try some traditional Indian flavors with a twist. Karma Kafe also has a delicious unlimited lunch buffet that is super affordable. Their menu has been greatly appreciated for being daring and innovative and successfully incorporating the latest dining trends while retaining the essence, traditions, and principles of Indian Cuisine.
795 Newark Ave, Jersey City
Mithaas has been around for a long time in Jersey City. It provides a sleek and casual ambiance serving a ton of Indian snacks and sweets everyone enjoys. Mithaas only serves vegetarian food so keep that in mind before visiting. They are known for their delicious Indian fast food and variety of sweets. Try their yummy chaat, Pao bhaji, masala dosa, chole bhature, and pani puri.
737 Newark Avenue, Jersey City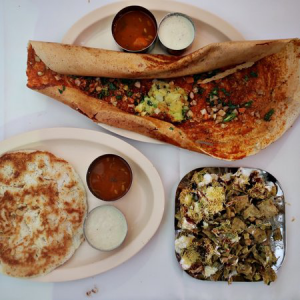 If you are looking for some fantastic authentic south Indian cuisine, you must stop at Sapthagiri. They offer northern and southern Indian food, but their giant dosas are worth trying! They only have vegetarian options. They have a ton of sweets available to try too. They use only the best fresh ingredients, and it's one of the places you will receive an authentic Indian taste and ambiance.
353 3rd St, Jersey City, NJ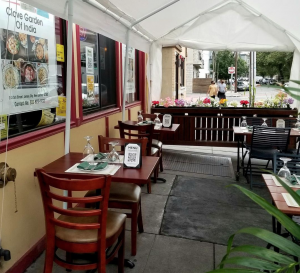 Located right in downtown Jersey City, the Clove Garden of India is a new addition to Indian restaurants in Jersey City. Their menu has a great mix of Indian food, including vegetarian and non-vegetarian options. They also offer great lunch specials, desserts, and traditional drinks.
136 Newark Ave, Jersey City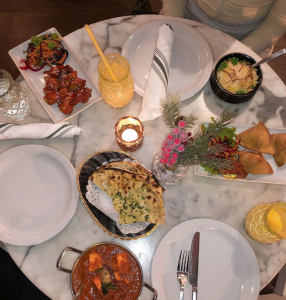 Brick Lane Curry is a London-style Indian restaurant offering spicy curries and other delicious Indian dishes! Additionally, they also have Indian-inspired cocktails.
91 Washington St, Hoboken, NJ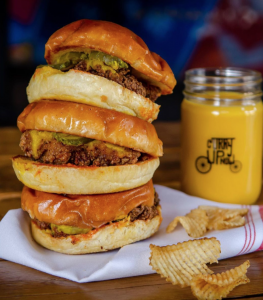 A newer edition to Indian Restaurants in Hoboken, Curry Up Now, was established in 2009 by Akash Kapoor and his wife, Rana. What began as a California food truck quickly became the most significant and fastest-growing Indian fast-casual concept in the U.S., with seven brick-and-mortar locations nationwide. They have many options on their menu with a twist, such as tacos, burritos, holy moly ravioli, burgers, and more.
131 Erie Street, Jersey City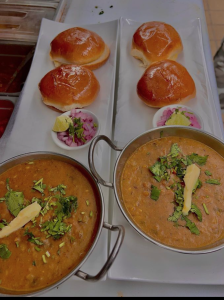 Bombay Vada House has officially opened near Hamilton Park. Located at 131 Erie Street (in the former Blue Lotus space), the eatery specializes in street food from India. In particular, it offers a variety of vada pav; a deep-fried potato served inside a bun.
Indian Food Delivery Services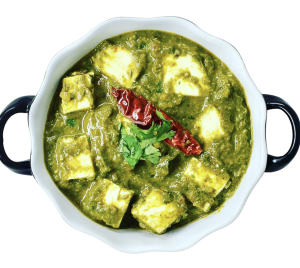 Jaipur Kitchen is a small family-owned meal delivery business that started during Covid to provide healthy, homestyle meal delivery service of Indian food to people in North and Central New Jersey. Our food focuses on ingredients our parents, grandparents, and great-grandparents have used for generations in their kitchens. This includes lentils, legumes, green vegetables, and whole wheat flatbread, with low amounts of oil, cream, butter, cheese, and salt.
The food is more straightforward, healthier, authentic, and perfect for every day, and it is different from restaurant-style Indian food, which is decadent and for special occasions. The food evokes nostalgia for family kitchens; that's why our motto is "From Our Kitchen to Yours." New menus are released every Sunday on our website, orders can be placed until Thursday, and deliveries are made on Sunday. Our website is www.JaipurKitchenNJ.com.
If you are looking for other restaurant recommendations in Jersey City, check these out. We also have a ton of kid-friendly cafes in Jersey City for families.
Updated October 20th, 2022