Restaurants Opened in Jersey City in 2019
Are you a foodie parent? This 2019 has brought new, delicious options for you in Jersey City as a fresh batch of restaurants has opened their doors in town. We have created this list of the best restaurants, in no particular order, that opened this year. Let's welcome these new restaurants and don't forget to tag us when you eat there!
2 2nd St. Jersey City, NJ
Lokal is a culinary hub for Jersey City's global culture. Communal in nature, Lokal showcases ingredients sourced locally from the Garden State and transformed into worldwide flavors by Michelin-trained Chef Walter Donadio. Small plates with a Global focus are complemented by craft cocktails and an extensive wine program. Combine that with a space that's unparalleled in design and comfort to host Jersey City residents, staying Lokal will not disappoint. They also have an amazing view of Manhattan and are right by the water giving you a perfect brunch with good food and good views. They offer Gluten Free, Dairy Free, Vegan, and Vegetarian options and are kid-friendly!
200 Greene St, Jersey City, NJ 
DOMODOMO first started as the First Hand Roll Bar in NYC in 2015, now known for its signature tasting course called DOMOKASE and other Asian inspired dishes. They have now expanded over the Hudson into Jersey City! DOMODOMO's menu is created and its kitchen run by Brian Kim, a Culinary Institute of America graduate with over 15 years of experience. The menu is constantly updated as Chef Brian experiments with new combinations, using the freshest ingredients of the season. If you are looking for some amazing traditional sushi, check out DOMODOMO.
363 Grove Street, Jersey City, NJ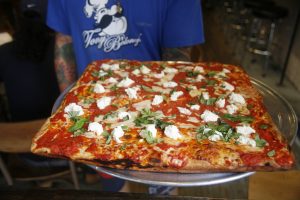 Originally from Atlantic City, Tony Boloneys finally expanded to Jersey City after opening their location in Hoboken. Looking for a delicious pizza or a hearty sub? They have it all. They are known for their unique creations like taco pizza, ramen pizza, tikka masala pie, and so much more. If you leave without trying our pizza, subs or grub, you don't know what you're missing.
159 New York Ave, Jersey City, NJ 
Located in the Jersey City Heights, The Franklin is a family-friendly restaurant. Apart from brunch and dinner, they also do catering for weddings, parties, and events. They also serve finger-licking good desserts which are a must-try for everyone!
485 Marin Blvd, Jersey City, NJ
Café Esmé has been designed to bring a piece of Parisian taste to downtown Jersey City. Every aspect of the café has been thought of with the customer experience in mind. From the chic interior to the delicious menu to the music that fills the space, Café Esmé hits all the senses and makes people feel transported and completely at home, all at once.  They offer delicious sandwiches, pastries, and coffee.
356 Varick Street, Jersey City, NJ 
A restaurant concept inspired by food trucks and made just for takeout that opened around April 2019. They offer delicious items designed to maintain their quality during travel. They focus on ensuring that every order is fresh, accurate and neatly packaged in eco-friendly containers. They have a ton of options for everyone to choose from.
435 Palisade Ave, Jersey City, NJ
Bread and Salt is a casual place from an acclaimed baker known for Italian breads, pizza & sandwiches. Located at the former Pizza Vita location, Bread and Salt has made a huge buzz in the area. It's operated by 2016 James Beard semifinalist Rick Easton. A New York Times profile praised that they use centuries-old Italian baking tradition that utilized organic flour, natural fermentation, and a 100% stone-milled, high-extraction wheat flour crop that Easton developed with a local farmer. All the slices you try will melt in your mouth!
145 Newark Ave Jersey City, NJ
Located in the heart of Downtown Jersey City, The Ashford brings New York's speakeasy days to Newark Avenue's pedestrian plaza. Ceilings covered in chandeliers, leather banquettes for you and all of your friends to join together at, and timeless decor at every turn. The Ashford encourages you to come early and stay late! Featuring a New American menu, dish­es range from shared plates and small bites that are ideal for the whole family to farm and ocean dishes that you'll want all for your­self. Innovative cocktails and a multitude of beers on tap that compliment the wide range of food options, The Ashford is your place for a fun get together, dinner with the family, and a great spot to watch your favorite team.
218 Newark Ave, Jersey City, NJ
Just minutes from the Grove Street Path Train stop, Sushi By Bou Jersey City is a modern sushi speakeasy, located behind a secret door inside of the critically acclaimed Ani Ramen. With an intimate 8 seat sushi bar, this high end experience is timed at 60 minutes per seating, and only offers a carefully curated chefs choice menu of sushi. Guests are invited to arrive early or stay late, and enjoy one of their craft cocktails, imported sakes, or Japanese beers, while admiring their Zen Garden lounge area, and Japanese street cart inspired bar. This is truly one of Jersey City's best traditional sushi experiences available!
24-26 Erie Street, Jersey City, NJ
Tacoria is a New Brunswick-based restaurant that specializes in Mexican street food offering a mix of tacos, burritos, quesadillas, and so much more. It is a fast-casual eatery located right across Tarico in downtown Jersey City. If you want so yummy tacos, stop by! This is a BYOB spot.
586 Newark Avenue, Jersey City, NJ
Cafe Peanut is a funky little place located in the heart of Journal Square, Jersey City. Dedicated to quality, the charming artistic cafe is the closest to Coffee Heaven you will get. Their yummy coffee is locally hand-roasted in small batches, blending and creating a never-ending passion for exploration.
Come on in and try their famous House Made Rose or Lavender Latter while being surrounded by a relaxing and friendly atmosphere.
3 Second Street, Jersey City, NJ
Hudson & Co. stands on the waterfront, within the rapidly evolving Harborside district in Jersey City. The gastropub is embellished in the heart of the prestigious Plaza 10 office tower. While featuring multiple indoor and outdoor dining options, the entire establishment boasts views of the Manhattan skyline across the historic Hudson River. Besides having a beautiful view, you can indulge in a wide variety of food options including; crunchy tuna tartare rice cakes, sashimi/sushi roll selection, artisanal wood-fired pizzas, wild-caught arctic char, a 40 day dry aged NY Strip, and homemade delicata squash ravioli with sage. A must-try from 2019!
514 Jersey Ave, Jersey City, NJ
Sober Shot is a coffee shop located in the heart of Jersey City and brought some unique coffee options to JC. They are serving caffeine with a twist! They are known for their "sparkling espresso". Sober Shot also has a "Blue Surge" menu, featuring drinks mixed with butterfly pea flower tea. They also offer their "egg-box" which is a must-try.
576 Summit Ave, Jersey City, NJ
Here you'll find slow food — homestyle, authentic Bangladeshi dishes, all made with love by chef and owner Nur-E Gulshan Rahman. A self-taught cook, Rahman has decades of experience preparing traditional meals, honed primarily from years of feeding her insatiable children. Since opening in February of 2018, Rahman and her daughter Nur-E Farhana have been serving up dishes you'd find in any typical Bangladeshi home, which means lots of comfort food prepared the old-fashioned way.
499 Washington Blvd, Jersey City, NJ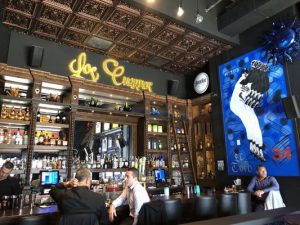 The Mexican food scene really grew in Jersey City this year. Los Cuernos was another one of those restaurants added to the list in 2019. The new restaurant comes from Andrea and Phil Barraza, who own Taqueria Downtown. This spot is serving up some delicious Mexican food and your favorites. From street tacos, steak to burritos they have it all. Also, their margaritas are too yummy to pass up.
70 Town Square Newport Jersey City, NJ
A brand new diner in Jersey City! Like most diner, Newport Eats has breakfast, lunch, and dinner. It offers a ton of different options from burgers, sandwiches, salads, soups and a lot more. They also offer drinks. It is a pretty spacious spot and great for families.
If you are looking for specific restaurants in Jersey City click here. We have also curated lists for family-friendly restaurants that could be a great guide for the families out there.
Did we miss a new restaurant? Let us know in the comments!