Things To Do In Jersey City
If you live or are visiting Jersey City there are a ton of activities that you can do around town. This list will help you find some fun activities to do during the week or weekend.
Statue of Liberty/Ellis Island
While most people associate these historic landmarks with NYC, they couldn't be easier to access than from right here in Jersey City. The Statue Cruises ferry leaves from Liberty State Park and makes a stop at Ellis Island and then the Statue of Liberty. Basic entries are included with the price of the ferry ticket. Statue Cruises is the only line that offers these cruises. Ellis Island is a historic building and a must-see. The general museum entrance is free, with special add-ons available, such as the hard-hat tour of the hospital facility. Make sure to go upstairs and check out all the clothing, books, and other historic artifacts.
After visiting Ellis Island you will hop back on the ferry and head off to the Statue of Liberty. Basic entry only gets you to the island. You will need to add on the pedestal tour for the museum or statue access if you would like to go up to the top.
Pro tip: Reserve early as tickets sell-out quickly. When you hop off the ferry, snap a picture of departure times so you know when to head back towards the ferry. The later it is in the day, the longer the ferry lines will be.
More Information:
https://www.libertyellisfoundation.org/
Ferry Tickets:
https://www.statuecruises.com/departure-schedule/
Cost:
Begins at $9.00 for children and $18.50 for adults. Increases with add-ons.
Central Railroad of New Jersey Terminal
While you're heading to the Statue of Liberty, make sure to reserve some time to explore the Central Railroad of NJ terminal. You will actually walk through this historic terminal on your way to the ferry or will be purchasing your ferry tickets here if you did not in advance. This beautiful terminal comes with its own historical significance and is worth spending some time visiting. Check the schedule for occasional music performances and also visit the neighboring 9/11 sky museum.
More Information: https://www.njparksandforests.com/parks/liberty.html
Cost: FREE
 RPM Raceway (Go Karting, Arcade, and Party Venue)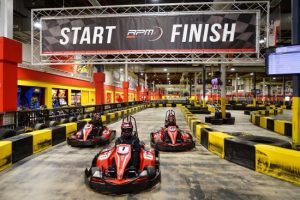 Fun for all ages! This place isn't only for go karting. The establishment also includes an arcade, billiards, and bowling. It's the perfect place to have a party or special event. You can enjoy some time with the family or have a fun adults-only night out with friends.
Please Note: Children must be at least 4'tall and 6 years old to race in the junior karts and at least 4'10 to race in an adult cart.
More information: https://rpmraceway.com/?gclid=CjwKCAjwo9rtBRAdEiwA_WXcFnG4e2yynYP6gg1D-ZCUKSCDBnoMHXcLLUtQ2qr54q5IxW3KIfkAERoCcakQAvD_BwE
Cost: Depends on activity
Sailing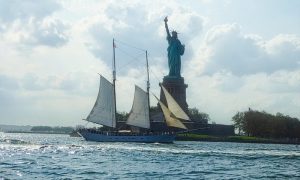 Jersey City is home to some incredible sailing experiences. Whether you're looking for a casual/guided sail along the Hudson and Liberty Harbor or more serious sailing opportunities and certifications, there are a variety of options available to you. Enjoy sails from Liberty Harbor which allow you to enjoy the best views of Jersey City, NYC, and the Statue of Liberty.
More Information: https://www.groupon.com/local/jersey-city/sailing
Cost: Medium to High
Stroll or Bike Along the Boardwalk
When the weather is nicer, there's nothing lovelier than taking a strong along the waterfront. We recommend starting in Jersey City and walking toward Hoboken (or vice versa). There are many great places to stop and take a rest, grab a bite to eat, and snap the perfect picture. Families will also find several small parks and playgrounds in both Jersey City and Hoboken.
More Information: https://foursquare.com/v/newport-boardwalk/4c64b21ecdb6e21e1d5d333e
Cost: FREE
Pershing Field Memorial Park
 Pershing Field Memorial Park is located in the heart of Jersey City Heights. In addition to the seasonal fun that can be had in within the parks grassy areas and playground, and sprinkler park, there are also courts, fields and a running track. Additionally, the park is home to an indoor ice skating rink and a year-round indoor pool.
More Information: http://jcparks.org/pershing-field/
Cost: Free to small fees for various facilities
Ice Skating
In addition to the Charles Heger Ice Rink (indoor) located in Pershing Park, Jersey City is also home to Newport Skates. The rink is open from mid-November through March offering seasonal fun for the whole family. The rink offers weekday and weekend hours with special hours throughout the holidays. Check the website for updated information and special closings. Group and private lessons are also available.
More Information: http://www.newportskates.com/
Cost: $8.00 admission $7.00 rental
 Skyway Golf Course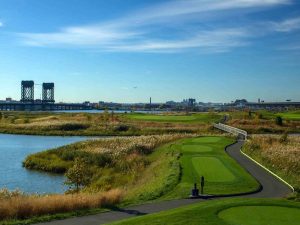 Tee off with stunning views of the NYC skyline in your sights. Located at Lincoln Park West, the course offers a unique urban golf experience. This course is home to daily playing opportunities as well as local and national tournaments and events.
More Information: https://www.skywaygolfcourse.com/
Cost: Start at $22.00
Lincoln Park
Lincoln park is the oldest and largest park in Hudson County with two separate areas: Lincoln Park East and West. Located on Jersey City's West Side, this park offers a nice retreat for families and friends as well as hosting a variety of events throughout the year.
More Information: http://www.jcwsca.org/lincoln-park-jersey-city-nj
Cost: Free to fees based on event
Liberty Science Center
People come from all around to visit Jersey City's famous Liberty Science Center. The kid and adult friendly facility is home to a planetarium, films and shows, and permanent and temporary exhibitions. The center also hosts many events throughout the year for both adults and children. The center is located in Liberty State Park and is right on the lightrail.
More Information: https://lsc.org/
Cost: Prices start at $19.99 for children with packages and group discounts available
 Mana Contemporary
This massive art warehouse located in Journal Square is home to an in-house museum as well as work spaces for local artists and studios. There are many events and exhibitions that occur at this space throughout the year featuring contemporary, visual, and performing arts shows. We encourage you to check-in regularly, as there are constantly new exhibitions and programs in the space.
More Information: https://www.manacontemporary.com/
Cost: Varies by event and exhibition
Landmark Loew's Jersey Theater
If you've never stepped inside this historic and ornate theater in Journal Square, you're definitely missing out. This theater, which opened in 1929 as one of the Loew's Corporation "Wonder Theaters". Check their website for special events throughout the year. You won't regret a visit!
More Information: https://loewsjersey.org/
Cost: Varies by event
Jersey City Theater Center
JCTC is a nonprofit organization that manages events at Merseles Studios and White Eagle Hall. Their season runs from September to June, featuring three thematic series. JCT-Kids is a youth friendly division which brings theater and the arts to our younger JC residents. The theater is located in the downtown historic district and is easily accessible by foot. Check their events calendar regularly for more information.
More Information: https://www.jctcenter.org/
Cost: Varies by event
Museum of Russian Art
 This local Jersey City museum is located in the quaint Paulus Hook neighborhood at 80 Grand Street. The museum features permanent and temporary collections and has been an integral player in introducing Russian Art to our area. We encourage you to check their website regularly for current and upcoming events, shows, and exhibitions.
More Information: http://www.moramuseum.org/
Cost: $10.00 suggested donation/membership Free
Barrow Mansion/ The Acting Space
This beautiful and historic mansion located in downtown Jersey City is home to a variety of community and cultural events, shows, performances, weddings, rentals etc. It is also home to The Acting Space, a local performing arts program for Jersey City's youth. Make sure to check both calendars for up to date information and event calendars.
More Information: http://www.barrowmansion.org/index.html
https://www.theactingspace.net/
Costs: Varies by event
Newport Centre Mall/AMC Movie Theater

Perfect for all seasons, the mall and movie theater offer a nice respite from the outdoors. Whether you're in need of a shopping day, or want to take in the newest flick, you'll have a great day indoors. The mall also offers a wide array of eating establishments from quick bites to sit-down restaurants. The movie theater boasts reclining chairs, making it the perfect little retreat. The mall and movie theater are easy to reach with a parking garage available for car commuters as well as being located on the light rail and path train stops.
More Information: https://www.simon.com/mall/newport-centre
Cost: Varies
There are a ton of fun options for you and your family. Jersey City also has an amazing selection of restaurants.  Also check out our blog, 'Things to do with kids' in Downtown Jersey City for more ideas on what to do with the family. There are also a ton of events happening in Jersey City every week which is always exciting.