Ice Skating Rinks in and Around Jersey City
They say we are having a mild winter so far, but I feel like it is pretty cold outside, right? Looking for a cold weather activity that will suit the whole family? Look no more, take them ice skating! There are some really great ice skating rinks in and around our area.
95 River Drive, Jersey City, Phone: (201) 626-7465
This outdoor rink is open for the season! Admission is $7 and skate rentals are $6. Newport Residents and tenants get a discount of half price daily admission with proof of residential or employee ID card. Once you pay, you can skate all day, which is nice if you live locally or have kids that need a lot of time on the ice! Their hours of operation are Monday – Friday from 4pm – 9pm, Saturday 11am – 9pm and Sunday 11am – 7pm. They even have holiday hours on major holidays. The next holiday they will be open is on President's Day from 11am – 9pm. Parking is limited in the area.
807 Summit Avenue, Jersey City, Phone: (201) 547-4392
This local favorite is in Jersey City Heights. They offer a parking lot, so it's very convenient from downtown if you have a car. This rink is covered, but open to the outdoors. They have a special admission fee of for Jersey City residents! $3 for adults, $2 for kids and $1 for senior citizens. If you don't live in Jersey City it will be $5 for adults, $3 for children and $2 for senior citizens. They offer two types of skates, figure skates and hockey skates. Check their calendar for hours of operation.
669 Avenue A, Bayonne, NJ
If you like the indoor and temperature controlled ice skating experience, this rink is for you. This rink offers public skating sessions on Fridays from 5:45pm – 7pm, Saturdays from 2:15pm – 3:30pm and 6:45pm – 8pm and Sundays from 2pm – 3:15pm. The cost for non-residents is $6 per session and $4 for skate rentals. There is limited free public parking offered.
West Orange, NJ 
This fantastic, recently renovated, indoor rink is only about a 30 minute drive from downtown Jersey City. It boats two rinks, a skate rental area, food concession area, locker rooms and more! It is located not far from the Turtle Back Zoo. Pass cards are available to buy for 12 admissions. They offer skating lessons, hockey lessons and various programs, check their website for details. On-site parking is available.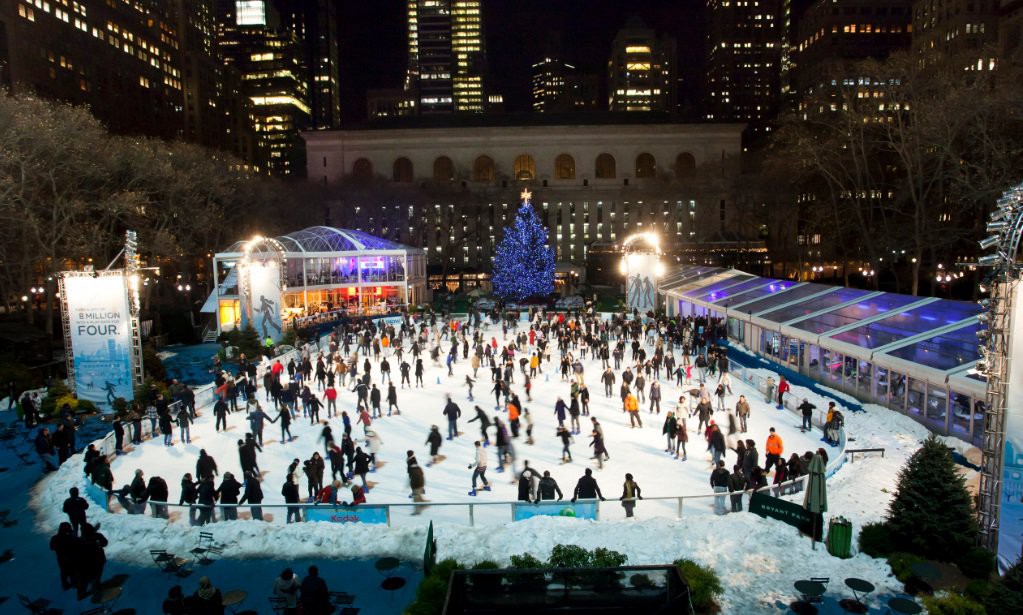 Bryant Park, NYC, Phone: (212) 768-4242
Bank of America Winter Village at Bryant Park is Manhattan's winter wonderland. Enjoy the Shops, The Lodge by Urbanspace, and The Rink, the centerpiece of Winter Village and New York City's only free admission ice skating rink. The Rink and The Lodge are open 8 AM-10 PM daily through March 3, 2019. This 17,000 square foot rink features free admission ice skating, high quality rental skates, and free skating shows, special events, and activities. Admission is free and skate rentals are $20! Getting there is easy just take the Path to 33rd street and hop on the B, D, F, M, 7 Subway to 42nd Street.

Three World Financial Center, 230 Vesey St, NYC, Phone: (347) 843-9503
Located on the Hudson River Waterfront, it is open from Monday – Friday from 1:00 PM to 8:30 PM, and on the weekends from from 10:00 AM – 9:30 PM. The rink offers programs such as Learn to Skate, Mommy/ Daddy & Me, Kick Ice Hockey Fitness and Corporate Skating Events. Single sessions of 90 minutes are $15 and skate rentals are $5.
Looking for more exciting winter-themed fun for  you and your family? We have so many options for you to choose from!
600 5th Ave, New York, Phone: (212) 332-7654
Perhaps one of the most famous ice skating locations in NYC, this outdoor rink is visited by people from all around the globe each winter. The rink is open daily with 1/5 hour sessions from 8:30am through until midnight. The rates are $27/adult and $15/child under 11 years of age. Skate rentals are $12. You can take skate lessons daily from 9am – 6pm for $50 per 30 minute private lesson (this also includes general admission to the rink). They also offer group rates with a 15 person minimum and advanced reservations required. Group rates are $15/adult and $10/child, with skate rentals being $8. There are so many things to do once you are there including great food, hot chocolate, shopping and so much more! Take the B, D, F to Rockefeller Center/47-50th Street.
61 Chelsea Piers, New York, Phone: (212) 336.6100
This indoor ice skating rink is open year-round. Skating sessions through March 9, 2015 are Monday and Friday 1:30pm – 5pm, Tuesday and Thursday 3pm – 5pm and Saturday – Sunday from 1pm – 3:50pm. They are closed on Wednesdays. Rates are $10/person for all ages and $5 per skate rental. Helmet rentals are available for $4.25. Various classes and programs are offered including private skate lessons, hockey tots, adult skate night and more. Check the website for details. Once you are there, Chelsea Piers offers so much including great food, drinks, shopping and more! On-site parking is available for a fee. You can also take the M23, M14-D or M12 buses.
Tips and tricks for when you go
Bring your little one's bike/scooter helmet. I didn't realize this one until we were there. A lot of these places offer helmet rentals, but if you have one, bring one!
Dress appropriately! Some of these rinks are outdoors or partially covered, so it's cold in there! Dress little one's in a snowsuit with layers. If they fall on the ice (which they do…a lot) they will start to get wet, so snow pants are best. But, don't forget about you. Try double socks to keep your feet warm in the rental skates.
Leave your bag at home or in the car. I know this one seems obvious, but I found myself at the ice skating rink with a bag and nowhere to leave it. Try just taking the essentials in your pockets or lock your bag in the trunk of your car while skating.