12 Things You Must Do With Kids in New Jersey
Sometimes it's easy to get caught up in a routine and go to the same places, eat the same food, and see the same sights. Traveling to the city is a hassle especially with kids and a Philadelphia road trip might be out of the question. There are plenty of fun things to do right here in The Garden State for the entire family to enjoy! Take a look at our list of 12 Things You Must Do With Kids in New Jersey.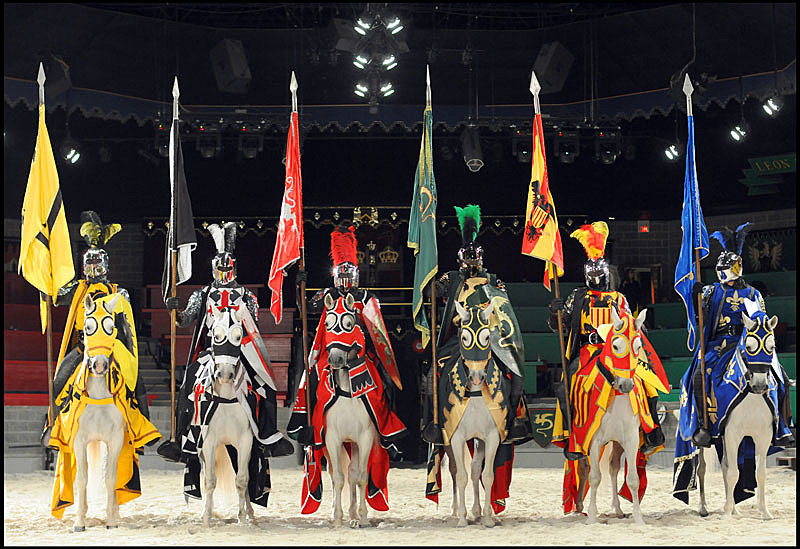 149 Polito Ave, Lyndhurst, NJ
Cheer on your knights as they battle to achieve eternal glory. Spectators 12 and under can enjoy an authentic Medieval experience for $36.95 while adults pay &62.95! Enjoy a hearty meal, beautiful horses dancing to music and some delicious food. The performances, food and experience earns Medieval Times a spot on our list of 12 Things You Must Do With Kids in New Jersey!

1 Riverside Dr, Camden, NJ 08103
This aquarium has a reputation of being "America's Most Touchable Aquarium." The large aquarium is an underwater wonderland for the kids. Daily activities include Shark Week, Hippo Feed and Talk, Meet the Divers and more! The aquarium is open year-long from 10am – 5pm. General admission is $29.99 for ages 13 and up and $21.99 for kids 2 – 12 (kids under 2 are free). There is parking located on site aquarium. It is $10 per day for general admission and $5 for Aquarium Members.

354 Great Meadows Road in Hope, NJ
The Land of Make Believe's founder designed & built with the dream of providing affordable family fun. This amusement park isn't just for kids! Adults alike can take part in the thrills and chills that the park has to offer. The park is open daily from 10 AM – 6 PM and the water park closes at 5:30 PM. Adults can enjoy the day for $28. While it's $30 for children ages 2-18 and $26 for senior citizens 62 and up! Admission covers all rides, shows, attractions, family picnic grove, and the water park! Parking is also free! Before you and your little one get to the park, you can check what rides they can go on with their height requirement guide.

1 Six Flags Boulevard in Jackson, NJ
Six Flags Great Adventure is a staple on the east coast making it the perfect addition to our list of 12 Things You Must Do With Kids in New Jersey. While Six Flags has several locations, the largest one is right here in Jackson, New Jersey. Whether it's flying like Superman, facing your fears on Kingda Ka, the tallest coaster in the world and fastest roller coaster in North America or twirling the day away on Pepe' Le Pew's Hearts Aweigh, there's something for everyone at Six Flags! Ticket options include a daily ticket, gold season pass and a Six Flags Membership. Before you enter the park you can also explore the Six Flags Safari! Get ready for lions, tigers and bear oh my!

275 Beachway Ave

, 

Keansburg, NJ 

Due to it's location, Keansburg was hit hard by Hurricane Sandy which upended the park taking its historical attractions with it. In 2013 the park re-opened thanks to the great deal of teamwork! Keansburg Amusement Park offers over 40 rides including kiddie family and thrill rides. You can buy tickets individually or in books of 50-200 tickets! Have fun on a budget! Keansburg offers printable coupons for you!

500 Boardwalk, Point Pleasant Beach, NJ
Take a stroll down the boardwalk at Jenksinson's! There's so many fun things to do for the whole family to enjoy! Win big with the boardwalk games, fill your belly with yummy treats and children can visit the onsite aquarium for just $8. If you decide to take a dive into the ocean or soak up some sun, don't worry about the fee because the beach is free!

6415 E Black Horse Pike, Egg Harbor Township, NJ
Bring the joys of reading to life which is why it earns a spot on our list of 12 Things You Must Do With Kids in New Jersey! For over 60 years, since its establishment in 1955, Storybook Land has been keeping the spirit of childhood alive in an entertaining and educational atmosphere. Your pay-one-price admission to Storybook Land includes unlimited rides, along with access to all of our storybook attractions! Admission for adults and children 2-64 is $27.50 and $24.50 for seniors 65 and over. Children under 2 can enjoy this amazing storybook experience for free!

50 Lackawanna Dr, Stanhope, NJ
This town ain't big enough for the two of us. Only joking! The fun at Wild West City is for everyone. Adult admission to the park is $18, $16 for children 2-11 years of age and $13.50 for senior citizens. Ride tickers including the stage coach, train, pony ride and miniature golf are is an additional $4.

100 Pinedge Dr, West Berlin, NJ
At Diggerland, kids are encouraged to get messy! Pick things up and tear things down behind the wheel of a dumper truck! There are so many construction themed rides for you and your family to enjoy! Diggerland XL, is the adult friendly part of the park allows adults to feel the thrill of operating heavy machinery. Host your next team building event, birthday party or bachelor and bachelorette at Diggerland! You can go any time or schedule your trip ahead of time!

40 Fort Lee Rd, Leonia, NJ
Dinosaur Field Station is the Jurassic Park of the Garden State! This a world-class family attraction that combines paleonthology  with the creative minds of artists giving it a well deserved spot on our list of 12 Things You Must Do With Kids in New Jersey. Guests 2 and older will pay either $16.75 at the box office or $15.50 online (including a transaction fee). Guests under 2 are free. Check out the awesome things you can add-on.

80 Sculptors Way, Hamilton Township
Nestled in the heart of central New Jersey lies Grounds For Sculpture, a magical place where art and nature are always at play. At its core are more than 270 sculptures by renowned and emerging contemporary artists, each thoughtfully positioned on meticulously landscaped parkland full of thousands of exotic trees and flowers. It is a feast for the senses. Apart from the outdoor art there are several exhibitions for you to visit. Grounds For Sculpture is open all year-round rain or shine. Admission for adults is $18, seniors $15, students 6-17 or with a valid ID pay only $10!
Before you load up the car and go, make sure to call ahead of time to confirm hours and dates for each location! Despite being so close to Manhattan, New Jersey can stand on its own and offer so many fun things for families to do all year round!