Five
Hob
oken
Caf
es
Perfect for Remote Work
Whether you are a coffee lover or not, working at one of your local cafes has perks. Employers and educational institutions are more inclined to allow employees to work from home. There is less stress and freedom that comes with working at a coffee shop. We put together a list of five Hoboken cafes perfect for remote work. To help you stay productive, we rated the cafes based on wifi accessibility, good food and drinks, and overall ambiance. Here are five Hoboken Cafes that we worked remotely from and loved!
Bwé Kafe has two locations to choose from in Hoboken. Their hours do differ, so make sure to check their website before heading over. Additionally, they are known for their cute events, shop, and flowers. Moreover, they don't just serve coffee; they build community. If you are looking for a friendly and cozy place to work, this is it! We highly recommend their delicious chai latte and banana bread.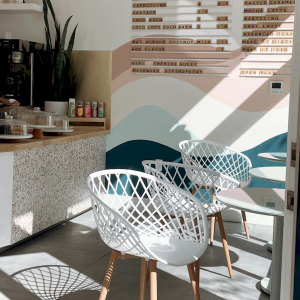 Hello from the Hive is your home away from home for remote work. They playfully refer to themselves as "your best friend's mom's kitchen." You can shop for beauty, wellness, and lifestyle products online or at their cafe. They have fresh coffee and pastries baked daily with love. The best part? They have a play space! This cafe is a great choice for parents who work remotely with little ones at home. Open play is available during all open hours. Reservations are not required; however, there is a fee of $7 per child over 12 months of age.
Hoboken has a lot of cafes that are ideal for remote work, with Hidden Grounds being a prime example. Specifically, we recommend the 79 Hudson St location for working remotely due to its ample seating space – perfect for working, studying, or even coffee dates. Additionally, the cafe offers a mouth–watering selection of pastries, coffee, and chai – YUM!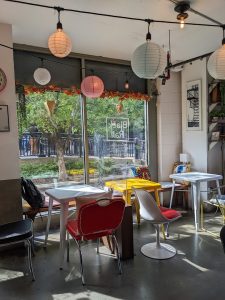 Located just down the block from the 9th Street/Congress light rail station, you will find Black Rail Coffee – an ideal spot for remote work in Hoboken. With its contemporary decor and Biggie Smalls–themed menu and merchandise, Black Rail offers a unique atmosphere. Their chai latte is a must–try, and they have an array of grab–and–go breakfast sandwiches. Additionally, those with children also have books to keep them occupied. Thus, Black Rail Coffee will become a weekly go-to for your next remote work session.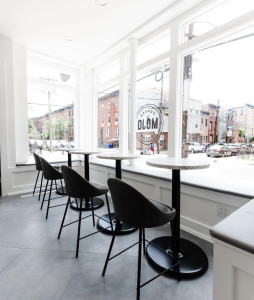 Moreover, Mojo has two locations to choose from to get your work done; they offer both a vibrant indoor seating area and, during the warmer season, quaint outdoor settings. Mojo is an ideal place to catch up with friends, read a book, grab a bite to eat, and, most importantly, get productive!
Hoboken has a cafe for everyone, no matter what type of remote work you do. With this list, you can't go wrong when looking for the perfect spot. Start your day off with a delicious cup of Joe and some good vibes at one of these five Hoboken cafes. So, what are you waiting for? Grab your laptop and head to one of these cafes to start your work day!
Updated: February 27, 2023