Fall Family Events In and Around Jersey City
Ah Autumn! The leaves begin to change colors, the weather calls for our favorite sweaters and pumpkins and apples need picking. The days may be getting shorter, but that doesn't mean the family fun has to stop! Fall is packed with events that the whole family will enjoy. Don't know where to start? No problem! We've created a list of Fall Family Events In and Around Jersey City just for you!
September 30 @ 10:00 am – 2:00 pm
Who is as excited as we are for fall? Join us for the ultimate celebration with our Harvest Festival on September 30th, 10:00 am – 2:00 pm at Hamilton Park.
Please participate in the fall festivities offered at our event, including pumpkin decorating, arts & crafts, music, food vendors, and more!
Gather your family and friends and enjoy the fall fun with us 🙂
We are combining this with the Annual Cultural Diversity Festival and are so excited to see all of you there!
October 1, 2023 @ 9:30 AM
Lincoln Park, Jersey City
CityTri has partnered with Sustainable JC for this special JC Green Fall Half Marathon and day of fundraising. CityTri feels privileged to work with this mission-driven Jersey City non-profit and we are donating a percentage of our profits to Sustainable JC as they work to raise awareness for respiratory health during National Healthy Lung Month this October. Jersey City has the highest rate of asthma prevalence in Hudson County and as a #HealthierJC partner, SJC is seeking to improve air quality conditions in neighborhoods across the city.
Join us on October 1st to do a Half Marathon, 10K, 5K or Fun 1-Mile Community Walk / Run – whether you are a professional runner or a casual runner, running solo or part of a group, just come out and get healthy with us!
Authentic German food, live music, dancing, and other entertainment will be part of this free, family-friendly celebration. There will be live Oompah, and polka music performed by the Dance Hall Detour. Bahrs Landing Restaurant will prepare bratwurst, knockwurst, kraut, potato pancakes, goulash, sauerbraten and Bavarian noodles. Wash that down with light and dark Oktoberfest beers. Enter the Best Dressed or Beer Stein Holding contests. Visit the craft vendor booths.
Weekends from September 30th – October 29th
Bronx Zoo
Our annual family-friendly Halloween tradition is back at the Bronx Zoo. Come dressed in your Halloween best and enjoy! Check online also for Pumpkin Nights!
Fall Public Events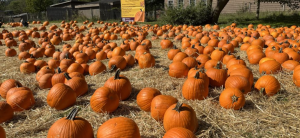 There are many Fall events happening this year! Check the link for the list of fun events!
Hudson Valley › Sep 15 – Nov 19, 2023 and Long Island › Sep 22 – Nov 5, 2023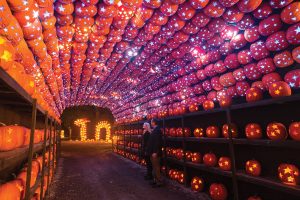 Bigger, brighter, and better than ever before…experience thousands of hand-carved jack o'lanterns illuminating the night. Immerse yourself in larger-than-life displays, complete with special effects and an all-original soundtrack. Since 2005, visitors of all ages have been wowed by this magical walk-through experience.
Saturday, October 14th @ 12 PM – 5 PM
Willie McBride's, Hoboken
Layups 4 Life and Party With Purpose are excited to officially announce the 2023 date for their annual charity cornhole tournament. Join us for a fun day of cornhole, food, drinks and prizes, all in an effort of raising vital funds for cancer research, clinical trials and local children's charities. Registration deadline will be at 11:59pm on Wednesday October 11th
Apple Pie Baking Contest
Saturday, October 14th @ 1 PM – 6 PM
Front of City Hall Plaza, Jersey City
Apply Here to register for the apple pie baking contest. Bakers of all ages are encouraged to bake their finest pies!!
Harvest Fall Festival
Saturday, October 14th @ 1 PM – 6 PM
Front of City Hall Plaza, Jersey City

A day of celebrating the fall season and diversity in our city. There will be an array of fun activities planned for the whole family,
including pumpkin painting, arts & crafts, musical acts, dancers, an art show and — of course — delicious food!
Saturday, October 21, 2:00 pm to 6:00 pm
Reeves-Reed Arboretum, 165 Hobart Avenue, Summit, NJ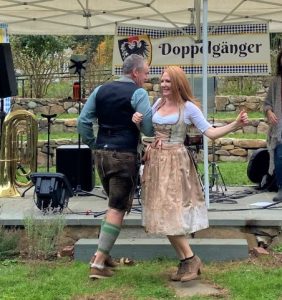 Join us at OKTOBERFEST 2023 when we Put the 'PUB' in Public Garden and transform the Arboretum into a beer garden with ALL YOU CAN EAT & DRINK, lawn games and live music! Register here
October 28th and 29th
My Gym
Celebrate Halloween here at My Gym! Your little one will have a SPOOKTACULAR time with themed games, gymnastics, zipline, and more! We encourage everyone to show off their best costumes for our Monster Runway Show! Goodie bags with treats will be provided. Please note all one-hour parties are parent-participating, and we will be allowing one parent per child on the gym floor!
3 and Under Parties: Saturday, October 28, 2023 – 1:30-2:30 PM + Sunday, October 29, 2023 – 2:00-3:00 PM
All Ages: Saturday, October 28, 2023 – 3:00-4:00 PM + Sunday, October 29, 2023 – 3:00-4:00 PM
Saturday, October 28, 2023 at 6:00 pm.
Hamilton Park, Jersey City
The Hamilton Park Neighborhood Association (HPNA) is proud to announce that we are joining the Zombie Opera team as its exclusive non-profit and sponsor. This year's event will be bigger and better. A larger orchestra, better sound, celebrity performers, and the addition of food vendors and face painters prior to the start of the show will make this the event of the season!
Trunk or Treat
October 30th @ 3 PM – 6 PM
7th Street between Manila and Erie, Jersey City
Halloween Family Bash
October 31st @ 3 PM – 8 PM
Newark Avenue Pedestrian Mall and Plaza, Jersey City
Updated September 27th, 2023