6th Annual Cultural Diversity Festival in Jersey City 2019
October 13, 2019 @ 10:00 am

-

2:00 pm
JCFamilies is excited to announce the 6th Annual Cultural Diversity Festival in Jersey City.
This year our 6th Annual Cultural Diversity Festival will be together with our Harvest Festival. It will be a day of celebrating the fall season and diversity in our city.  There will be an array of fun activities planned for the whole family, including pumpkin painting, arts & crafts, musical acts, dancers, an art show and — of course — delicious food!
In this spirit, we invite you to join us for the 6th Annual Cultural Diversity Festival on October 13th at City Hall Plaza from 10 am to 2 pm.
This unique and special event is a great opportunity for children and families to experience the vibrant and diverse cultures of Jersey City!  We hope to see you there!
Performances in Cultural Diversity Festival:
The Performing Arts Workshop​ is the product of a lifetime spent in the studio, on the stage, and behind the scenes. It began with the belief that quality arts education should be accessible and meaningful. Their programs engage people of all ages in arts experiences designed to build self-esteem, develop creative expression and promote healthy living.
Nimbus focuses its work on the intersection between high-level dance and innovative ways of involving communities and audiences. Founded in 2005, Nimbus presents performances and programs to diverse audiences locally and on tour, serving present audiences and building future ones.

Energetic center featuring salsa dance instruction for all levels. Salsa Fever On2 has been in business since 2000. They have a reputation throughout the dance community for providing our students with an Award-Winning, structured curriculum that is conducive to all different levels of dancers while maintaining a fun and stress-free environment.

Artistic Director Calai Chandra performs Bharatanatyam regularly at various venues in New Jersey and New York throughout the year. She is on many occasions accompanied by her budding student artists. They are widely appreciated for the pure classical tradition they practice. Located at Newport in Jersey City, lessons are imparted on weekdays and weekends at convenient times to kids, parents and working professionals.
Capoeira is a Brazilian art-form that combines dance, music, acrobatics, and self-defense. Our curriculum is shaped in such a way that any student will learn Capoeira in all aspects integrating body, mind, and spirit. The mission of Arts United Capoeira is to promote understanding, appreciation, and practice of Capoeira, which is a Brazilian art-form that combines music, dance, self-defense, ritual and a way of life.
West African dance traditionally pulls movements from everyday life of chores, work and imitating animals.  African dance uses all these types of gestures to tell a story or to celebrate life.This dance performance is a mixture of traditional West African, West Indian and Afrobeat dance moves. It is a total body workout, the best cardio you will ever have.
Classes are held at various locations in JC and in The Heights. Nearby classes are held at Grassroots Community Space 54 Coles Street, Jersey City, NJ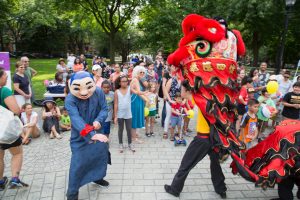 YEE'S HUNG GA INTERNATIONAL KUNG FU ASSOCIATION

The school is located in the heart of Clifton, New Jersey. Please feel free to visit them in person during their regular schedule or by appointment. If you have any questions or would like to schedule an appointment, please call them at (973) 772-8988.

Shehnaaz is a trained dancer in Classical Dance form of Bharatnatyam (Dr. Swaminathan) and has learnt other dance forms (like Jazz, Salsa, Cha Cha Cha) from the Shiamak Davar Institute of Performing Arts. She has participated in several stage shows and has been an integral part of choreographed dances since the early age of 3.
Their mission is to nurture both the potential artist and the recreational dancer who studies only for the inherent rewards of self-discipline, confidence, physical fitness and a greater appreciation of motion and music. Students are encouraged to discover dance and movement in order to better understand themselves. As a student progresses they are challenged with the latest dance innovations and choreography while emphasizing technique, safe work habits, personal responsibility and concentration at Jersey City Dance Academy.
SOFIA ORO
Sofia Oro, fifteen years old, starting sophomore year at High Tech High School, loves to play guitar. She started playing guitar at twelve years old taking lessons at The Guitar Bar in Hoboken. During the summer she plays for the kids at Camp Liberty in Liberty State Park. She has also performed around her community at Barksky Gallery, Bowers Gallery, Project Greenville, Pershing Field Garden Friends, and Groove On Grove.
They specialize in Latin, ballroom, salsa, swing, tango and wedding dance lessons. They also offer group classes and private lessons for all ages, children to adults. Their mission is to encourage and support their students at every phase of their dance development.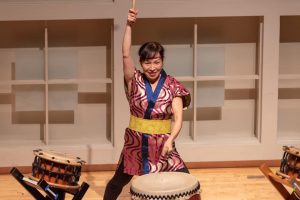 Traditional and contemporary Japanese Taiko(drum) music. They use two styles of drumming. Suwa style drumming—and the ensemble drumming idea both come from Daihachi Oguchi, the Grand Master of their style of drumming.
CADENCIA DANCERS
Founded in 2009 the Cadencia Dancers (formerly Caña y Cadencia Flamenco) is a flamenco dance and music troupe bringing the art of flamenco to audiences to the New York City and Tri-State area. Started as a Tablao at Café Andalucia, in Manhattan 2010-2014, the Cadencia Dancers today perform in a variety of settings including cultural festivals, cafes, art openings, and street performances.
They currently teach flamenco class at Performing Arts Workshop Studio in Jersey City 196 Morgan st every Saturday at 1.15 pm.
Schedule for the event:
10:15am- Cadencia Dancers
10:20am- Nia from African Dance JC
10:25am- Jersey City Ballroom
10:30am- Nimbus Dance
10:35am- Performing Arts Workshop
10:40am- Dance Calai
10:45am- Salsa Fever On2 Dance Academy
10:50am- Shehnaaz Dance Academy
10:55am- Jersey City Dance Academy
11:10am- Yee's Hung Ga International International Kung Fu Association
11:25am- Kizuana Daiko
12:15pm- Au Capoeira
12:25am- Sofia Oro
Food Vendors
Taste of Poland will be selling pierogi, sausages, and bratwurst.
Founded in Jersey City by college students Trisha & Lloyd, what started as a fundraiser to fix the young couple's car has blossomed into NJ/NY's newest dessert craze by redefining banana pudding one bite at a time! Winner of the best NYC Dessert Vendor @VendyAwards & featured on Buzzfeed, Thrillist, and more, #Baonanas bring to you happiness in the form of a new take on "banana pudding".

SUPPORTED BY
City of Jersey City
Office of Cultural Affairs – Jersey City
British Swim School
True Dental
Kiddie Academy
My Gym
New York Life Insurance
Get Around
One of the reasons we love JC is because this is a real melting pot of people from all over the world.  We live together and appreciate our differences.  Jersey City is a mix of styles, languages, ethnicities, rhythms, opinions, tastes, and cultures.  We live here because this diversity is important to us and we understand that these differences make us all better people, more compassionate, understanding, and inclusive.  We have experienced the richness of a community that is diverse.  We have seen diversity make a community stronger, more resilient, and more cohesive.  We are proud of our diversity and love celebrating it.  We wear it as a badge of honor that Jersey City was named the most diverse city in America.