Fun things to do in jersey city
So much is happening this fall that it's nearly impossible to create a comprehensive list of events – but that doesn't mean we didn't try! From food and education festivals to dogs in costumes, we've got your fall calendar stacked.
Cooks and Books 9/30; Hoboken Library 500 Park Ave; 3:15
Budding Top Chefs ages 4+ learn easy, healthy snack ideas with Dietician Elisabeth Holtzer from Shoprite. Tickets required.
Kids Pajama Yoga 9/30; Hamilton Health and Fitness; 6-7:30
This special Friday night Mindful Play Yoga will take your child on a fantastic yoga adventure! We will play fun yoga games to expel your child's energy, practice fun yoga games, color a mandala, have story time, and experience a deep relaxation.
October:
Bark in the Park
10/1; Stevens Park in Hoboken; 12-6
Enjoy a celebratory dog-walk/parade, live entertainment, a free bounce-house & children's activities, and delicious food & awesome vendors throughout the day!
Diwali Mela in Jersey City; Exchange Place; 10/1; 12-7
Biggest Diwali Mela in Jersey City with a great line up of events. Enjoy Dhunuchi performances (dance off), Henna Tattoos Kids and Adults dance performances and children performances of Ramayana. Involve your children in interesting activities like Diya decoration workshops and Chalk Rangoli competitions.
Alice in Wonderland by Puppetworks 10/2-12/11, Merseles Studios; Sundays at 1 pm
Adapted by Nicolas Coppola, PUPPETWORKS' Artistic Director, "Alice In Wonderland" features a cast of hand-carved, wooden marionettes in costumes and settings typical of 15th-Century French design.
Taste of Hudson Fundraiser 10/6; Harborside Atrium, 34 Exchange Place; 6-9 pm
The Boys & Girls Clubs of Hudson County invites you to enjoy a Taste of Hudson! Join us for an evening of drinks & delicious bites from Hudson County's best restaurants. This is an adult event.

Navrati 2016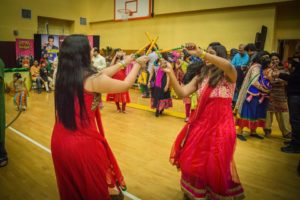 10/7, 10/8, 10/13, 10/14; India Square, evenings.
More than fifteen thousand men, women and children play Garba-Raas on the
street throughout the night, every night for 4-6 nights. A rare and beautiful event. India Square is inviting you to the grand Navratri celebrations on Fridays 7th & 14th Oct and Saturdays 8th & 15th Oct of 2016 at Jersey City, NJ.
Fun things to do in jersey city
Jersey City Arts and Studio Tour (JCAST) 10/8-10/9
Citywide showcase of the arts featuring nearly 1000 participating artists in hundreds of venues including private studios, galleries, local businesses, and pop-up and public spaces.
 Jersey City Columbus Day Parade 10/8; Newark Avenue, 1 pm
The 7th Annual Jersey City Columbus Day Parade will kick off from Dickinson High School down Newark Avenue to Jersey City City Hall. Come out and support Italian American Culture and our Honorees!
Rocky Horror Picture Show LIVE! 10/14; Harsimus Cemetery; 7:30-11 pm
Come & See this Legendary Cult Classic and wonderful live performance! This is outdoors so dress warm. Food vendors and refreshments will be on site, with limited folding chair seating, so feel free to bring blanket or cozy lawn chair. This is an adult event.
Jersey City Harvest Festival
10/15; City Hall Plaza; 10-2
Pumpkin Decoration, Arts & Crafts, Music for Kids and more…
Hoboken Harvest Festival 10/22; Pier A Park; 11-3
Free activities including: Pony Rides, Petting Zoo,Pumpkin Painting, Hayrides, a Trackless Train, Music, a Hay Maze, Face Painting, a Moonwalk, Sand Art, Craft Activities, Puffy the Dragon, Balloons & more
Ghost of Uncle Joe's 10/22; Harsimus Cemetery, 1pm-3am!
This annual event is rock show in a cemetery with local musicians performing covers of famous bands. There will be delicious food, refreshing beer, prize giveaways for best costumes and more.

Halloween Parade in Hamilton Park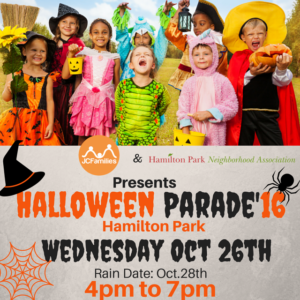 10/26 Hamilton Park; 4-7
Entertainment for kids, dance performance by Next Step Broadway, 6:00 Kids Costume Parade Starts, 6:00 Dogs Parade starts
Halloween Pet Parade in Hamilton Park 10/26; 6 pm
Anything's Pawsible presents Dog's Halloween Parade 2016! Exciting prizes to be won including spooky dress & most creative. Please RSVP only if you'd like your dog to participate in the parade.
Board of Education Candidate Forum 10/27; PS16 96 Sussex St; 7-9 pm
This is a moderated forum, all candidates will be invited to participate. Audience may submit question at the event. This is an adult event.
Rise of the Jack O'Lanterns at the Meadowlands 10/27-10/30
Debuting in New Jersey is the most iconic, truly unique family-friendly fall event, RISE of the Jack O'Lanterns! Come see thousands of hand-carved illuminated jack o'lanterns creatively arranged along a scenic walking path and set to a musical score designed to bring out the Halloween spirit in visitors of all ages!
Terminal of Terror 10/29; Liberty State Park; *Family Friendly Events 4-8 pm*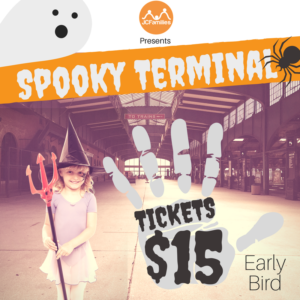 The historic Central Railroad of NJ transformed into The Terminal of Terror. Music, Food Trucks, Haunted Activities, Bouncy House, Costume Contest and more!

Family Halloween Bash on the Pedestrian Mall 10/31; 3-6 pm
Have a ghoulishly good time on The Pedestrain Mall this Halloweeen! There will be facepainting, a bouncey house, music, and CANDY! In-district members- FREE!
Ragamuffin Parade & Costume Contest 10/31; Washington St. Hoboken, 3:15
Line up at 3:15pm on Washington Street bet. 13th & 14th Street. Parade starts at 3:30pm. Parade features local live music, floats, lots of great costumes and so much more. Wear your Halloween best! Costume Contest begins at 4:30pm after the Parade at The Little League Field, 5th Street & River Terrace
November:
Artists' Studio Tour (Hoboken) 11/8; 12-6 pm
There are many locations; the tour is designed so you can easily walk from studio to studio, gallery to gallery. As diverse as the art itself, the tour's popularity draws artists far beyond the banks of Hoboken, showcasing art in many forms, in a variety of mediums. Visitors can meet the artists and witness the creative process at work.
Hoboken Turkey Trot and 5K & 1 Mile Fun Run 11/19; Pier A Park 9:30 am
Join us for the 3rd annual Hoboken Turkey Trot 5K and 1-mile fun run! This friendly, fun, and family event takes place along Hoboken's historic waterfront! Proceeds will benefit local charities in the City of Hoboken. Burn calories and speed up your metabolism before the big feast!
Jersey City Heights Turkey Trot 5K 11/24; Pershing Field; 8 am
Join the first annual Jersey City Heights Turkey Trot 5K and 1 mile fun run. This great race for family and racers takes place along Jersey City Heights business district!