The Best Korean Restaurants in Jersey City
Many things make Jersey City a great place. From being an affordable and great place to raise a family to fantastic nightlife, there is something for everyone. But the best thing about Jersey City is how rich and diverse the culture is. You can see it in music, street art, and the city. But you can probably see it best in the cuisine. It's foodie heaven since there are various restaurants (French, Italian, Indian, Korean, etc.). Well, today, we are going to talk specifically about Korean cuisine in Jersey City. Then, we will share with you a list of the best Korean restaurants in Jersey City. So, if you ever find yourself in this amazing place and want some excellent Korean food, you won't have to spend much time searching for the best. Just check out our list, and you are ready to go.
Some of the best Korean restaurants in Jersey City
We made a little list to help newcomers to Jersey City who loves Korean food. Moving is already stressful enough, so you deserve to go out and celebrate with delicious Korean food. Your JC local movers might be able to help with any task, but we are pretty sure they won't be able to help you with this as well as we can. So here is our list:
Kpot Korean BBQ and hot pot

ONDO Jersey City

Ahri's Kitchen

Itto Sushi

Koro Koro Rice Ball Cafe

Kimichi Guys
Kpot Korean BBQ and hot pot
The first restaurant that any Korean food lover must visit is Kpot Korean BBQ and hot pot. If you want to taste authentic Korean dishes, this is the right place for you. As the name suggests, its main attractions are incredibly delicious barbecue and hot pot. But that's not all. There is no shortage of delicious Korean dishes. Korean seafood tofu, Gyoza, Shrimp dumplings, etc. The tasty food and excellent customer service are why Kpot BBQ and hot pot currently have 9 locations in America and are still expanding. Proof of its popularity is that it's not uncommon to see people waiting outside to get in. The exact address in Jersey City is 414 Grand St, Jersey City. Working hours are Sunday to Thursday, 12:00- 22:30, and Friday and Saturday, 12:00 -23:30. This place offers indoor dining, delivery, and takeout.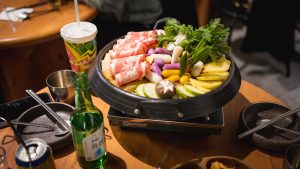 ONDO Jersey City
The next on our list of best Korean restaurants in Jersey City is ONDO. Here you can taste the old traditional Korean dishes and some new modern versions. Simply put, there is something for every generation. Japchae, Bossam, Charred Bulgogi, and Green Tea Yuzu Cake are some delicious dishes at ONDO. This is an excellent place for a fun lunch with friends, a family celebration, or an intimate dinner. ONDO is located at 3 2nd St, Jersey City. Business hours are Sunday through Saturday, 12-2:30 pm and 5-10 pm. But if you want to taste delicious traditional Korean dishes at ONDO, you must go there. They do not offer takeaway or delivery. But many excellent reviews say happy customers left, and it is worth the trouble.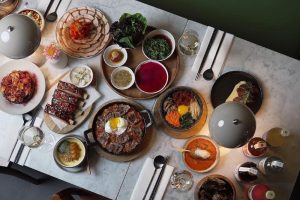 Ahri's Kitchen
Ahri's kitchen is another excellent place for lovers of Korean cuisine. This small family-owned Jersey City restaurant has been a staple in Korean food since it opened seven years ago. The cozy, intimate atmosphere is what makes it so appealing to people. They offer dishes such as Grandma's Pork Dumplings, Shrimp Tempura, Kimchee Fries, Bulgogi Bibimbop, and Kimchi Dumpling Ramen Soup. Even though it's small, it offers both indoor and outdoor dining. The best part is that it is affordable, yet you still get delicious traditional Korean food. They offer to dine in, takeaway and delivery. So, if you are in the mood for Korean food but don't want to leave your house, Ahri's Kitchen is just a phone call away. Business hours are Monday through Friday, 11:30 am-3 pm, and 5-9:30 pm. Saturday 11 am- 10 pm and Sunday 11 am-9:30 pm. The exact address is 227 7th St, Jersey City.
Itto Sushi
All sushi lovers from Jersey City should look no further than Itto Sushi. This a chill, relaxed place, perfect if you want to grab a quick bite with friends or some lunch on your break from work. Here you can order various sushi dishes (tuna, salmon, eel, red clam), soups (miso soup, gyoza soup), rolls (California rolls, shrimp tempura rolls, Yellow Dragon rolls), and noodles(spicy seafood ramen, tempura udon). Even though it hasn't worked for a long time, Itto sushi has already acquired many loyal customers thanks to its delicious food and warm customer service. You can dine in or, if you prefer, takeaway. Business hours at Itto Sushi are Tuesday through Saturday, 11:30 am-2:30 pm, and 4-9:30 pm. On Sunday, working hours are 12-2:30 pm and 4-9 pm. But Itto Sushi is closed on Mondays. The full address is 239 Barrow St, Jersey City.
Koro Koro Rice Ball Café
Koro Koro rice ball café is a small casual spot where you can enjoy delicious Korean food. Its primary specialty is various versions of rice balls (vegan teriyaki beef, Caribbean rice ball, Turkish rice ball, etc.) According to many positive reviews, the food is delicious, the portions are significant, and the staff is friendly. They are open every day from 9 am to 10 pm. They offer to dine in, takeaway, and no contact delivery. The full address is 538 Jersey Ave, Jersey City.
This was our list of some of the best Korean restaurants In Jersey City. You won't go wrong if you visit any of these places. And as you can see, there is something for every occasion. Fun family lunches (Kpot Korean BBQ and hot pot), quick casual bites with friends (Koro Koro rice balls), or something for sushi lovers (Itto Sushi). But the only way you will know for sure is if you try it yourself. And isn't that the beauty of exploring a city? Finding new and exciting places and eating delicious food. Hopefully, our list inspired you to go and give some of these places a chance to impress you with incredible Korean dishes. It would be best if you went in with an open mind to try something new.
Kimchi Guys
Exciting news for Korean chicken fans! Kimchi Guys is now officially open in the former Bonchon spot at 172 Newark Avenue. They specialize in Korean fried chicken and will be offering other options on their menu including fried rice, bulgogi, spicy pork and veggie bowls.
Author Bio: Angie Sims
Angie Sims used to work in the traveling industry for 6 years, and now she works in the relocation industry. For the last 3 years, she has been specializing in helping people with their domestic and international relocation. She is also a full-time mom and a part-time blog writer. From her own experiences, she writes about traveling and moving with children on her blog.
Updated April 10, 2023