Top Restaurants with Amazing Views In And Around Jersey City
If you are looking for some top Jersey City restaurants with amazing views, you can be sure that there is a perfect one for you that will suit your needs. Therefore, make sure to check some restaurants along the Jersey City shoreline. Above all, they offer beautiful views of Manhattan. Apart from choosing restaurants with beach views, you could check the ones showing the Statue of Liberty and Liberty State Park. Be sure that the food is delicious, the staff welcoming, and the view spectacular.
Jersey City
Hudson & Co.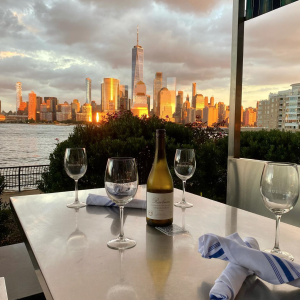 When moving to a new city, restaurants, bars, and nightclubs might be very important to people. Finding your perfect haven where you would spend your free time with friends and family members is crucial. Apart from elegant décor, amazing views, and a cheerful, warm atmosphere, Hudson & Co. provide all the luxury you have always wanted. Their cuisine is sophisticated and delicious. It is suitable for a casual day out or formal dining. Some dishes they offer are crunchy tuna rice cakes, sashimi, sushi, and a diverse range of pizzas and seafood.
When it comes to the view, rest assured that it is terrific. This restaurant is famous for providing its customers with spectacular Manhattan skyline views. Besides its first-class eating options, Hudson & Co. shows you amazing views of Manhattan buildings and the waterfront. The restaurant is enormous and offers both indoor and outdoor eating areas. So do not hesitate to visit this fantastic restaurant to enjoy its beautiful views and nautical atmosphere.
Apart from this restaurant, which is suitable for parents and kids, many places are ideal for parents with kids. If you are interested in finding a tranquil and calm place to spend time with your youngsters, check this list containing the best places to enjoy a family lunch in Jersey City. For example, you might opt for City Dinner, the Hamilton Inn, or Rumba Cubana. If you are a sweets lover, do not miss your chance to visit Life Pancake Factory. Their desserts will impress you, and you will find yourself returning for more.
Battello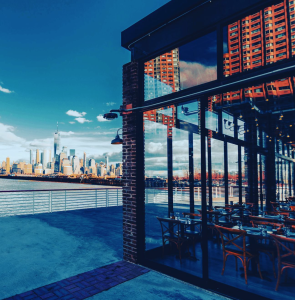 If you are looking for some top Jersey City restaurants with amazing views, do not miss Battello. The Jersey City shoreline offers unobstructed views of the Manhattan skyline. Battello offers one of the best views. This restaurant is famous for private events and business dinners above all. However, it is also an amazing place to meet someone casually for a drink and enjoy the stunning view. Its cuisine is primarily Italian, but you can try many other exciting dishes there. During the day, this place can also be an excellent location to dine with your kids.
Moving to a new place is always challenging and complex. This is especially the case when moving with children. However, many ways to get your children used to the new city. Namely, what you can do is explore the city together to help your kids adjust to the change. They will enjoy it, and you will also have fun!
Liberty House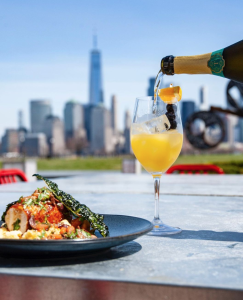 When it comes to this city, one thing is sure. Its décor is outstanding and the view magnificent. The interior is tastefully decorated with earth tones mirrored in natural stone, woods, and rustic metals. Moreover, it features a bar with a sushi station. Japanese cuisine lovers will be delighted to eat at this place. It is suitable for families, so you might want to come here after relocation to rest and relax. After all the hard work in moving furniture, packing, and unpacking, this place might be great to enjoy.
This place is also perfect for food lovers who appreciate delicious food. The food can be eaten in a relaxed setting with spectacular water views. Coming there with your friends and family to dine would be the best choice. This place might not be perfect for those who want a more formal environment and more sophisticated dishes. Check this list if you have been wondering where to find the best wings in Jersey City. You might try them with your friends while enjoying a stunning view simultaneously.
Rooftop At Exchange Place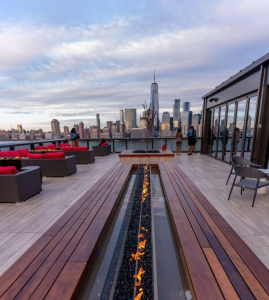 If you want to enjoy a good drink with a stunning view, stop by the RoofTop at Exchange Place. You can see breathtaking views of Manhattan, Jersey City, and the Statue of Liberty. It is located in Hyatt House, where you must take an elevator to the top. They have light bites and an extensive drink menu from cocktails to wine and beer.
Hoboken and Around
Charrito's
This laid-back restaurant is a perfect choice for family meetings and eating with your kids. It usually serves Mexican dishes such as enchiladas, tacos, and tostadas. When it comes to its view, it offers an unforgettable New York skyline. It is perfect for a romantic dinner with your loved one. At the same time, you can come there with your friends and enjoy a music night. All alternatives are available for you in this beautiful restaurant.
If you are a vegetarian, you can find delicious food. For example, you might opt for a cactus salad or vegetarian picadillo burritos. When thinking about other options for eating salad in Jersey City, rest assured that there are many excellent, good-quality choices. In addition, being a vegetarian doesn't always have to be tedious and exhausting. Once you have found the right dining place that suits your needs, all the problems related to looking for appropriate food will be gone.
Blue Eyes Hoboken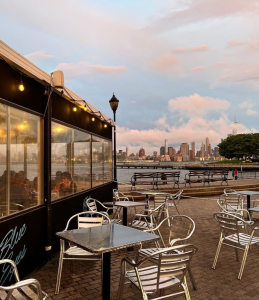 Blue Eyes is not one to miss for good views and food. They own a wood-burning oven made out of bricks that have been flown from Naples, Italy, to offer you the most authentic pizza Napoletana. Their restaurant sits on the Hoboken waterfront facing the gorgeous view of the New York City skyline. During the spring and summer months, they provide outdoor seating accompanied by a gelato stand and a raw bar so you can come and enjoy the view with them.
Ainsworth
The Ainsworth Hoboken, located on the Hudson River waterfront overlooking New York, brings a sophisticated twist to the classic all-American sports bar, restaurant, and private event experience. Additionally, they have an outdoor patio where you can enjoy good food and drinks.
City Bistro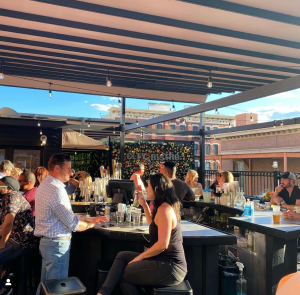 Located in Uptown Hoboken. City Bistro is a three-floor restaurant, bar, lounge & rooftop serving an eclectic menu of Italian American fare. Not only do they have a beautiful outdoor patio, but they also have a rooftop open for the summer. Enjoy their wide selection of beer and other drinks as well.
Molos Weehawken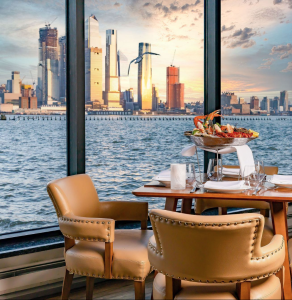 Molos Restaurant is a Greek and Mediterranean-inspired Seafood Restaurant on the Hudson River. The floor-to-ceiling windows on this two-story restaurant overlook the New York City Skyline. Their signature dishes include the whole fish, which is displayed in their fish market, and saganaki flame served tableside. The restaurant's full bar features the wines of Greece and is definitely worth checking out.
Author Bio:
Angie Sims used to work in the traveling industry for six years and now works in the relocation industry. For the last three years, she has been specializing in helping people with their domestic and international relocation. She is also a full-time mom and a part-time blog writer. From her own experiences, she writes about traveling and moving with children on her blog.