Where To Find The Best Wings In Jersey City
No matter what the season may be, we all love wings. There's a great variety to choose from in Jersey City: Korean, Buffalo, sesame, jerk, classic barbeque, and more. In addition, Jersey City has an abundance of restaurants and bars that offer you a wide variety! Therefore, we have rounded up a guide on finding the best chicken wings in Jersey City.
364 Marin Boulevard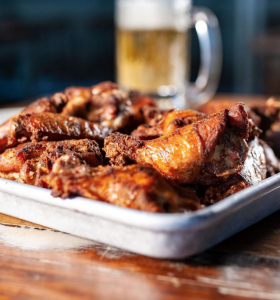 Hudson Hall is an Eastern European beer hall in the heart of downtown Jersey City. The decor and menu are designed for their guests to have an excellent experience with great food, beer, wine, and cocktails paired with fast/casual &, most importantly, friendly service accommodating groups of almost any size. Their wings are not one to miss! In addition, they have a big screen and TVs where you can watch the latest games.
516 Jersey Ave, Jersey City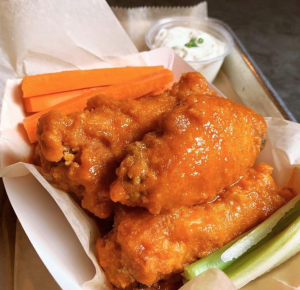 A fantastic spot offering a variety of sausage & beer in a rustic space with an old-school flair, Wurstbar has many beer options that will go perfectly with your food. We love the ambiance, from the large white marble bar, and the vintage décor from old butcher shops covering the walls is perfect! In addition, they serve wings with various sauce options: sweet, tangy BBQ, hot spicy Buffalo, Alabama white, or Thai chili.
179 Warren St, Jersey City, NJ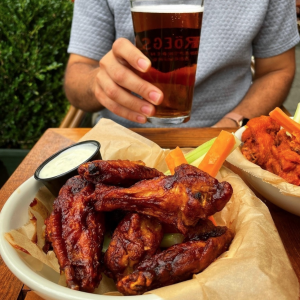 White Star Bar is a casual neighborhood American restaurant and craft cocktail bar in Jersey City and serves one of the best burgers in Jersey City. Both White Star Bar locations have kids' menus, including chicken tenders, pizza, sliders, and more. They have a menu of many wings options on their menu. In addition, they have Buffalo or House BBQ with a side of carrots, celery & blue cheese.
174 Coles St.
Ed and Marys is a local restaurant/bar in Hamilton Park. If you are looking for delicious food and drinks, check out Ed and Marys. They have some great food options, which include juicy burgers with fries and, of course, wings. Options include bbq, sweet Thai chili, and world-destroyer.
194 Newark Ave, Jersey City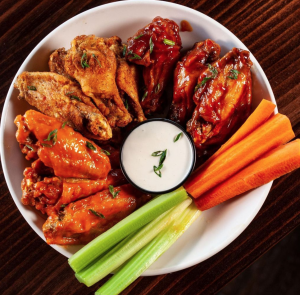 Left Bank Burger is a must to check out for all the burger and wing lovers, and if you want a fun environment, watch the game. They offer traditional hot wings with house hot sauce, carrots, celery, and bleu cheese or bbq. So you can enjoy watching the game while you take a bite of your juicy wings.
686 Bergen ave Jersey City, NJ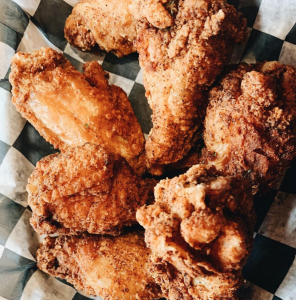 Looking for authentic family-style BBQ while you watch the game? This is your spot! One of the superb sports bars in Jersey City- Carvao, the Portuguese word for charcoal, is an idea that stemmed from our love of open-flame cooking. So please stop in, relax, have a bite, or enjoy the game on one of our 13 flat screens with a local or imported draft beer. They have a variety of wing options.
172 1st Street
O'Hara's is located right in downtown Jersey City. This pub offers a menu of beers, wings, burgers, ribs & more, plus trivia, DJs & sports on TV. It's perfect for spending a casual game night with friends! They have wing options, including Buffalo, bbq, Thai chili, lemon garlic, honey garlic, and more.
225 Hutton Street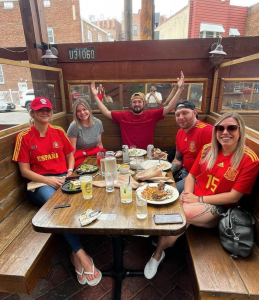 The Hutton is a neighborhood restaurant, bar, and wine bar located on Hutton Street in the Heights of Jersey City. They serve delicious cuisine and have a delightful variety of wings, including a began option. They also have a variety of beer and drinks ready for you to enjoy while watching the game on one of their TVs.
145 Newark Ave Jersey City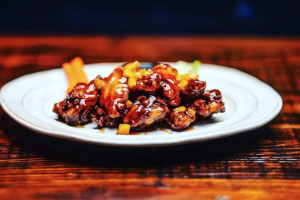 Located in the heart of Downtown Jersey City, The Ashford brings New York's speakeasy days to Newark Avenue's pedestrian plaza. Ashford is a ton of food options and beer. The Ashford is your place for a fun get-together, dinner with the family, and a great spot to watch your favorite team on one of their TVs. They have a variety of wings on their menu to pick from.
61 Congress St, Jersey City, NJ 07307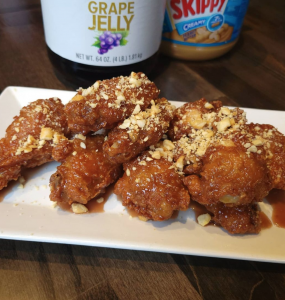 Established in 1976. The Corkscrew Bar And Grill has been around and has progressed for over 40 years! The best burgers and wings in Jersey City, some of the best local beer, refreshing drinks, sports, trivia, live music, and more  They are located in the heights of Jersey City, three blocks from the Hoboken Elevator/Light Rail. They have delicious chicken wings, including bbq, teriyaki, mustard, sweet, and more in Jersey City.