Indoor and Outdoor Soccer Classes in Jersey City
Between the video games, smartphones, and social media it's sometimes hard for a child to go outside and get the proper exercise they need! Soccer is a great way to stay active, meet new friends and build leadership. Therefore, we created a list of Indoor and Outdoor Soccer Classes in Jersey City for your little to join.
Global Soccer Academy
23 Merseles Street, Jersey City, NJ, 07302 – Phone: (

765) 714-7269
At the Global Soccer Academy, their goal is to develop a player's individual skills within a team atmosphere. With the help of professional coaches, each player can learn the technical and tactical skills necessary to become a confident youth soccer player. They run indoor and outdoor soccer classes in Jersey City such as after-school programs, personal training, clinics, and travel teams!
Super Soccer Stars
606 Columbus Ave, New York, NY –

Phone: (212) 877-7171

Super Soccer Stars aims to teach soccer skills in a fun, non-competitive, educational environment. Their philosophy is to use soccer to nurture, build self-confidence, and develop teamwork in every class with their specially designed curricula. Set in a fun, non-competitive environment and backed with a dynamic coaching staff, Super Soccer Stars offers age-specific programs that introduce children to the fundamentals of soccer through creative programming and imaginative games. They offer and run both Indoor and Outdoor Soccer Classes in Jersey City and around New Jersey!
Soccer Learning Center
41 Tuers Avenue Jersey City, NJ, 07306 – Phone: (201) 656-1156
Since 2002, The Soccer Learning Center has introduced thousands of area children to the authentic and correct methods to learn soccer – in an instructional, knowledgeable, and disciplined academy environment uniquely created to appeal to the learning styles of young students. Addtionally, their classes establish an early foundation for athletic excellence in your child. Many of the students who started with them as young children go on to play in competitive-level travel, high school and college soccer teams.
Jersey City Soccer Association
1 Chapel Ave, Jersey City, NJ, 07305
Jersey City Soccer Association was founded in 1978 and is operated by a community of dedicated volunteers who are dedicated to providing a great soccer experience to all of the youth in Jersey City, at an affordable price. Registration is open all year, on a first come first served basis and we make every effort to place newly registered players onto existing or new teams at the time of registration. They provide Co-Ed Recreational, Girls Recreational, and Travel programs!
Hans Soliz Soccer School
500 Grand St, Jersey City, NJ –

Phone:

(201) 450-7872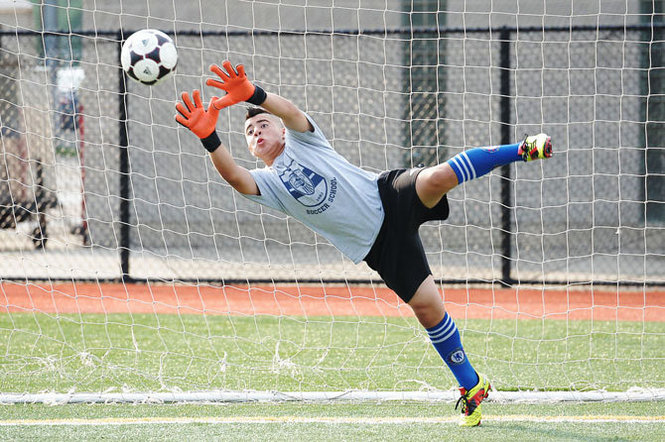 Hans Soliz Soccer School
is the oldest and most competitive travel team in Jersey City! They train and play at Gateway Field and welcome young children from all backgrounds and cultures, with the goal of teaching them to all become better soccer players. Apart from helping each player increase their technical and tactical soccer skills, they also aim to equip players with vital life skills, such as focus, stamina, and discipline.
Jersey City Hispanic American Soccer School
121 Franklin Street Jersey City – Phone: (201) 855-9762
The Jersey City Hispanic American Soccer School
is a nonprofit organization established in 2011. It instills excellence through soccer for Jersey City's youngest generation. They also provide an enriching program where students of all abilities and levels can learn and enhance their soccer skills in an environment that fosters sportsmanship, confidence, and discipline.
Looking for more ways to get active and
fit
in JC? From
yoga
to
tennis
, and beyond there are plenty of classes and activities for you and your family to enjoy that will get up and moving!
Updated November 28th 2023