Yoga Studios in Jersey City
Get ready to feel Om-amazing with one of these many yoga classes! Yoga is a great way to reduce stress, improve flexibility, improve spirituality and help with weight loss. Deciding what yoga school to go to and what practices to choose from can make you feel anything but zen. During the Summer you'll see several groups doing outdoor Yoga in Hamilton Park, Van Vorst Park, or any of the other great public parks in Jersey City. You can also do outdoor yoga by Exchange Place. For those of you that prefer being indoors, we've created a list of Yoga Studios in Jersey City to help make your yoga journey a bit easier! Make sure you check out our Fitness Directory as well!

Urban Sadhu Yoga Jersey City
171 Newark Ave 2nd floor, Jersey City
Phone: (201) 993-1110
As a path to enlightenment through compassion for all beings, Urban Sadhu is grounded in the original meaning of the Sanskrit word asana as "seat, connection" – relationship to the Earth. Urban Sadhu Yoga has various classes depending on what you are looking for.
An Urban Sadhu Yoga class presents classical yoga teachings as relevant to one's life on and off the mat in a modern world. The open class draws intention from the Urban Sadhu Yoga Explorations essay, chanting, breath awareness, vinyasa sequences, alignment exploration, hands-on assistance, relaxation and meditation.
TSM Healing Center
61 Beach St, Jersey City
Phone: 862-231-4503
When you walk into TSM the healing process begins.  You will notice the peace that exists, the quiet.  The energy that you bring into this space will dissipate and be replaced with a sense of physical, mental, and spiritual well-being. They offer serves that will help you from head to toe, inside and out. Services include a Detox Bath, Sound Vibration Healing and Meditation.

Yoga Shunya
395 Halladay St, Jersey City, NJ 07304
Phone: (201) 610-9737
Yoga Shunya offers compassionate teaching with attention to healthy alignment. Their teachers have extensive training and experience and the gift to share the many benefits of yoga. Yoga Shunya has offered yoga classes in Jersey City since 1997. Please join Elaine Hansen for Yoga and Melt classes at the new studio on Halladay Street. You will find a warm welcome, attention to healthy alignment and a friendly community of yogis.

Simha Yoga Lab
333 Grand Jersey City, NJ 07302
Simha Yoga Lab resides in an industrial loft building in vibrant Downtown Jersey City. The Lab is an open forum for experimentation and exploration of the asanas.  Through a movement-based vinyasa practice, we play with form and function.  Students are encouraged to interpret the poses to fit their needs, whether to modify for limitations or to make them more challenging through variations. Classes are $15 per class and payment is cash or Venmo only. If you don't have a met to bring, no problem! Mats are $1 to rent.

Powerflow Yoga
160 Morgan St, Jersey City
Phone: (201) 433.2032
Powerflow Yoga is located in the heart of downtown Jersey City, just a couple blocks away from the Grove St. PATH station! If you're driving, there is free street parking available near the studio. The studio offers hot yoga alone and studios come fully equipped with everything you need to enjoy your yoga class. You can rent yoga mats for $2, buy a hand towel for $2, or bring your own. Blocks, straps, blankets, and bolsters are provided. The changing rooms, bathrooms, and showers are available for your use, but please bring your own shower towel.

Asana Soul Practice
124 First Street, Jersey City
Phone: (201) 656-2612
At Asana Soul Practice, they believe mindfulness is a journey, not a destination. Walk through our doors and encounter a vibrant community of people with a common interest: a workout not just of the body, but of the mind. Enter one of our carefully designed studios and become inspired by their vibrant artwork and lighting. There are over 10 classes to choose from including basic flow to postnatal yoga where you and your little one 6 weeks to 6 months can enjoy some quality namaste time!
Jersey City offers you and your family an amazing variety of ways to get active and fit! Make sure to fuel up with some healthy and yummy food after enjoying all of that fun!
Surya Yoga
341 Grove Street, Jersey City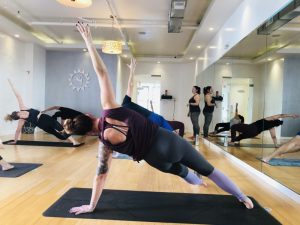 Ring the transforming effects of yoga at Surya into your life to re-energize and revitalize your body. Surya Yoga offers Hot Yoga in Hoboken and Hot, Traditional, and Prenatal Yoga in Jersey City. The high temperature enhances muscle suppleness and releases your body's toxins.
Roots Yoga Studio – Jersey City
2983 John F. Kennedy Blvd #403, Jersey City 
Here at Roots Yoga Studio, (formerly Sacred Souls Yoga Studio) they have been teaching yoga classes in Jersey City since 2015. The classes focus on "healing." Whether it's weight gain, an injury, a health issue, or mental or emotional stress that's affecting you – they help you use yoga and its various teachings to help get you back to feeling whole and in charge of your life.
Updated January 9th, 2023