Indoor and Outdoor Tennis Classes in Jersey City
Tennis is one activity that adults enjoy as much as kids, no age boundaries for this one. Although there are not too many indoor courts in the area, Jersey City has some great outdoor tennis courts. The city has an abundance of options depending on which area you are in. Therefore, we created this guide for you. Whether you are looking for a tennis class or a place to play it in Jersey City. 
Tennis Classes in Jersey City


TennisApproach
Tennis Ct Dr, Jersey City
Phone: (201) 344-7824
Since early 2010/11, TennisApproach has steadily grown to be a leader in initiating students into tennis in the Jersey City area and developing them to be high-level players! So whether you're a beginner or an experienced player looking to polish your game, TennisApproach is an excellent fit for you! In addition, TennisApproach provides a full range of services for individuals, schools, camps, parks and recreation, and tennis clubs/facilities looking to create, expand or reinvigorate their programming.
Super-Duper Tennis
At Super Duper Tennis, they teach the FUNdamentals of tennis to kids 10andUnder under in an educational and exciting environment that enhances self-esteem, builds confidence and overall love for the game. In addition, they provide unique programs and camps for your children to bond with peers while working on their killer backhand! Schedules are sorted by age to ensure your child is moving at their pace and get the most out of their experience!
Working out can build up an appetite; make sure you refuel with a lot of water and a healthy meal! Jersey City is home to many restaurants that will give you the energy you need before yoga or other fitness activity.
Where to Play Tennis in Jersey City
Hamilton Park
There are two courts located inside Hamilton Park that are open to the public but maintain a one-hour playtime. It can get hectic in the summer, so it is better to arrive early. Luckily, Hamilton Park has so many other fun things to do around that you can enjoy while you wait for a court to open up.
Lincoln Park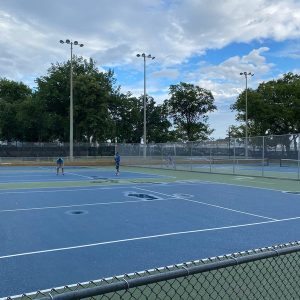 Located on the west side of Jersey City, Lincoln Park has 21 tennis courts open to the public. There is enough space for everyone to use and play tennis.
Pershing Field Memorial Park
Located at the center of The Heights lies Pershing Field, Memorial Park. The park has four tennis courts that are open to the public. So if you get there early, you can get a court, but they also get super busy in the summer.
Washington Park 
Shared by Union City and Jersey City, Washington Park has a rich history of providing ideal leisure and recreational enjoyment location. In addition, they have ten tennis courts for the public to use.
Updated April 12th, 2022