Best Sports Bars in Jersey City
As the sporting season begins, watching the games is important but finding a sports bar to watch the game with friends is as important. Enjoy some beer and food while you enjoy watching the game! Sports bars are also fun to go to with friends for other celebrations. Luckily, there are a ton of options for a sports bar in Jersey City. Therefore, we created this guide. If you are looking for bars in Jersey City, check this guide here. 
364 Marin Boulevard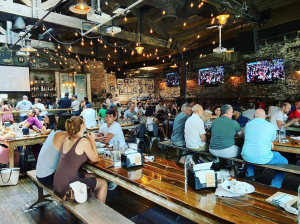 Hudson Hall is an Eastern European beer hall in the heart of downtown Jersey City. The decor and menu are designed for their guests to have an awesome experience with great food, beer, wine, and cocktails paired with fast/casual & most importantly, friendly service accommodating groups of almost any size. They have a big screen and TVs where you can watch the latest games.
225 Hutton Street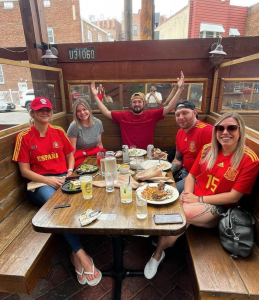 The Hutton is a neighborhood restaurant, bar, and wine bar located on Hutton Street in the Heights of Jersey City. Serving delicious cuisine, with menu items ranging from classic fare like our delicious Chopped Brisket & Gnocchi, Prosciutto Wrapped Salmon, Hutton Burger, and Crispy Cod Fish and Chips to vegan options like Apple Guacamole, and Sweet Potato Tamale. They also have a variety of beer and drinks ready for you to enjoy while you watch the game on one of their TVs.
88 Liberty View Drive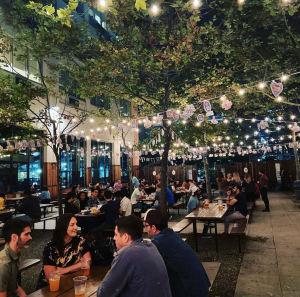 Zeppelin Hall is an authentic European style Biergarten, which is a huge restaurant with both indoor and outdoor spaces where hundreds of guests gather under the trees and stars to drink beer, eat and socialize. With over 100 types of beer, plus wine and cocktails, this Biergarten has a little something for everyone. They serve up some tasty American and German foods as well. They have a big screen to watch sports.
172 1st Street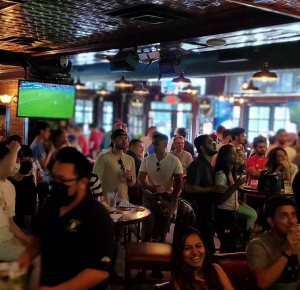 O'Hara's is located right in downtown Jersey City. This pub offers a menu of beers, burgers, ribs & more, plus trivia, DJs & sports on TV. It's perfect to spend a casual game night with friends! Their burgers are a must-try too!
575 West Side Avenue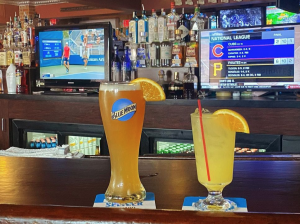 Park Tavern is definitely known for its down-to-earth haunt featuring bar grub, beer, wine & cocktails, plus a patio & live to music. They are located on West Side Avenue. This hidden gem, which also has no real signage outside the bar, has one of the best burgers in Jersey City and a great beer selection. The ambiance is a perfect dim-listed Irish pub where you can catch up with friends over some delicious burgers. They have TVs to watch all sports!
145 Newark Ave Jersey City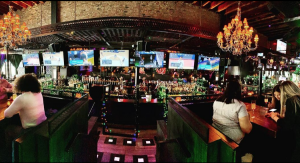 Located in the heart of Downtown Jersey City, The Ashford brings New York's speakeasy days to Newark Avenue's pedestrian plaza. Ashford is a ton of food options and beer. The Ashford is your place for a fun get-together, dinner with the family, and a great spot to watch your favorite team on one of their TVs.
174 Coles St.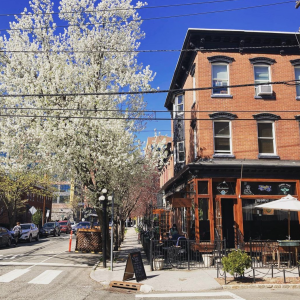 Ed and Marys is a local restaurant/bar in the Hamilton Park area. If you are looking for delicious food and drinks, check out Ed and Marys. They have some great food options, which include juicy burgers with fries. If you want to try something unique, check out their Jefe Burger, which has habanero jack cheese, avocado, salsa, and lettuce. They have sports on the tv as well.
194 Newark Ave, Jersey City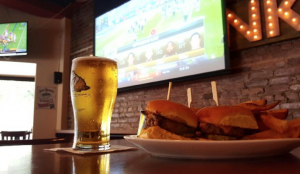 Left Bank Burger is a must to check out for all burger lovers and if you want a fun environment watch the game. This spot is an easygoing burger shop serving all-natural burgers with an extensive selection of toppings, plus tap beers. Also, they offer some great options for the vegans out there.
686 Bergen ave Jersey City, NJ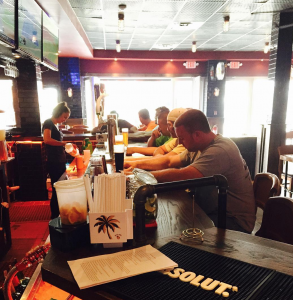 Looking for authentic family-style BBQ while you watch the game? This is your spot! One of the cool sports bars in Jersey City- Carvao, the Portuguese word for charcoal, is an idea that stemmed from our love of open-flame cooking. So stop in, relax, have a bite, or enjoy the game on one of our 13 flat screens with a local or imported draft beer.
116 Newark Avenue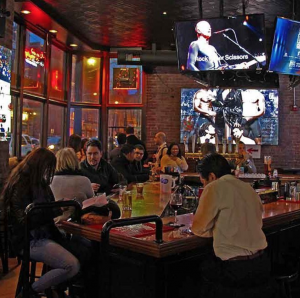 Right next to the Grove Path Station is the Grove Corner Bar. This classic bar has a ton of screens to watch the game as well as enjoy beer and other drinks. It's the first thing you see as you get out of the path station.
140 Newark Ave, Jersey City, NJ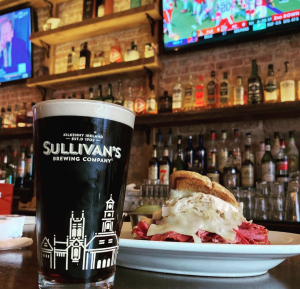 In the center of Newark Avenue, the fiery legend of Granuaile lives on with a round of Whiskeys and Ale. This Irish pub has a ton of whiskeys and beer options as well as screens to watch a game. They also have a delicious food menu.
788 Garfield Ave, Jersey City
O'Leary's Publik House just sounds like a great neighborhood bar, and it really is. Unassuming but inviting, Bergen Lafayette's best-kept secret is just south of Claremont Avenue at 788 Garfield Avenue and feels like old-school Jersey City. Formerly Cyprus Tavern, local fireman Kevin Hennessey took over three years ago, renovated the space, and offers 11 beers on tap, a delicious menu, spot-on service, and an awesome atmosphere any day or night of the week.