Best Brunch Spots For Delivery and Takeout in Jersey City
We know how much our families love eating brunch and especially on weekends! Yummy dishes, bottomless mimosas, and catching up with friends over brunch is something we all are missing during this quarantine. But luckily, we can still enjoy brunch at home because of these restaurants that are still offering delivery and takeout with your favorite brunch options + some drinks specials.
297 Grove Street
If you are looking for some yummy Portuguese brunch, check out Broa Cafe. They are offering brunch on the weekends. Dishes include Portuguese Chorizo omelets, Portuguese style steak and eggs, Tapioca crepes, Ovos Mexidos com Alheira / Scramble eggs with pork and chicken sausage and so much more. If you want some different flavors for brunch they change their menu often so you can have many unique choices. You can order directly from their website or Seamless, Grubhub or DoorDash.
485 Marin Blvd
Cafe Esme is offering a ton of fresh ingredients foods, juices, and coffee on the weekends. They have a full meal plan for the weekends(even for the full week) or you can order directly from their brunch menu. From yummy omelets, chocolate banana bread, ham and toast sandwiches, avocado toast, cookies, and freshly squeezed juices, they are a great option if you are looking for a new cafe to try. You can order directly or their website or call 929-281-5588 to place your order. They will be doing delivery and takeout.
174 Coles St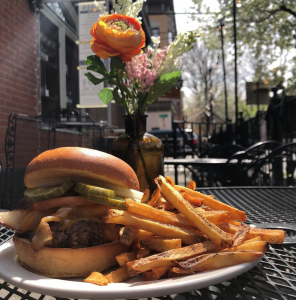 Ed and Marys are open on the weekends for your brunch needs! If you are looking for delicious food and drinks, check out Ed and Marys. They are offering many specials for food and drinks like $75 for 2 egg sandwiches which includes ltr of Titos vodka, and 2Qts of orange juice! They are also offering other brunch drinks like bloody marys and mimosas. Their brunch menu is filled with a ton of options like burgers, sandwiches, salads, and more. They are offering take out services.
586 Newark Ave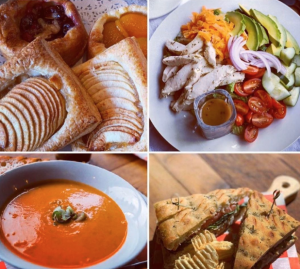 Cafe Peanut has a big variety when it comes to brunch. At Cafe Peanut, they pride themselves on using fresh, organic, natural, and locally sourced ingredients. If you are looking for delicious brunch sandwiches, salads, soups, and desserts, they have it all. They also have a variety of lattes, tea, and other coffee options. They are also offering a weekly meal plan. You can do takeout or get your brunch delivered.
112 Morris St
Sam a.m. is offering some delicious breakfast and brunch specials every day that are available for takeout or delivery. From breakfast sandwiches, avocado toast, bbq pulled pork, omelets, french toast, and other yummy dishes. You can order from UberEats or directly call them at 201-432-2233 to place an order.
289 Grove St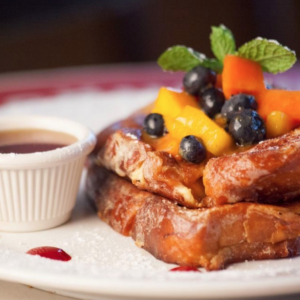 Uncle Momo is known for its Lebanese and french cuisine. Famous for their brunch menu, they have dishes like Tunisian Eggs, scrumptious French Toast, greek omelets, gluten-free crepes, pancakes, eggs benedict, and more. The best part of Uncle Momo is their service and variety of options. There is something for everyone! You can also get 10% off and free delivery if you order through their website. You can also choose to takeout. They also are offering a social distancing menu at the moment that even has a kid's menu.
299 Marin Blvd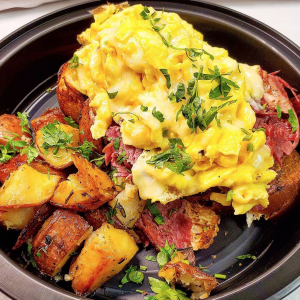 Latham House is a contemporary spot offering American plates and their brunch is mouthwatering! They have everything from huevos rancheros, pecan challah french toast to their classic Latham house burger, you can get your traditional brunch cravings right to your doorstep. Their menu has some vegetarian options as well. They are offering delivery and takeout. Call 201-479-8432. You can also order from UberEats. Latham House is offering 30% off to healthcare workers if you call ahead to place an order and pick it up.
270 Grand St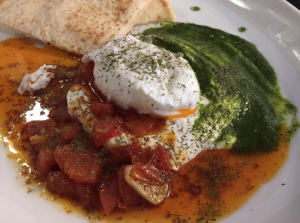 Cafe Dolma is a restaurant that offers homestyle Greek fusion & American dishes. They are open for brunch on the weekends and are offering delivery as well as takeout. If you are looking to try something different and not your typical brunch, check them out. Their brunch menu has dishes like Turkish Poached Eggs
& Smoked Salmon, Soujouk & Feta, Poached Eggs with Kiymali, Sautéed Spinach with Labneh just to name a few. They also have gluten-free options.
708 Jersey Ave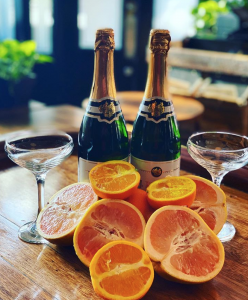 Missing your classic favorites from Hamilton Inn? Good news! They are open for delivery and takeout for brunch. Enjoy some of their classics like Cornbread French Toast, Surf, and Turf Benedict, Truffle Egg Pizza, Meatball Parm sandwich, or their delicious Kobe Truffle Burger. And if you are missing those mimosas, they are offering a special of $35 champagne bottle with a quart of fresh-squeezed orange juice. Delivery from Grubhub, Seamless, DoorDash and takeout are both available.
247 10th St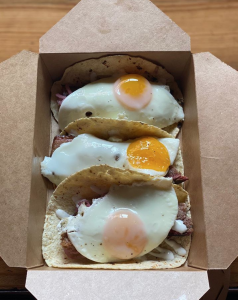 If you are craving a BBQ brunch, Hamilton Pork is open! They are offering brunch until 4 PM with a drink special of one bottle of champagne with a quart of freshly squeezed grapefruit juice or orange juice. Enjoy dishes like their breakfast burritos, crispy chicken benedict, or breakfast tacos. They are available for takeout and delivery.
159 New York Ave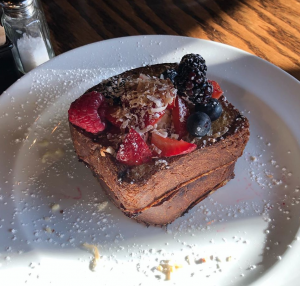 The Franklin is offering some hearty breakfast dishes on the weekends. Eggs Benedict, Ricotta Pancakes, Frittatas as well as sandwiches, you can definitely find something for you on their menu. You can opt for takeout or delivery by calling them directly at 201-653-4710.
434 Central Ave
Griot Cafe is located in the JC Heights. Griot Cafe puts an Afro-Caribbean Spin on brunch and offers some unique dishes on their menu. They will be open Monday through Friday from 7:00 AM until 5:00 PM and Saturday to Sunday from 8:00 AM to 5:00 PM. You can place food and drinks orders through GrubHub, UberEats, or calling the store at 201-420-9444 for in-store pick-ups. Their menu has loaded omelets, breakfast pies, fresh waffles, pastries, Kenyan beignets, and sandwiches. They also make some fresh smoothies and juices that would be perfect to boost your immune system right now.
279 Grove St
Luna is open all week but on the weekends they are only open on Saturday from noon. They are offering their same delicious brunch menu with dishes that include Grabby Egg Benedict, Chicken and Waffle, burgers, french toast, and more. If you choose to pick up, you get a mimosa for free while you wait. You can also choose a delivery option by calling them at 201-333-0032.
88 Morgan St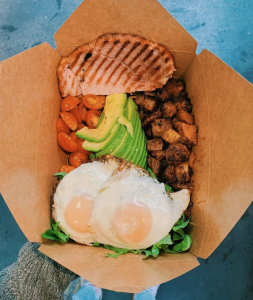 Maggies Farm Espresso is a cute little cafe in the heart of Jersey City. They are offering their full menu for takeout and delivery. You can use ritual, Grubhub, Seamless, or DoorDash. If you are craving some smashed avocado toast, breakfast wraps, breakfast bowls, and fresh salads, check them out.
If you are craving some other food through the week check out our detailed list of restaurants that are open for delivery and takeout around Jersey City and Hoboken. 
Happy Brunching!