Go Back in Time, A Day at Field Station: Dinosaurs
Field Station: Dinosaurs is a world-class family attraction that combines cutting-edge science with a Broadway producer's flair to create a one-of-kind experience that's thrilling, educational, and fun. It's easy to get to and the park is big enough to enjoy all of the attractions yet small enough to not cause your little ones to complain about walking too much. It makes for a great day trip! Over 30 live shows, games and activities daily connect the story of the dinosaurs to our world today, giving new relevance to their lives and power to the tales of their extinction.
Hours and Fees:
2022 Spring Season
May 28 through June 26
Saturdays and Sundays, 10am – 6 pm
2022 Summer Season
June 28 through September 4
Tuesdays through Sundays, 10am – 6 pm
The Commander's Pass: $28.75
The Explorers Pass: $25.75
Day Pass: $17.75
More ticket information is here.
Workshops and Games:
Backyard Fossil Hunter
New Jersey is dinosaur central and some of the most important dinosaur discoveries of all time happened right here in our own backyard. Learn about the remarkable dinosaur and fossil history of the Garden State and be the judges at the first-ever dinosaur skull beauty pageant.
Dinosaur Dance Party
A fast-paced matching game where everybody plays and everybody learns. What does it take to be a paleontologist? Kids uncover the secrets of a successful Bone Hunter with some unexpected results.
DinosOrigami
Join one of the Field Station's Top Researchers and learn the art of paleo paper folding. Best of all, our origami artists get to take their creations home!
Fossil Dig Site
Buried treasures abound at New Jersey's most popular dig site. Giant dinosaur skeletons and real prehistoric fossils lurk beneath the surface just waiting to be unearthed. Join our team of paleontologists and see what it's like to work on a real scientific expedition. Recommended for scientists ages three through nine.
Great Moments of Discovery Theater
You're the star of the show! Explore the amazing link between the birds of today and the dinosaurs of yesteryear. Meet some of the most famous scientists of all time and be witness to their greatest discoveries.
Mesozoic Concentration
A fast-paced matching game where everybody plays and everybody learns. What does it take to be a paleontologist? Kids uncover the secrets of a successful Bone Hunter with some unexpected results.
Mesozoic Midway
Step right up and win yourself a Dinosaur! Test your skill at the Field Station's traditional midway games with a Dinosaur twist! We'll have different dinosaur-themed games all season long and everyone plays until they win a prize!
Scavenger Hunt
Scour the Field Station for dinosaur clues, riddles, and cryptic messages stashed throughout the park. It's the perfect family adventure for puzzle-loving paleontologists.
Paleo Picasso
That's a Dinosaur of a different color! You're the artist at this new twist on a Field Station favorite. Learn to draw a Dinosaur and discover what scientists know – and don't know – about what color the Dinosaurs might have been.
Paleontologists' Laboratory
The perfect souvenir from your visit to the Field Station – three actual fossils from the age of the Dinosaurs! Scientific staff will help junior bone hunters dig for fossils, including dinosaur coprolite, and help identify their finds. Take home your Mesozoic discovery in a souvenir pouch. OPEN 10 am to 5:30 pm in the Spring/Summer and 10 am to 4:30 pm in the Fall.
Gertie The Dinosaur
Before there was Jurassic Park there was Gertie! Meet Hollywood's first dinosaur superstar! Winsor McKay's groundbreaking cartoon from 1914 is a look back in time and, even after a century, Gertie remains as fun and playful as ever.
Amphitheater Shows:
T-Rex Feeding Frenzy
Explore the dangerous world of the famous cretaceous meat-eater! Meet the Mighty T-Rex and help our fearless Dinosaur Wrangler use the Scientific Method to study the eating habits of everyone's favorite carnivore. A fun, musical show with audience participation.
Dinosaur Daycare
Our baby Dinosaurs are getting ready to hatch! Join our Dinosaur Daycare staff as we prepare for the Field Station's new arrivals and help us answer the musical question – "which came first, the dinosaur or the egg?
Field Station Challenge
Come on down, you're the next contestant on the Field Station Challenge! You never know what surprises our Wranglers have in store when they reach into the box of dinosaur-themed puzzles, quizzes and games of chance.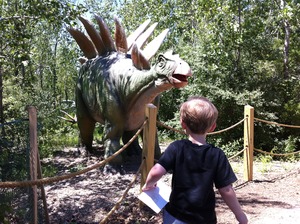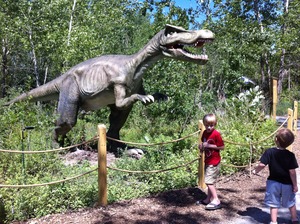 When you enter the park you are given your credentials which allow you to enjoy all the activities they have to offer. When you visit different areas and activities throughout the park the Park Rangers will stamp you in!
Dinosaurs: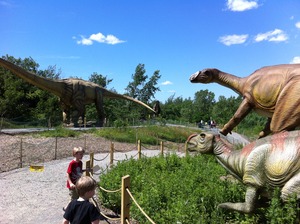 Well, we can't forget the main attraction! There are 31 life-sized animatronic dinosaurs, in different areas of the park. These areas are Base Camp, The Quarry, The Plateau, and The Lookout. Each dinosaur also has a sign that has the name and information about that dinosaur.  They are displayed in a different setting representing what the dinosaur's ecosystem might have looked like. For example, the Velociraptors were a bit hidden in the reeds, but you could hear them. You will definitely think you are in a  "Jurassic Park" movie!
How To Get There: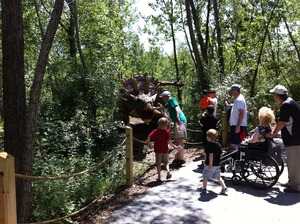 The park is located at:
Overpeck County Park
Henry Hoebel Area
Fort Lee Road
Leonia, NJ 07605
You can drive or even take the NJ Transit Train.
For directions please click here. 
Make sure to check out their website for the exact hours and days they are open!
Overall, Field Station: Dinosaur is a fun day! Make sure you wear comfortable shoes as you will be doing some walking. The trails are smooth and stroller friendly for a stroller, but they can be a bit bumpy. You can bring snacks and drinks into the park, but they also have a snack bar. Beware when you are leaving the park as they make you go through the merchandise tent.
Updated April 28th, 2022