Where To Watch 4th of July Fireworks Near Jersey City
The 4th of July is almost here! You and your family can celebrate by watching some beautiful fireworks near Jersey City. Fireworks are a huge part of the 4th of July luckily they are back this year. Therefore, we have created this guide for you.

Mayor Steven M. Fulop announced that New Jersey's largest fireworks display will return to the Jersey City waterfront this Fourth of July with Fireworks by Grucci. While this year's Freedom and Fireworks event will not be able to include the yearly festival and superstar concerts, the City's efforts to bring back the fireworks display over the Hudson River was a decision made with the community's needs and safety top of mind. There are many places to see these fireworks including the Exchange Place Pier, Lokal, Liberty House Restaraunt, Surf City, and Rooftop at Exchange Place.
The annual Macys 4th of July Fireworks is something we always look forward to. This year's Macy's Fireworks show will launch more than 65,000 shells and effects from five barges positioned on the East River centered in midtown, delighting New York City spectators and a nationwide television audience. and the 45th annual Macy's 4th of July Fireworks will light up the NYC skyline in a celebration of America's heroes & the resilient spirit within us all.The show usually begins around 9:25pm and lasts approximately 25 minutes.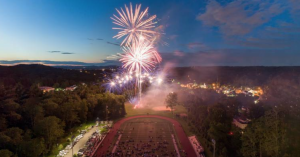 WHEN: Thursday, July 1st (Rain date July 2nd)
 WHERE: Panther Park Field- There will be NO camping chairs and NO food permitted on the turf
 TIME: Gates open at 7:00pm – Fireworks display will start at dusk
Kick back and enjoy your time waiting for the Fireworks display with a live DJ, Balloon Artist, Crafts with the CG Library Staff!
Refreshments will be sold by: Cedar Grove Black & Gold Club and Towne Scoop Ice Cream Truck
DON'T MISS THE 4th OF JULY FIREWORKS SPECTACULAR AT 10:00 p.m.! Rain date Monday July 5th at 10:00 p.m. What better way to end a fun-filled week of summer fun in the Wildwoods than with FREE Fireworks! Enjoy a spectacular nighttime display of fireworks exploding to a musical score that is played all along the Boardwalk and is simulcast on 98.7 The Coast. Launched from Pine Avenue & the Beach the fireworks are visible from anywhere on the Boardwalk. So pull up a beach chair or just stop in your tracks on the Boardwalk for a few minutes of breathtaking color and lights! For more information click here.