Where To Watch 4th of July Fireworks Near Jersey City
The 4th of July is almost here and even though a lot has been canceled due to the pandemic, you and your family can still celebrate with watching some beautiful fireworks near Jersey City. Fireworks are a huge part of the 4th of July and even though the Jersey City yearly fireworks are canceled, there are some near Jersey City that you can go and check out with social distancing in place or see right from your home.
The annual Macys 4th of July Fireworks is something we always look forward to. This year, they will take place on the nights of Monday, June 29, to Saturday, July 4th. They will each be about 5 minutes long, and take place across all five boroughs. They are doing additional, smaller shows instead of doing one giant display to discourage crowds from forming on NYC streets in a single location. They want people to be able to see them from their homes, rooftops, and parks, which is also why they are not sharing specific locations until right before the shows. To encourage and support COVID-19 safety and social distancing efforts, and mitigate the advance gathering of large crowds for an extended period of time, they have chosen to delight watchers with unannounced displays across the five boroughs this year.
The displays will take place from high visibility waterways and land-based infrastructure. The shows are designed to reach heights of up to 1,000 feet or more, when launched from land-based infrastructure. Spectators in/and around these locations and many more with unobstructed views will be able to enjoy them. The entire scope of the week-long shows, as well as a live finale, will be presented nationally on NBC's two-hour entertainment special "Macy's 4th of July Fireworks Spectacular" on Saturday, July 4th beginning at 8pm ET/PT.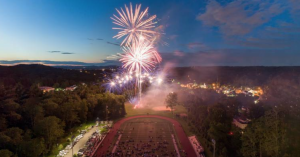 Enjoy seeing fireworks with social distancing in place at the annual Cedar Grove Fireworks. Happening on Friday, July 3rd, 2020 (rain date 7/10), Panther Park lot will open at 7:00 pm for watchers.
IMPORTANT INFORMATION ABOUT THIS YEAR'S FIREWORKS:
*They have changed the event date to July 3rd since the Governor's orders allow 500 people to be outdoors starting on July 3rd.
*There will be a maximum of 500 people allowed on the multi-purpose field & surrounding grass area. Please cooperate with them on this, as they may have to turn some people away once we reach capacity.
*6-foot social distancing is still required. Personal Protective Equipment is not required but recommended.
*Bathroom facilities will be closed.
*NO FOOD or camping chairs will be allowed on the turf field.
*Other parking lots in town such as CVS and St. Catherine's have a good view as well, but you must get permission to park at those facilities on your own.
*The Fireworks display will also be live-streamed on the Cedar Grove Recreation Facebook page. www.facebook.com/cedargroverec
Fireworks are on in Wildwood! On the beach at Rio Grande Avenue, Wildwood, but visible from almost anywhere on the Wildwoods Boardwalk! This special holiday fireworks extravaganza is sponsored by the Greater Wildwoods Tourism Improvement and Development Authority (GWTIDA). It will be at 10 p.m. Rain date is July 5th at 10 p.m. 609.523.1602 or DOOWW.com. It is a free event and social distancing is enforced.
Toms River will be hosting a fireworks show on July 4th in Shelter Cove. Social distancing guidelines will be in place for all. You can visit the Facebook Event Page for more information.
Ocean Gate's Fourth of July Parade is set for July 4 at 10 a.m. The parade will span from Adrian Hall to the beachfront on Wildwood Avenue and will extend four blocks longer than the route in years past to allow for social distancing. For more details, click here.