Where To Watch 4th of July Fireworks Near Jersey City
The 4th of July weekend is here, and you and your family can celebrate by watching some sparkling fireworks near Jersey City. Fireworks are a huge part of the 4th of July. Also, watching them with family and friends make it memorable. Specially picnic in the park, bbq, and kite flying. So much to do before the fireworks start. Please make sure to go way before the time for the fireworks to find the perfect spot.
Jersey City's 4th of July Fireworks over the Hudson River 
Mayor Steven M. Fulop, the Jersey City Municipal Council, and the Office of Cultural Affairs join Exchange Place Alliance to announce Flo Rida as this year's headliner for Jersey City's Fourth of July celebration! In addition, Shaquille O'Neal, aka DJ Diesel, and Funk Flex will help each DJ their own sets before Flo Rida takes the stage.
Jersey City's Independence Day celebration has become a premier daylong event, attracting A-list talent since Mayor Fulop resurrected the event and grew it into one of the largest July 4th festivals in the region, drawing crowds of 150,000 people from all over the tri-state area.
Macy's 4th of July Fireworks
We always look forward to the annual Macys 4th of July Fireworks. So join Macy's for the 46th annual Macy's 4th of July Fireworks®—it'll be the blockbuster summer event! This year, celebrity performances will amp up the energy & emotion of our 2022 celebration to deliver a thrilling night of electrifying pyrotechnics & feel-good entertainment. Keep your eyes open for some of this year's showpiece elements: Whistling Jellyfish, Little Snakes, Blinking Smiling Face, Swimming Chrysanthemums & more. Expect a rapid-fire succession of blasts to go off from each East River barges, creating a two-hour spectacular with round after round rocking entertainment.
4th of July Fireworks Cruise
There is simply no better way to see fireworks than from a boat. And there is no better time to see fireworks than the 4th of July! So why not enjoy the best of the best on our 4th of July fireworks cruise to New York City? Whether sharing the night with friends or family, we can guarantee a great time aboard our 4th of July fireworks cruise. The event includes a buffet dinner, dessert, coffee, tea, an open bar for those 21+ or an open soda bar for everyone else, a DJ, and an evening of dancing. Tickets are $199 for 21+ and $179 for ages 3 – 20.
Port Imperial Weehawken 4th of July Cruise
As the night sky is illuminated with fireworks, you will feel like you can reach out and touch the dazzling display overhead as they light up the sky over New York City. Bring your family and friends to this fantastic event while enjoying the DJ with live synchronized music presentations. For your added pleasure, a cash bar is available for soft drinks, snacks, and cocktails. NY Waterway's 4th of July Fireworks cruise from Port Imperial sails down the Hudson River and around the tip of Manhattan to provide spectacular views of the New York City skyline. Marvel at views of some of NYC's most famous landmarks, like the Empire State Building, Brooklyn Bridge, World Trade Center, and of course, the iconic Statue of Liberty.
Paramus Fireworks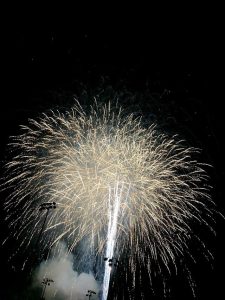 On Sunday, July 3rd, from 6 PM to 10:30 PM, everyone is invited to come to watch fireworks at the Cliff Gennarelli-Paramus Sports-Plex to watch beautiful fireworks and celebrate the 4th of July!
Psychedelic Angel + Fireworks Event
This event is on Thursday, June 30th at 6 PM and is open only to Secaucus residents and their guests. Hosted at the Secaucus Swim Club, this event will have food, a live performance by Psychedelic Angel, and fireworks show after dark.
Wildwoods Fourth of July Fireworks Spectacular
CELEBRATE INDEPENDENCE DAY ON THE WILDWOODS BOARDWALK AND ENJOY THE JULY 4TH FIREWORKS SPECTACULAR AT 10 PM! This special fireworks spectacular is synchronized to patriotic music playing over the Wildwoods Boardwalk sound system! Launched from Pine Avenue & the Beach, the fireworks are visible from anywhere on the Boardwalk. So head up to the boardwalk early for dinner and drinks, shopping, and all those awesome rides on the three amusement piers!
Fireworks at New Jersey State Fair

Fourth of July weekend would not be complete without a firework show, and State Fair Meadowlands is ready to put on a show-stopping display that you do not want to miss! The fireworks take place on July 3rd and July 4th and will be put on by Garden State Fireworks. Garden State Fireworks is a family-owned, award-winning pyrotechnics company that has created shows for Walt Disney World, Coney Island, and even Washington D.C. National Mall. More information here.
Ridewood 4th of July Celebration
Join Ridewood for their annual flag-raising ceremony in Wilsey Square at 9 am on Monday, July 4th, followed by a parade beginning at 10 am. This year as we celebrate the history of our great nation, we want to highlight the importance of freedom for all. "Let Freedom Ring" is defined as "A statement that the ideals of life, liberty and the pursuit of happiness should be spread across the Earth and allowed to flourish." There will then be a beautiful fireworks show. More information here. 
Updated June 16th, 2022