Real Estate Market Update For Families
We spoke to local realtor Harveer Singh from Howard Hanna Realty to update us about the real estate market at the moment for families. 
These last few months have been turbulent, to say the least. Coronavirus has complicated our lives and reimagined in many industries. The same goes for the real estate industry. As a family, one would always like to know how to stay informed about their homes or the living plans around them which is why we created this blog. So, how have things changed? What is the market like now? We spoke to a local Jersey City Realtor, Harveer Singh who gave us a full market update for families to be more informed about what is going on in the real estate market at the moment.
The Market Update
As you could imagine, the real estate market skid to a complete standstill at the beginning of the quarantine. No one wanted to leave their homes due to COVID fears, There were about 6 weeks of complete silence for the majority of the industry. As a result, sellers started to reduce their prices, while other people who were planning on selling decided to hold off. This resulted in low inventory at lower prices.
What the quarantine actually ended up doing was create a bottleneck. While everyone was at home, they were sitting on their phones and laptops looking at properties! Over the last 4 weeks, though,  the real estate market has exploded. The spring market buyers that could not physically look at houses have joined the summer market buyers after the quarantine ended. This resulted in the lower-priced properties to get picked up quickly. This being said, inventory is still coming onto the market at lower prices and everyone still seems to be happy.
Buyer vs Seller Market
I am seeing two markets at once right now. For properties priced below $400,000, it is a seller's market, while properties priced above that amount, it is a buyer's market. This is due to people wanting to spend less money. There are also a smaller amount of people willing to spend too much on higher priced properties due to fears of more market turbulence. Although the lower-priced properties are in a seller's market, everyone seems to be winning as the sellers are getting their properties sold fast, while buyers are still getting discounted prices compared to just a few months ago.
How has house hunting changed?
We are officially in the digital world! The real estate market now has to follow suit. You will start noticing that listings have "virtual tours" more often. These are video walkthroughs of properties. Agents are also doing skype/facetime/zoom tours. This is when a buyer is not comfortable going physically to a property, so the agent video calls their clients from the properties they would like to see. I am actually under contract on a deal now where the buyer is yet to see the property in person. Lastly, although it was always strongly suggested, a pre-qualification letter is now a must before physical showings. Seller's are now requesting that a buyer is properly qualified before any showings. This is to reduce traffic to properties to only serious buyers. A pre-qualification letter is a free letter from a bank showing how much the bank is willing to lend you based on your finances.
Where have people been moving?
I have seen people moving to areas with more space. For example, I am seeing people from Manhattan coming across the river to live near the path stations. People are also moving to areas where you can have more outdoor space. The west side of Jersey City, Bayonne, bordering suburbs have all seen spikes. In Jersey City specifically, Society Hill, Port Liberté, Greenville, Bergen-Lafayette and West Bergen, where you can have a backyard, are all seeing more traffic.
What does this mean for buyers?
If you are looking to purchase a home right now, it is not necessarily a bad time. As I mentioned, prices have reduced and mortgage rates are at all time lows. It has never been more affordable to buy a home. What you should know is that the market is hot, because of these low prices. So, if you are looking to buy, make sure you have your Pre-Qualification Letter ready from your preferred financial institution and be ready to move quickly when you like a property. The lower priced homes are getting multiple offers, so go in strong. What I recommend my buyers is that they should go in with their best foot forward as the last thing you would want to wonder is "if I had offered just a little more, would I have gotten my dream home."
What does this mean for sellers?
If you need to sell, it's better to get your property on the market right away. The market is busy with buyers from the spring and summer all at once now. Summer's are normally busier times in the real estate world, but this summer is busier than normal. Also, be cautious when you sell. Get a realtor who can make an actual Virtual Tour/Walkthrough video for you. If you live in the home you want to sell, make sure you require any potential buyers to submit their pre-qualification letters before a physical showing. This way, you are limiting physical showings to only serious buyers. These are just a few tips that can help. Make sure to reach out to your realtor, me,  to discuss!
What does this mean for renters?
The rental market seems to have taken the hardest hit for landlords. It is unfortunate, but due to the increase in unemployment, it has become quite difficult for anyone to move from one rental to another. There are usually income and credit requirements on rentals by the landlords. Of course, a landlord would only want a tenant who has the capability to continue to pay the rent. This has resulted in a "tenant's market" in a way. There is a lot of inventory out there and landlords are decreasing rental prices. This has however benefitted renters who are still working. If you are looking to rent a property and qualify, you would be able to negotiate more now than ever before.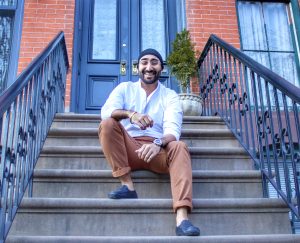 If you or anyone you know is looking to buy or sell real estate in New Jersey, feel free to reach out to Harveer. 
Harveer Singh 
Real Estate Salesperson
Better Homes & Gardens Rand Realty
Preferred Contact: 845-480-4527
Office: 201-653-3933