Top 10 Pancakes In Jersey City
There is nothing better to start the morning than a tall stack of delicious pancakes! There's a wide range of excellent, often decadent pancakes worth digging into in Jersey City. Jersey City has many restaurant options, whether you are looking for classic pancakes or something more unique. Therefore, we have created this guide on where to find the best pancakes in Jersey City. Looking for other breakfast and brunch options, check our guide here.
426 Jersey Ave, Jersey City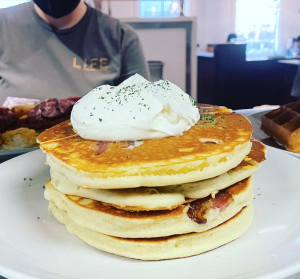 Previously known as Brownstone Diner, Life Pancake Factory has completely revamped itself and offered huge pancakes options. The portions here are so generous that you might even be able to share a meal with your child. They have everything from simple pancakes to options with bacon and eggs on top, as well as sweet ones with m&m's, chocolate chips, and more!
247 Washington Street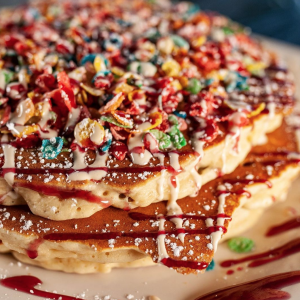 Buddy JC's is a must to try when it comes to pancakes. They serve up many pancake options, but their famous Cereal Pancakes, including Fruity Pebbles, Captain Crunch, and other fruity cereals, are what they are most famous for.
308 Pacific Ave, Jersey City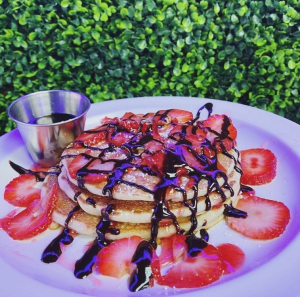 Located in the Bergen-Lafayette neighborhood, this neighborhood staple serves up delicious fluffy pancakes that have the option of adding delicious toppings from fresh fruit to bacon and more! They have a variety of other brunch options as well.
299 Marin Blvd, Jersey City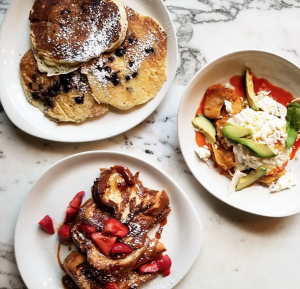 Located in Downtown Jersey City, Latham House is an American restaurant. They offer American plates, global fare, and homemade pie in comfy digs. Latham House has a ton of brunch options, but their fluffy pancakes are a must-try. They offer blueberry buttermilk pancakes, topped with butter and pure maple syrup and made with simple and fresh ingredients.
159 New York Ave, Jersey City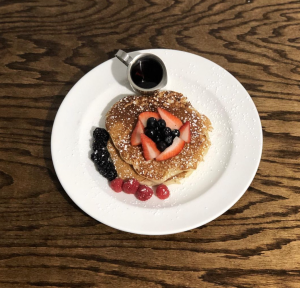 Located in Jersey City Heights, The Franklin is a family-friendly restaurant. Apart from brunch and dinner, they also do catering for weddings, parties, and events. They also serve finger-licking good desserts, which are a must-try for everyone! Their ricotta pancakes are absolutely delicious and worth trying out!
290 Grove Street, Jersey City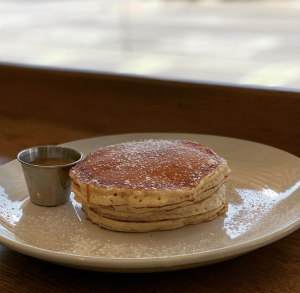 Beechwood Cafe is located on the very popular Grove Street in downtown Jersey City. They offer great food from sandwiches, salads, bowls, burgers, and tacos. This little cozy cafe offers pancakes with homemade strawberry compote, Nutella, and your classic maple syrup.
351 Grove St, Jersey City, NJ 07302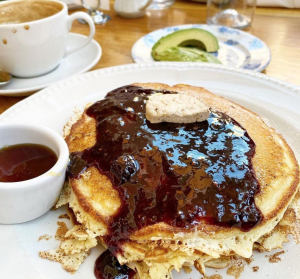 Here in the heart of Jersey City, you'll find delicious food and drink in a beautiful setting to be enjoyed with friends, both old and new. Mathews has the perfect selection of brunch and dinner options, from a short rib ragu to juicy chicken sandwiches and, of course, amazing pancakes. Their outdoor patio has plenty of space for you to enjoy your stack of pancakes. Their lemon ricotta pancakes are a must-try.
31 Montgomery St, Jersey City, NJ
According to many different people and various studies, NJ is one of the best places for raising kids. And places such as the City Diner are among the reasons why the city has obtained such a flattering title. With rustic modern decor, hardwood floors, cushioned seats, booths, as well as free WiFi, this restaurant has every commodity that will make your family feel right at home. Now, whether you decide to delight your taste buds with delicious pancakes or corned beef hash depends on your preferences. They have a wide variety of buttermilk pancakes, whether you want them sweet or with an egg on the top!
187 Warren St, Jersey City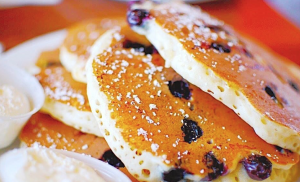 Take your taste buds on a delightful journey at Amelia's Bistro located in Historic Paulus Hook in Jersey City, making it the perfect spot for lunch and pancakes! This is another great spot for a group as they have a ton of options for food.
281 Newark Ave, Jersey City, NJ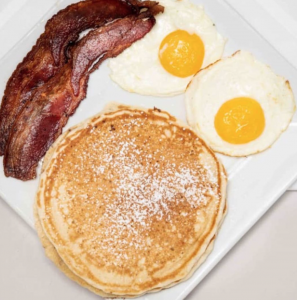 This cute little spot has the fluffiest pancakes that are a must-try. They serve breakfast all day, including a variety of delicious pancakes with a side of eggs and bacon. Pancakes can be ordered with fresh fruit, Nutella, bananas, and walnuts.