Charitable Organizations in Jersey City
Are you looking to volunteer time or make a donation to a local organization that works within the JC community? Our list of Charitable Organizations in Jersey City is a great place to start! These organizations are working on the ground to combat homelessness, poverty, abuse, and neglect. In our list, you'll find an organization that works to improve literacy in schools and runs a summer camp for low income students. Another organization focuses on senior citizens, their caregivers, and mentoring youth. The list includes shelters for women and children, programs to help them get back on their feet and build self-esteem. However you may be drawn to help, our list of Charitable Organizations in Jersey City will assist in choosing the right place to donate your time or money or both!

71 Summit Ave, Summit, NJ 07901 – Phone: 908-273-1100
With humble beginnings, Family Promise has been working towards ending family homelessness. Family Promise has come to represent not just the programs that touch the lives of more than 93,000 people in need annually and engage more than 200,000 volunteers. It represents a national movement that believes we can address family homelessness—right here in our own communities! There are numerous ways to get involved from volunteering to hosting events!
—–
P.O. Box 472 Jersey City, NJ 07303 – Phone: 201-222-2636
Email: [email protected]
The mission of Rebuilding Together is to preserve and revitalize houses and communities, assuring that low-income homeowners, from the elderly and disable to families with children, live in warmth, safety, and independence! The New Jersey chapter is one of the 245 nation-wide affiliates of the largest, non-sectarian, nonprofit, home rehabilitation organization in the United States. You can make donations right on their site!
—–

300 Morris Pesin Drive Jersey City, NJ 07305 – Phone: 201-432-1911/1912
"Changing Children's Hearts and Minds Through the Arts." This message that drives the Educational Arts Team which is why they're on our list of Charitable Organizations in Jersey City! The Educational Arts Team believes in a world in which all children have the opportunity to think, create, reflect, and be heard within a community of engaged learners. The fun keeps going all year round with Camp Liberty, their day camp! Since it began in 1974, Camp Liberty has evolved into a multifaceted enriching recreational, artistic and cultural experience for children ages 6 to 15 to learn, grow, and create.
General & Camp Liberty Inquiries: [email protected]

696 Ocean Avenue Jersey City, NJ 07305 – Local: 201-685-7273 / Toll Free: 800-795-8819
AngelaCARES, Inc. (ACI) is a 501(c) (3) nonprofit organization which began on October 20, 2011. AngelaCARES values teamwork, respect, accountability and innovation! With programs such as the Connie V. Gilchrist Alzheimer's Fund, diaper distributions and more, there are plenty of opportunities to get involved! You can even start your own AngelaCARES chapter!

240 Fairmount Ave Jersey City, NJ 07306 – Phone: 201-915-9896
New City Kids offers after school programming for local low-income youth. Children and teens get a chance to explore music and academics in a creative and fun environment! New City Kids aims to give children a safe place to feel and hear that they are valued and loved while they develop skills, talents and desires for their future! You can find out how to volunteer with New City Kids here.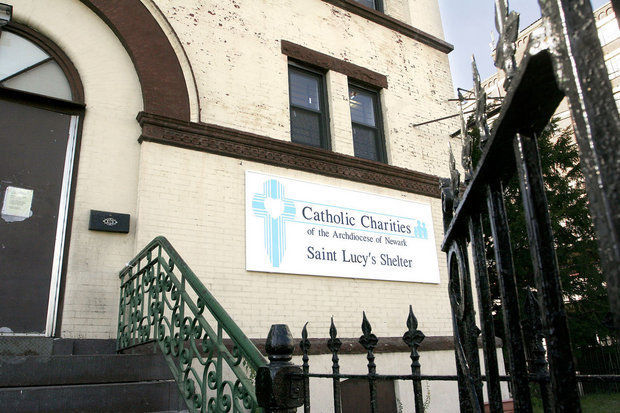 619 Grove St. Jersey City ,NJ 07310 – Phone: 201-656-7201
St. Lucy's Emergency Shelter is an emergency shelter facility for single women and men offering emergency housing and food for those in need. The shelter is monitored 24-hour, 7-day-a-week, year-round. St. Lucy's Shelter meets with those in need and assess their situation. Then the shelter refers clients to one or more of the following services: welfare, SSI, unemployment, job training and job search, education and mental-health treatment programs and more. The shelter provides two meals a day, clothing as well as a shower program and outreach services for the unsheltered homeless.

89 York St Jersey City, NJ 07301 – Phone: 201-451-9838
The York Street Project provides innovative programs that shelter, feed, educate and promote the healing and independence of persons in need, especially women and their children. The services of the York Street Project are currently offered in the three building structures at 81 and 89 York Street and at 240 Washington Street, Jersey City, New Jersey. There are many ways you can hep in making the needs and wants of families come true with endless volunteer and donation opportunities!

270 Fairmount Ave. Jersey City, NJ 07306 – Phone: 201-333-5700
WomenRising has been providing the ingredients for change for over 110 years making it a perfect fit on our list of Charitable Organizations in Jersey City! WomenRising is the foremost community-based organization for women in Hudson County and it assists women and their families to achieve self-sufficiency and live safe, productive and fulfilling lives, through social services, economic development, and advocacy services. In 2017 the organization served 15,000 individuals, advised over 1,200 women on legal options and much more! Make sure to keep up with their events and how to get involved!

158 Erie St Jersey City, NJ 07302
Email: [email protected]
Since it began in 2008, Hoboken Grace has strived to show unbelievable and unconditional love for the community through religion. Whether it's Sunday morning service or community event, Hoboken Grace wants to make sure you feel right at home from the moment you arrive.

26 Journal Sq Jersey City, New Jersey – Phone: 1-800-297-1516
Email: [email protected]
CWS Jersey City has fast become a center for the resettlement of refugees in diverse and vibrant communities across Northern New Jersey! The organization provides comprehensive case management and employment services aimed at empowering newly arrived refugees to build a foundation for long-term self-sufficiency and success in the United States. Services for refugees include basic needs support, case management, health access assistance, intensive job preparation and placement services and more!
The Hoboken Shelter's mission is to be a community partnership that transforms lives by providing meals for the hungry, shelter for the homeless, and services to support people to become housed. Hoboken Shelter is always looking for donations of meals, canned goods and other supplies.

246 Second Street Jersey City, NJ 07302 – Phone: 201-420-1070
Hope House is an emergency shelter for homeless women with children. Housing up to 20 mothers and their children, the program offers short-term supervised residence, including three meals a day, assessment/planning, case management, housing, education, food, and clothing.
Updated November 8th, 2021