Our Guide To Holiday Activities and Events In & Around Jersey City
The season of happiness, delicious foods, cozy fires, snowy days, and family are upon us! There are plenty of events in Jersey City that truly bring out the holiday cheer for you and your loved ones to enjoy! Please check out our guide to Holiday activities and events in & around Jersey City, and check out their website to plan it better.
Cookies with Santa
Saturday December 2nd from 1:00pm to 2:00pm at Jersey City
252 9th street Parking at Newport Mall Garage on 9th St and Marin Blvd, Jersey City, NJ 07302
Sunday, December 3rd, from 1:00pm to 2:00pm at Hoboken
720 Monroe Street, 3rd floor, suite E312, Hoboken, NJ 07030
Yummy!Cookies With Santa! Join us for an hour of holiday fun! Santa, Cookies, Games and Activities. $30 per kid. Sibling Discount! Save your spot now, by signing up online!
Storytime with Jack Silbert and Bill Curran
Fire Department Museum, 213 Bloomfield Street, Hoboken, NJ, 07030
Sunday, December 3, 2023 at 11:30am
Calling all little ones of 07030! Jack will be reading The Christmas Aliens. Jack is the author of this story, which transports us to planet Krelb for the holidays. You'll be pulling your nose and giggling at this silly tale! Admission is $5 for adults and children are free. We'll see you at the Fire Department Museum!
Jersey City Menorah Lighting
City Hall, 280 Grove Street, Jersey City, NJ, 07302
December 4th, 2023 at 1pm
The Office of Cultural Affairs continues holiday celebrations with an open invitation to the Menorah Lighting inside City Hall Council Chambers, Monday, December 4th.
Christmas Tree Lighting Ceremony
The City Hall Annex, 1 Jackson Square, Jersey City, NJ 07305
December 5th, 2023 at 5pm
Join us for the City of Jersey City's annual Christmas Tree Lighting on Tuesday, Dec5th at 5pm. We will light the tree at the City Hall Annex, 1 Jackson Square.
Annual Tree and Menorah Lighting Ceremony
Newark Avenue Pedestrian Mall
December 7th from 6:00 pm to 7:00 pm
Join the HDSID for the Annual Holiday Lighting Ceremony at the Pedestrian Mall! Together with the Mayor, City Council, and the Smile Preschool & Nursery, we'll kick off the festive season by illuminating the Christmas Tree in the Village area, along with the trees adorning the Mall and the Menorah. Plus, don't miss out on the joy – Smile Preschool will be spreading cheer with free gifts for the little ones- registration required.
Menorah Lighting
Entrance of Lincoln Park by the Lincoln Statue near JFK Boulevard and Belmont Ave
Saturday, December 9, 2023 at 3:30pm
Join Temple Beth-El for a Menorah Lighting on Saturday, December 9, 2023 at 3:30pm! There will be donuts, hot chocolate, and music!!!
Community Hanukkah Party
115 Park Avenue, Hoboken, NJ, 07030
Monday, December 11, 2023 from 4:30pm-6:00pm
Hanukkah treats and snacks – dreidel games and more. Special performance by Tkiya and candle lighting with Rabbi Scheinberg. Recommended donation $36/family outside of the USH community. Register here.
The Little Play Co
1400 Hudson St, Hoboken, NJ 07030
Thursday, December 14th, available 2 times during the day, at 10am or 4pm
How is it even possible that it is time for our 5th annual Gingerbread House Party, where happiness is homemade! $75 per child and 30 minutes of PLAY from 10:00-10:30am or 4:00-4:30pm. Gingerbread decorating will start promptly at 10:30am or 4:30pm. Gingerbread houses are pre-assembled and all sweets will be provided. Register online.
Hoboken's Jingle Bell 5K & 1 Mile Fun Run
100 Sinatra Drive South,Hoboken, NJ US 07030
December 16, 2023 at 9am
Run along Hoboken's picturesque waterfront with priceless views of the Manhattan Skyline. All participants will get officially timed results (age group awards), receive a complete Santa suit, professional photos, music on course, hot chocolate, mini subs from Jersey Mikes Hoboken, and more! Details here. Join early to get the best rate.
Miracle on Mercer
Nov. 9th to Jan.1st. 2024
Enjoy a full Christmas cocktail and food experience at The Franklin Social. Book your table today.
The Lighting and Holiday Concert
The History JC & Harsimus Cemetery at 435 Newark Ave, Jersey City, NJ, 07302
December 8th 2023 at 6:30pm
Bryant Park Winter Village
Bank of America Winter Village at Bryant Park is Manhattan's winter wonderland. Enjoy New York City's only free admission ice skating rink. The European inspired open-air market, Holiday Shops by Urbanspace Markets, features artisans from New York and around the world. Located along Bryant Park's allées, plazas, and terraces, the Shops are housed in custom-designed, "jewel box" kiosks. Enjoy local crafts, artisan provisions, and exquisite gifts from around the world.
Holiday Lights at the Bronx Zoo
November 17, 2023 — January 7, 2024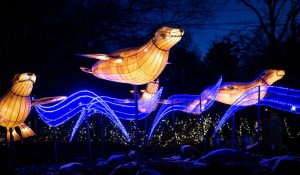 Stop by the Bronx Zoo for a family holiday festival. During the evenings, the park comes to life with holiday cheer as immersive light displays, custom-designed animal lanterns, and animated light shows sparkle across the zoo. The celebration includes festive entertainment, seasonal treats, the Holiday Train, and classic holiday music. The walk-through experience is a beloved tradition, enchanting and fun for all ages.
Lumino City Festival
Various Locations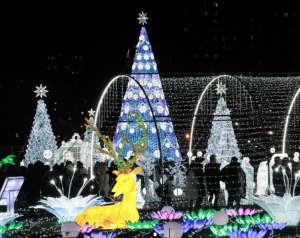 Lumino City Festival features all-new light art installations spanning several acres! Each of the three parks illuminates the night with beautiful sculptures inspired by nature, history, and magic! The inspiration behind Lumino City Festival comes from the combination of the traditional art of Chinese lantern festivals with modern design and unique storytelling. It is also home to the world's most skilled lantern artists and hosts an annual lantern festival that attracts more than two million people.
Luminaries At Brookfield Place

Brighten up the holidays with Brookfield Place! Luminaries, designed by the LAB at Rockwell Group, is inspired by the season's sharing, giving, and community traditions. The installation features a canopy of colorful lights from hundreds of lanterns suspended among the palms. In addition, touchless wishing stations on the ground allow visitors to send a motion-activated wish to the canopy of lanterns above, prompting a magical display of lights and colors.
Rockefeller Center Christmas Tree
The Tree will be lit daily from 5am-12am until January 13th at 10:00pm. On Christmas Day, the Tree is lit for 24 hours and on New Year's Eve it is lit from 5am to 9pm.
The holidays in NYC begin at Rockefeller Center. Whether it's a visit to the iconic Christmas Tree, a skate on the ice at The Rink, seeing the Rockettes at Radio City Music Hall, or exploring attractions and fun things, there's a magic here that can't be denied. And it's a holiday tradition you'll want to make your own.
The Polar Express
Nov. 24,25,26 Dec. 1,2,3,8,9,10,15,16,17
All Aboard The Polar Express at the Delaware River Railroad Excursions operated by the non-profit New York Susquehanna & Western Technical & Historical Society. Families have been traveling to ride this special edition of The Polar Express from all over the world. Inspired by the run-away hit movie produced by Warner Bros. Entertainment, Inc. and the award-winning book by Chris Van Allsburg, this holiday favorite comes to life as you and your family ride The Polar Express.
Experience the joy of singing songs with our roaming hobos, be amazed at our Juggling Chef, and make your wishes in person to Santa himself! The Polar Express in Phillipsburg, New Jersey, is sure to become an annual holiday tradition for the whole family. Families are encouraged to wear their pajamas for the ride and join in on the magic of Christmas.
North Pole Express by TopView
All aboard! Grab your North Pole Express tickets and join us for a magical trip to the "North Pole" this holiday season. No more hassles of going out of town, the North Pole Express by TopView departs right in the center of NYC – Midtown Manhattan. Enjoy Christmas carols, storytelling, sweet treats such as hot chocolate and cookies during the ride, and more. The top deck of a double-decker bus gives you views above the crowd, showing you views of NYC you've never seen before. This polar express NYC is undoubtedly an experience that can't be missed.
NYC: Radio City Rockettes Christmas Spectacular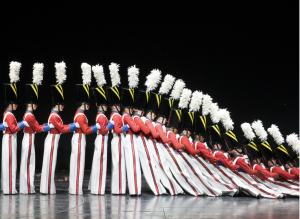 Experience the annual Radio City Music Hall Christmas Spectacular starring the Radio City Rockettes. Enjoy Santa Claus, Toy Soldiers, a Nativity scene, famous NY department store windows, Rockefeller Christmas Tree, and more.
Holiday Train Show at the New York Botanical Garden
November 17, 2023 – January 15, 2024
10 a.m. – 6 p.m. | At the Garden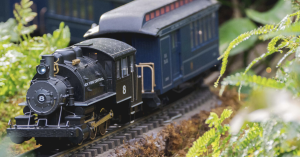 The Holiday Train Show returns bigger than ever with more trains and an all-new, outdoor train display. Start on the lawn to capture your perfect holiday photos at our outdoor mountainscapes and then watch trains zip past nearly 200 iconic New York landmarks under the warmth of the Conservatory. After dark, join us for NYBG GLOW and discover the beauty of our landscape and historic buildings, illuminated across the grounds. And don't miss the return of our fan-favorite Bar Car Nights, 21-and-over evenings featuring the Holiday Train Show and curated cocktails. These special evenings feature music, experiences, food, and more—making for the ultimate night out this season.
Updated December 1st 2023