10 Cafes Opened in 2019 in Jersey City
Attention coffee lovers! This year, a ton of new cafés opened up in Jersey City, and we don't mind one bit.  Here is our list of some of the best ones. Try one or all! See if you can find a new favorite, cozy spot to grab a quick bite and sink into a hot cup of delicious coffee. We would love to know which one is your favorite 10 Cafes Opened in 2019 in Jersey City.
485 Marin Blvd, Jersey City, NJ
Café Esmé has been designed to bring a piece of Parisian taste to downtown Jersey City. Every aspect of the café has been thought of with the customer experience in mind. From the chic interior to the delicious menu to the music that fills the space, Café Esmé hits all the senses and makes people feel transported and completely at home, all at once.  They offer delicious sandwiches, pastries, and coffee.
586 Newark Avenue, Jersey City, NJ
Cafe Peanut is a funky little place located in the heart of Journal Square, Jersey City. Dedicated to quality, the charming artistic cafe is the closest to Coffee Heaven you will get. Their yummy coffee is locally hand-roasted in small batches, blending and creating a never-ending passion for exploration.
Come on in and try their famous House Made Rose or Lavender Latter while being surrounded by a relaxing and friendly atmosphere.
514 Jersey Ave, Jersey City, NJ
Sober Shot is a coffee shop located in the heart of Jersey City and brought some unique coffee options to JC. They are serving caffeine with a twist! They are known for their "sparkling espresso". Sober Shot also has a "Blue Surge" menu, featuring drinks mixed with butterfly pea flower tea. They also offer their "egg-box" which is a must-try.
77 Hudson St, Jersey City, NJ 
Semi-Colon Cafe opened up this September. They have a variety of delicious food options from sandwiches to coffee and fresh juices. They can also make a selection of lattes like matcha, tiramisu, chai and more.
743 West Side Ave Jersey City NJ
Another great addition to Westside Ave, The Coffee Factory is serving La Colombe Coffee and delicious pastries and cakes that are a must-try! They also have a ton of yummy bagels that are the perfect fix for your morning breakfast.
434a West Side Ave, Jersey City, NJ
A cool "secret" hangout to drink a coffee while you are making, planning, creating, bouncing, or doing nothing. This adorable cafe opened by couple Frank and Diana is a must-try in Jersey City. They have everything from coffee, lattes to yummy pastries and donuts. The inside and outside are super Instagrammable!
30 Hudson Street, Jersey City, NJ
At the base of the tallest building in Jersey City, find our brand new Bluestone Lane, sharing a home with Goldman Sachs at 30 Hudson Street, New Jersey. Just a stone's throw from the waterfront that boasts exceptional views of New York City, our coffee shop is the perfect destination in the heart of downtown New Jersey. Large double doors open into a sleek, modern space with seating for up to 50 people. Natural light fills the space that is decorated in signature Bluestone Lane style, featuring Aussie beach prints and green Mercury Mosaics tiles.
They are offering Jersey City locals a taste of Australian coffee culture, with the full Bluestone Lane coffee program as well as a selection of health-focused menu items. Stop in for a Flat White and Avo Smash, or try one of our signature Cold-Pressed Juices. Whatever you're in the mood for, they got it!
79 Hudson St, Hoboken
Simply Chai's mission is to go back to their roots and give you a taste of your greatest memories. They source the best ingredients and bring an authentic Indian feel. They have a unique concept of a cafe that offers a wide variety of chai including masala chai, rose chai, saffron chai and their unique "chai fight" that are three different chai served together. Their dosa waffles are something super unique to Indian food.
110 Cambridge Avenue
Hybrid Coffee is a mobile coffee shop based in the heart of the financial district in Jersey City. Their focus is to provide quality in every cup and cater to your everyday, fast-paced lifestyle. After their mobile coffee shop's success, they have moved to a brick and mortar. They will still be serving up their delicious coffee and pastries.
370 Pacific Ave, Jersey City, NJ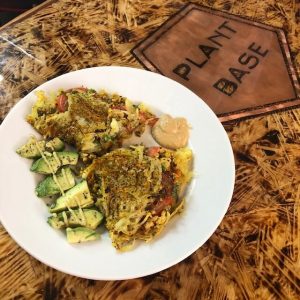 A new animal-free and waste-free business have come to Jersey City! Plant Base has a selection of great vegan food options as well as coffee, juices and more! In our effort to reach a truly zero-waste goal, they offer a rotating dinner and lunch menu that ensures all of their fresh produce will not go to waste. Plant Base is a very unique concept by owners Dhruva LaTorre and Andy Hertz.
If you are looking for other restaurant recommendations in Jersey City, check these out. We also have a ton of kid-friendly cafes in Jersey City for families. Also, if you are looking for other cafe options check out our list here.