Things To Do On A Snowy Day
It is wintertime in Jersey City, and many of us are looking forward to snow. It brings a lot of fun for any age, but at the same time, it can cause many troubles. We choose to be happy about it, and if you feel the same way, stay with us.  Whether it's skiing, ice skating, or other fun winter activities, we are here to help you!
Go skiing
Skiing is the most obvious choice for a snowy day. It is great fun for the entire family, and it is beneficial to everyone's health. If you live in New Jersey or nearby, you can check out our list of places to go skiing in and around New Jersey. Almost all of them have restaurants, so you can plan to spend an entire day over there. Some also have lodging and spa amenities, which makes them perfect for snowy weekends or holidays. Here are some suggestions:
Mountain Creek – the place where you can ski regardless of your previous experience. They offer classes for beginners and kids camp for the little ones.

Hunter Mountain – a bit further from Jersey City but definitely

worth the trip

! This might be the best place for those who love snow tubing. There are 20 chutes you can choose from. Needless to say, activities for the kids are abundant regardless of their preferences.

Thunder Ridge Ski Area – trails, chairlifts, and magic carpets provide fun for visitors of all ages!
Make a snowman
Making a snowman will bring you back to your childhood, and maybe that's exactly what you need to relax and forget about all the bad things happening around you at the moment. All you need is out there waiting for you; just bring your creativity. Why would this activity be reserved only for kids?
Go sledding or Snow Tubing
Bring your sled to the top of the nearest hill and be a kid for a while! Sledding is a good exercise for your muscles, and it is good for you to spend time in the fresh winter air. If you have kids and visiting ski resorts near Jersey City on a working day is impractical, sledding is the perfect activity to try. Snow tubing is also fun for all ages! 
Hit the ice rink
Skating is one of the winter's most attractive activities. Whether you like to do it with your family or your significant other, you have plenty of rinks to choose from. For instance:
Newport skates – face masks are required, but the fun is still guaranteed.

Korpi Ice Rink – the ticket prices are quite affordable even for non-residents, while for those living in Bayonne, they are close to nothing.

The Rink at Winter Village – Manhattan winter wonderland might be the only place where you can have such fun for free. However, you will have to book your ticket online and inform yourself about their terms and conditions due to the ongoing pandemic.
The Rink at Brookfield Place – might be the best bet for those who like winter-themed fun in the open.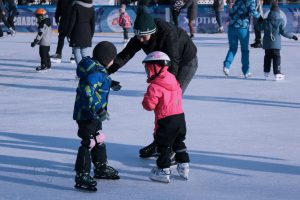 Winter walk
Snow makes everything look more magical. Even a walk in the park can feel like a scene from a fairy tale, especially if you have the right company for it. Equip yourself with warm clothes and snow boots and enjoy the simple pleasures life offers.
If you are not so outdoorsy, there are still some things to do on a snowy day
Even though winter activities bring joy to many people, some still prefer staying in and enjoying the wintertime from the comfort of their homes. We have some suggestions for them too, so let's start.
Reading a book
There is no better time of the year to enjoy a book than in winter. Set up your reading nook by the window, make yourself a cup of cocoa, or pour a glass of wine and relax. In current circumstances, home is the safest place to be, so you'll be socially responsible too.
Indoor games
Do you think you have already tried every possible fun indoor activity and game in 2020? Well, you're mistaken, because there's always more. Quarantine and self-isolation might have been stressful for all of us, but some families used this time to bond with each other. Families with kids went out of their way to entertain their little ones during the lockdown, and while doing so, many discovered new talents they or their kids had. Arts and crafts became more popular than ever. Even those who have always dreamed of drawing but had no idea how got their chance to learn by watching online tutorials. Have you really tried it all?
Redecorating your home
You might be tired of spending time inside surrounded by the same old furniture and all the stuff you accumulated over the years. If you haven't done so already, this winter is the perfect time to get rid of all that you don't need, make room for some fresh air and some new items.
If you plan to move any time soon, making a detailed plan of your relocation can be one of the useful things to do on a snowy day. Before the moving day arrives, you will have many things to do – starting from decluttering to packing, loading, and unpacking. It would be smart to find someone to assist you in these activities so that you get the boring stuff done ASAP and start enjoying your new home.
Visiting galleries and museums
Finally, for culture vultures, we saved the best of all the things to do on a snowy day for the end. There are hundreds of online exhibitions and shows you can experience from the comfort of your home, whatever the weather conditions are. If you still prefer the real thing, get acquainted with the working hours, and COVID prevention procedures in a gallery or a museum you plan to visit before you hit the road. You will probably have to book your ticket online too. Don't forget to put on your warm clothes and comfy footwear – it is snowing outside!
About the Author: 
Angie Sims used to work in the traveling industry for 6 years, and now she works in the relocation industry. For the last 3 years, she has been specializing in helping people with their domestic and international relocation. She is also a full-time mom and a part-time blog writer. From her own experiences, she writes about traveling and moving with children on her blog.