How to Cloth Diaper in Jersey City
Parents looking for plastic-free and organic options for diapering often turn to Diaperkind, a cloth diaper service that has served the Jersey City community since 2009.
Cloth diapering remains a common way to the diaper in Australia and Europe, while the US has primarily adopted the single-use diapers introduced in the 1950s.
But just like straws, bags, and other plastic products, there is a growing tide against items produced only to be used for a few hours before being tossed into the garbage.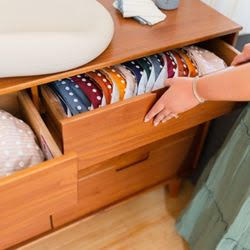 Babies go through over 2,000 diapers a year and account for 30% of Jersey City's solid waste; plus, most diapers are made of non-renewable materials such as crude oil and contain chemicals that contribute to diaper rash.
Diaperkind
has made it easy for thousands of families in New Jersey by taking care of the number one reason people quit cloth diapering – all of the laundry. Clean diapers are delivered every Tuesday (by an electric van), and used diapers are picked up to be washed in their facility in Gowanus, Brooklyn.
What makes Diaperkind a modern cloth diaper service?
No more pins! Modern cloth diapers use

snappis

, which are as easy to use as tabs on disposables.

No leaks. Modern cloth diapers are absorbent without all the chemicals in single-use diapers.

Never run out of diapers. No last-minute trips to the store or same-day Amazon deliveries ever again.
      If you're curious about an organic option for diapers, visit
diaperkind.com
and find them on Instagram
here
and TikTok
here
.