[vc_row][vc_column][vc_column_text]
DIY Activated Charcoal Face Mask To Make Your Mother's Day Special!
This Mother's Day is going to be a bit different. Since we all are at home, we can still find a few ways to make the day more by doing some DIYs! Moms are always busy taking care of the kids, their homes, jobs, and the list are non-exhaustive. So, why not make this day even more special for them? We are sharing this easy DIY face mask that you can make with ingredients available at home (or can easily be found in the nearest grocery store). This recipe is 100% natural and can be made by kids to surprise their moms!! Please make sure if the person using/you have sensitive skin or any other skin conditions, check with your dermatologist before you make and use this DIY mask. 
Ingredients to Make a Charcoal Face Mask:
Bentonite Clay: This clay comes from aged volcanic ash sediments and is a wonderful agent to remove toxins from your skin. It is a great cleansing agent and helps remove impurities.
Honey: It is an antibacterial and soften and soothes skin. It speeds your skin cell's healing process which means if you have blemish or eczema, honey could speed up the healing.
Few Drops of Orange Juice: Orange is known to bring freshness to your skin and is an excellent source of vitamin C.  
Activated Charcoal: Activated Charcoal comes from carbon-rich materials like char, peat, coconut shells, or olive pits. The one I am using here is made out of coconut shells. It helps to cleanse the pores and rejuvenate the skin by removing dead cells and skin.
Orange Essential Oil(Optional): The antimicrobial properties of orange essential oil makes it great for all skin types. It promotes cell growth, increases hydration, and brightens your skin. You can choose any essential oils of your choice which are good for the skin.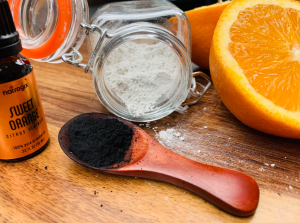 Directions: 
In a small bowl, add water, ¼ tbsp honey, and 2 drops of essential oil

Add 1 tbsp Bentonite Clay and 1 tbsp Activated Charcoal on top of the water mixture and let it rest for 10-15 secs. This will help to easily combine the mixture.

Squeeze the fresh orange to add 2-3 drops of juice

Mix well to make a smooth and even paste. Remove any lumps if formed.

Liberally apply it on your face. Wash it after 10-15 mins or when completely dry. Don't let it overdry. Wash with lukewarm water and face wash (if required) 

You can also store the remaining mask in a glass bottle and refrigerate it. Use it within 7-10 days
Pack the dry mixture in a glass bottle, tie twine around and wrap in a gift paper! Surprise your mom with this easy at-home DIY FACE MASK! This will be such a special and thoughtful gift that will pamper those amazing moms out there. 
If you are looking for some other Mother's Day specials, offers, and discounts in Jersey City, check out our guide here. 
About the Author: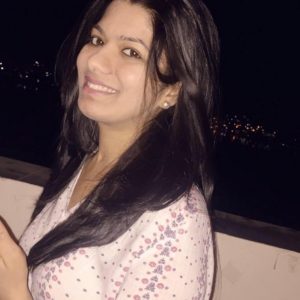 Aishwarya has been making Bath and Body products for 3 years now. Inspired by her Grandmother's recipes, she adds skin benefitting natural ingredients in her products! She loves making things- Soaps, Body Butters, Bath Bombs, Salt Soaks, Lip Balms….on and on…She is on a journey to ditch "Mass-Produced Chemicals called Cosmetics" filled in plastic bottles! Are you coming along? Follow Spell Bathing on Instagram or Facebook on 'SpellBathing'.[/vc_column_text][/vc_column][/vc_row]