TestRocker is now officially open in Jersey City. Last week Councilman James Solomon welcomed the global test prep company to the city with a ribbon cutting ceremony.
Who is TestRocker?
TestRocker is a PSAT, SAT & ACT prep class that has students and classes around the world. TestRocker has taught more than 10,000 students in over 40 countries. They have won multiple education awards and earned the approval of parents, students and educators across 3 continents. On average, TestRocker students improve their scores by more than 180 SAT and more than 4 points on the ACT.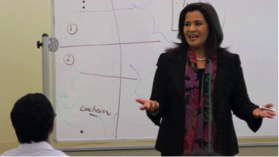 TestRocker was designed by educator Suniti Mathur. With more than 18 years of experience preparing students for standardized tests, Suniti has perfected a learning program designed for students of all skill levels. The TestRocker program allows each student to reach their full potential and the highest scores possible.
TestRocker classes are available year round. Enrollment is rolling but space is limited and spots are reserved on a first come first serve basis. Classes are on Tuesdays, Wednesdays and Saturdays depending on the test you are preparing for and the time of year.
Current SAT & ACT Schedule – Register For a TestRocker consultation to get the class schedule coming up 201-333-1023 or 
click here.
TestRocker's classroom is located at 190 Christopher Columbus Drive in Jersey City's Historic Downtown neighborhood. The newly renovated Vito A. Lofts provide students with a comfortable and modern order modafinil europe classroom experience.
The founders chose to bring TestRocker to Jersey City for a number of reasons:
After building a successful brand internationally by bringing students online and in-class test prep around the globe the TestRocker team is eager to develop classrooms in the US.
Jersey City is the headquarters to TestRocker where they discovered a big need for testing support and information. Many students and families are completely lost on the testing process and need the extra help.

Jersey City is 

busy, bustling, and growing! But the city is also home to a 

tight knit

 community of families looking for the best education available.
The company saw an opportunity to offer classes to students locally and that's just what they did. After an extended soft launch TestRocker Jersey City has grown to serve more than 80 students and their families. TestRocker plans on helping more students and families by expanding throughout Hudson County.
In order to enroll in TestRocker's PSAT, SAT or ACT test prep classes families first need to attend a free consultation. During the consultation, TestRocker goes over how your student can accomplish their entrance exam goals, create a personalized study plan, gives a demo of TestRocker, provides you with upcoming class schedules, and fields any of your remaining questions. You can pick a time to meet with TestRocker that's right for you and your family – click here to begin or call 201-333-1023.