Fun Under The Sun in Jersey City (Free Event)
May 22 @ 10:00 am

-

2:00 pm
Fun Under The Sun Jersey City
Put your sun hats on for 4 hours of FREE & FUN-TASTIC outdoor fun for the whole family! There will be music for kids, arts & crafts, a magic show and more!
ALL kids and adults are welcome to join this FREE event! Please wear a mask and keep social distancing in mind if you attend. 
EVENT SCHEDULE
Rockness Music is redefining music education for parents who want their children to learn real-life values like responsibility, compassion, individuality, togetherness and respect in addition to the language, social and STEAM development every music school touts.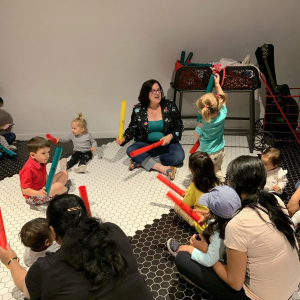 Carol Is an Award-Winning Songwriter with four full-length CDs whose music has been licensed by The Red Cross & USA TV. Carol founded ABC Sing With ME! Baby Toddler Music. She teaches and performs locally while writing and pitching music Nationally for TV Film and Artist Placement.

Sofia Oro loves to play guitar. She started playing guitar at twelve years old taking lessons at The Guitar Bar in Hoboken. During the summer she plays for the kids at Camp Liberty in Liberty State Park. She has also performed around her community at Barksky Gallery, Bowers Gallery, Project Greenville, Pershing Field Garden Friends, and Groove On Grove.
Put your creative hats on with some fun arts and crafts! Luna de Papel is a crafting workshop that offers crafting and DIY classes and workshops for adults and children of all ages. It is a place where all can test the bounds of their imagination in an environment they enjoy.
Giant Bubbles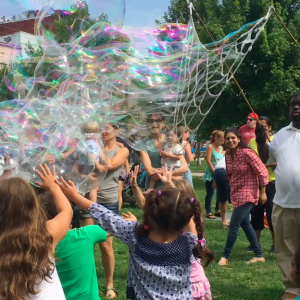 Be blown away with our very own Bubble Show for kids!
Puppet show by My Gym
Performance by Cadencia Dancers 
Schedule For Event
10:15am: Music with Bubble Queen, Carol Lester
11:ooam: Nimbus Dance
11:15am: Candencia Dancers
11:15am: Music with Rockness Music
12:00pm: Music by Sofia Oro
12:30pm: Magic Show by Cisco The Magician
1:00pm: Bubbles
Ongoing Activities
Arts & Crafts by Luna De Papel