JC Baby Fair in Downtown Jersey City
April 22 @ 11:00 am

-

2:00 pm
JC Baby Fair in Downtown Jersey City
The journey to motherhood begins the moment one starts planning for a family. While it can be rewarding and fulfilling, it comes with some challenges too. We want to make this journey easier by bringing important information and resources to your doorstep. So whether you are thinking of having a baby, are expecting, or are a new mom, JC Baby Fair, a Baby Fair in Jersey City, is just the event for you.
JC Baby Fair'23, presented by, Carepoint, will be held at Hamilton Park Montessori School Annex at 175 8th Street, Jersey City, from 11 am to 2 pm. The event is sponsored by Hazel Baby & Kids, Village Childcare Experts, and Downtown Medspa and supported by Hamilton Park Montessori School.
The Baby Fair is FREE for the first 150 expectant parents and parents with small kids. All participants need to sign in the following FORM in advance to be able to participate. Please note the first 150 registrants will receive a swag bag with baby products such as Dr. Browns Baby Bottles, Partake Cookies, and discount postcards.
All participants will receive a number for the raffle prize.
Here is what we have planned for you.
Breastfeeding Consultation: Breast Feeding can be difficult for some in those early days. Our experts can give you some great tips.
Product Samples: The market is flooded with baby products. Product samples can help you choose the right one for your children.
Raffle Prizes & Giveaways: There is always a long list of "must buy" for families. We have some essentials that would make any family happy.
Photo Corner by Revelry Co JC: Revelry Co will set up a photo corner for our new and to-be parents, Revelry Co JC  is your one-stop shop for all things fun! As a full-service goods and events company, we specialize in customized gifts and experiences for all of life's celebrations.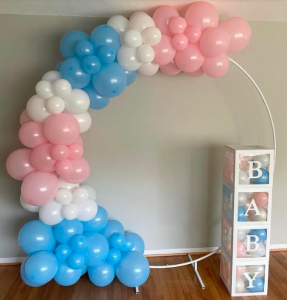 Participation Businesses in alphabetical order:
Academy of Excellence
At the Academy of Excellence Preschool, they believe in nourishing each child & curiosity by opening their mind to the endless world of possibilities. In addition, they make sure that every student is encouraged and guided to achieve their most significant potential. The School is known for turning mirrors into windows, so each child has a solid foundation to see their path to success.
Acuworx
Acuworx is the best acupuncture in Jersey City for natural and effective pain and stress relief.
BloomMama Birth Services
Jhenielle is a certified birth doula and owner of BloomMama Birth Services and serves families in Bergen, Essex, Hudson, Morris, and Union counties. As a doula she provides non-clinical emotional, informational, and physical support for expectant families as they navigate pregnancy. Jhenielle takes a holistic approach to her work and prioritizes connecting her clients with other perinatal professionals that can support them during pregnancy and the postpartum period.
She enjoys working with expectant parents who are eager to be informed about their options during pregnancy and birth.
British Swim School
They offer a variety of swimming classes for families located between Fort Lee and Elizabeth, with multiple pools easily accessible from Jersey City, Hoboken, Bayonne, Secaucus, Weehawken, Edgewater, North Bergen, Harrison, Newark, Kearny, Clifton, Passaic, Fairfield, West Caldwell, Montclair, West Orange, East Orange, Livingston, Short Hills, and the surrounding communities!
Carepoint
As CarePoint Health, they have combined the resources of three area hospitals—Bayonne Medical Center, Christ Hospital in Jersey City, and Hoboken University Medical Center—all committed to one mission: Treating with compassion and leading with innovation, they improve the health of the communities they serve. They are a network of doctors, nurses, and other medical professionals who surround you and your family with expertise and attentiveness—taking the time to listen to you and your unique concerns so that you can make the right decisions about your health.
Caring for you Doula
Caring for You Doula was created by a postpartum doula, Andrea Yates, for postpartum individuals and families within Northern NJ. Andrea works with both new and tenured parents during those first months at home to facilitate a smooth transition into parenthood. As a mom herself, Andrea is passionate about helping parents feel confident and cared for during this special time, creating unique plans specific for each family.
Dani The Mama Coach
The Mama Coach™ is a team of Registered Nurses and Nurse Practitioners across the globe committed to making parenthood easier. Our programs are based on science, empathy, and support. Created by The Mama Coach™ founder and CEO, Carrie Bruno, a proud Registered Nurse (RN) and International Board Certified Lactation Consultant (IBCLC).
Dear Tooth Fairy
Dr. Kim is a board-certified pediatric dentist who completed a two-year program in pediatric dentistry. She learned about child psychology and how to apply these techniques in treating pediatric dental patients safely. Services include preventative care, x-rays, and more at Dear Tooth Fairy!
Downtown Medspa
Downtown Medspa is a friendly, family-owned aesthetic and anti-aging center in Jersey City, New Jersey. Helmed by Eric Reynolds, DPM, a caring and experienced physician, Downtown Medspa's mission is to give Jersey City residents the most effective, science-based cosmetic and rejuvenation treatments possible, using state-of-the-art equipment
Feedings & Feelings
Feedings and Feelings with Meg Manangón (she/her) is a lactation practice serving the NYC and North Jersey area. You are here for help, and Meg will focus on the most important aspect: your family's needs + goals.
First Light Therapy
First Light Therapy provides mental health therapy to women as they navigate fertility, pregnancy, and postpartum, as well as play therapy and parent support for children under eight. The office is based in Hoboken, NJ, but offers services virtually to anyone in either New Jersey or New York.
Hamilton Park Montessori School
Hazel Baby & Kids
At Hazel Baby & Kids, they believe that families should be surrounded by products made in a socially responsible, environmentally friendly, and sustainable way. Their family shares this philosophy as they choose their products carefully and purposefully.
Infancy Studies Lab
The Infancy Studies Lab is a research lab at Rutgers University-Newark. We study early brain development, including how the brain processes sensory information and language and cognitive outcomes in infants 0-18 months old. In particular, we are interested in the neural processes critical for normal cognitive development and those impacted in infants with a family history of language-based learning impairments, ASD, and ADHD. Our methods are play-based and child-friendly, and our participants receive developmental assessments, financial compensation, and convenient free parking.
Ivy Primary Prep
Their core value is to academically challenge children and encourage them to explore and grow while discovering and developing new interests and talents. They value student-teacher engagement by maintaining a 5:1 ratio. Teachers can identify students' learning styles and capabilities to alter the lesson plan based on their needs.
Lima PT
Dr. Lima specializes in treating pediatrics and pelvic health conditions. She aims to help babies and toddlers gain independence and reach their full potential when navigating their environment.
META Bodywork
Say "Hello" to your new wellness sanctuary. Our science-based techniques, paired with soothing, Mediterranean-inspired design, will make META Bodywork your relaxation destination.
My Gym
My Gym was born out of a passion for teaching children in a fun, physically engaging environment. They aim to create an environment where children feel loved and supported so their self-esteem and confidence can flourish. My Gym, Jersey City and Hoboken provides classes and activities for children ages 6 weeks old. Each class is specifically tailored to each age group and is grouped based on parent participation and independent classes.
New York Life Insurance
Newport Babies Photography
Newport Babies Photography is a family portrait studio in NJ that serves the NYC area, including Brooklyn, Manhattan, Weehawken, Hoboken, Edgewater, Bayonne, and Millburn. They pride themselves in preserving precious memories for families from pregnancy through childhood and helping families build a legacy for their children through photography.
Ophidia Midwifery
Jess Couper, MSN, CNM, is a nurse midwife serving northern and central New Jersey, offering home birth and birth center birth, as well as at-home women's health, trans care, and IUI. She is pleased to be able to offer home and birth center birth for clients with due dates of May 2023 and beyond.
Push
PUSH is a prenatal and postnatal fitness and functional training studio in Hoboken, NJ, run by Emily Claman. Emily is a certified Prenatal and Postnatal Fitness Specialist, a Prenatal and Postnatal Certified Personal Trainer, and a Prenatal and Postnatal Functional Training Specialist with over a decade's worth of experience in the fitness/wellness industry. Push provides clients with purposefully designed, comprehensive fitness programs and educational workshops curated specifically for women during their entire pregnancy and postpartum experience. Emily created her signature training programs by combining the basic principles of Functional Training for pregnancy, high-intensity/low-impact sculpting, and weight training workouts, alongside Pelvic Floor education and science-backed research. Push is dedicated to educating and training women on the importance of their physical fitness, deep core/pelvic floor function, and overall health and how to properly build the strength and connection to their body needed to have a safe and healthy pregnancy, childbirth experience, and postpartum recovery. More information can be found at www.pushppnft.com
Seeds to Mums
At Seeds to Mums, we strive to provide practical, evidence-based education in an effort to provide comfort and ease to parents as they embark on their journey through pregnancy, labor, birth, infant care, and breastfeeding. Classes aim to provide parents with pertinent, accurate information taught in a welcoming, interactive, and comforting environment. Our childbirth education class is taught by a clinician with many years of experience in Obstetrics. Furthermore, condensed 6-hour courses and personalized classes allow even the busiest of parents and partners to attend while still covering the key elements.
Smart Start Academy
Smart Start Academy is dedicated to bringing each student the best environment for learning and creativity. Their full-day programs have a curriculum that works to meet every learning style that nurtures every aspect of a child- the physical, emotional, intellectual, and social aspects.
Tanya Buran Photography
Tanya Buran Photography, owned by Tanya Buran, has enjoyed capturing newborn and family photography for over 8 years. Tanya has a beautiful natural light studio in downtown Jersey City servicing families from NYC, Brooklyn, Hoboken, Weehawken, Edgewater, Union City, and Bayonne.
The Brunswick School
The Brunswick School encourages students to think and learn by utilizing various brain parts to become holistic learners. Based on The Creative Curriculum, The Brunswick School educators use a diverse approach to educate our youth that encompasses logical/abstract thinking, creative outlets to fasten fundamental ideas, hands-on, student-driven exploration, teacher-guided large group and small group instruction to provide a comprehensive curriculum for lifelong learners.
The Little Gym
The Little Gym of Jersey City is a children's gym offering activities for kids, including parent/child classes, kids' dance, gymnastics, and sports skills.
True Dental
We are your local, comprehensive dental solution for the entire family in Jersey City, NJ. True Dental Care for Kids and Adults can help you and your family maintain healthy, beautiful smiles for life.
Village Childcare Experts:
Their goal is to help parents learn to be their best parents. They connect parents to childcare experts for one-on-one, interactive video sessions to work together to build a practical toolkit for happy, emotionally healthy children. Their Experts come from high-profile households around the country and are here to work with you & answer your questions.
Waterfront Montessori
WFM is a parent-founded, parent-run independent school for children from two through eighth grade. Their mission is to provide the highest quality of well-rounded education, socially, emotionally, intellectually, and artistically, for children from all over the globe and from all walks of life so that they may achieve their fullest potential as critical thinkers, learners, explorers, inventors, artists, leaders, and, ultimately, citizens of the world.
World of ABC, The Waldo School
The Waldo School has set the standard for leading private education since 2010 for children ages 2 through 13 across two locations. PreK 2 through PreK 4 students are housed in our Waldo Preschool location at 125 1st Street, Jersey City, and Kindergarten through 8th Grade students are housed in our Waldo School location at 110 1st Street, Jersey City.
Jam Cakery
Events is a JC Mom-owned bakery+events venue specializing in allergy-friendly eats and treats. They host birthday parties and events for all ages and Mommy and me baking classes. Logo to follow this email
Giveaways from:
GoSili: GoSili® Silispoon® Silicone Baby Spoons + GoSili® 8oz Silicone Kids Sili Travel Cup with Sippy Spout Lid
Pediped® Footwear: 2 pairs of baby shows
Jam Cakery: 6″ Smash Cake
LovEat For You:  2 gift cards
Seeds to Mums: gift card
Feeding and Feelings: book
Smart Start Academy: Gift Basket
Downtown Medspa: Gift Basket
Partake: boxes of cookies
We are giving away the first 200 people free entry, but you must register for the event.
Please complete the following FORM to attend the JC Baby Fair'23 – For FREE entrance.