With it heating up in Jersey City, it's time to get outside with your kids. On the really warm days, the only place to be is a sprinkler park or at one of the city pools. Here's a list of the sprinkler parks and pools in Jersey City, and some in Hoboken, so you can enjoy those really hot days and keep the kids active.
Jersey City
POOLS:
Pavonia Pool is located at 917 Pavonia Avenue in the West Side neighborhood of Jersey City. The pool is currently open Monday – Friday from 4pm – 7pm and weekends from 11am – 7pm. The hours will be extended, once school is out for the summer. This pool is free to residents.
Lafayette Pool and Aquatic Center is located at 395 Johnston Avenue in the Communipaw neighborhood of Jersey City. This location is very convenient to downtown Jersey City and Liberty State Park. The pool offers a kiddie pool with water features and a slide, a larger pool and a snack stand. The center is open Monday – Friday from 7am – 10am for adult/lap swim only and 4pm – 7pm for everyone (the hours will get longer when school is out of session). Weekend hours are 11am – 7pm.
Pershing Field Pool is located at 201 Central Avenue in Jersey City Heights. The pool is currently open Monday – Friday from 7am – 8pm and on weekends from noon – 5pm. This pool is indoors, so you can go regardless of the weather. The fees for this pool for residents are $3 for adults and $2 for children on weekdays and $4 for adults and $3 for children on weekends. For non-residents, the fees are $6 for adults and $4 for children on weekdays and $8 for adults and $4 for kids on weekends.
SPRINKLERS:
Sprinklers are available in the following Jersey City parks. All city sprinklers are open daily from 11am – 7pm.  The first few below are in the downtown area. I've listed them, along with other fun things available at and around the downtown area parks.
Hamilton Park, 8th Street and Hamilton Place — Take a leisurely day at Hamilton Park with the whole family. The Splash Pad will help keep the kiddies cool or let them monkey around in the playground area. There is even a playground for the smaller children, which includes a little sprayer (since the Splash Pad can get a bit wild). Or just bring a blanket and sit in the shade, while the kids play on one of the beautiful lawn areas. There are even two dog runs, so don't forget your furry baby. On Wednesdays you can enjoy all of these activities, plus the weekly farmer's market. The park gets crowded, but it's fun to picnic on the grass and try some of the yummy local food the market offers.
Newport Green, 700 Washington Boulevard — Newport Green isn't actually a city park. The sprinklers are supposed to shut down around 6pm and the park itself closes at dusk. This unique little park, not only offers a fun sprinkler area, it also has a large and modern playground — complete with something for kids of all ages. This park also boasts a small carousel that's a huge hit with the younger kids. A small sandy beach with umbrellas completes this downtown oasis. Parking can be an issue, so make sure to follow the rules posted on signs along the streets. Also, remember pets are not allowed at Newport Green.
Enos Jones Park, 8th Street and Brunswick Street — This small park has a cute sprinkler area in the playground. A whale, dolphin and seal squirt water and kids have an area to run around and play while cooling off. The playground is right there, so kids can run from one to the other, plus the entire area is gated. A small, pretty community garden project is in the corner of the area. The park also offers a skate park, for those who love to ride their scooters on ramps! You can walk around the entire park and it's usually a nice quiet walk. Feel free to bring dogs! This park is within walking distance of the bigger Hamilton Park, so if you feel like hitting two in one day, it can easily be done. Stop by a local (kid-friendly) eatery like Carmine'son Brunswick and 7th for a sandwich or sit at an outdoor table at the White Star for a burger and fries.
Pershing Field Park, Summit Avenue and Pershing Plaza 
Lafayette Park, Maple Street and Van Horne Avenue 
Dr. Lena Edwards Park, 325 Johnston Avenue 
Arlington Park, 785 Grand Street 
Audubon Park, 103-129 Bergen Avenue 
LaPointe Park, 90-92 Dekalb Avenue 
Country Village Park, 30 Sycamore Road
Columbia Park, Bartholdi Avenue and Kennedy Boulevard 
Bayside Park, 480 Garfield Avenue 
Muhammad Ali Park, Van Nostrand Avenue 
For more information, please call 201-547-5003 or 201-547-4449 for sprinklers.
Hoboken:
Four parks in Hoboken offer sprinklers for the kids to cool down! They are open daily from 11am – 5pm all summer long. Here's the list:

Church Square Park, 4th Street and Willow Avenue — This newly-renovated park includes a sprinkler area, brand-new playground equipment, swings and even an area dedicated to toddlers. There is also a dog run, so feel free to bring the dogs. Hoboken Public Library is right across the street, so you can pop in for story time if you are feeling too hot. Don't forget to stop by Sweet for what some consider the best cupcakes in the area!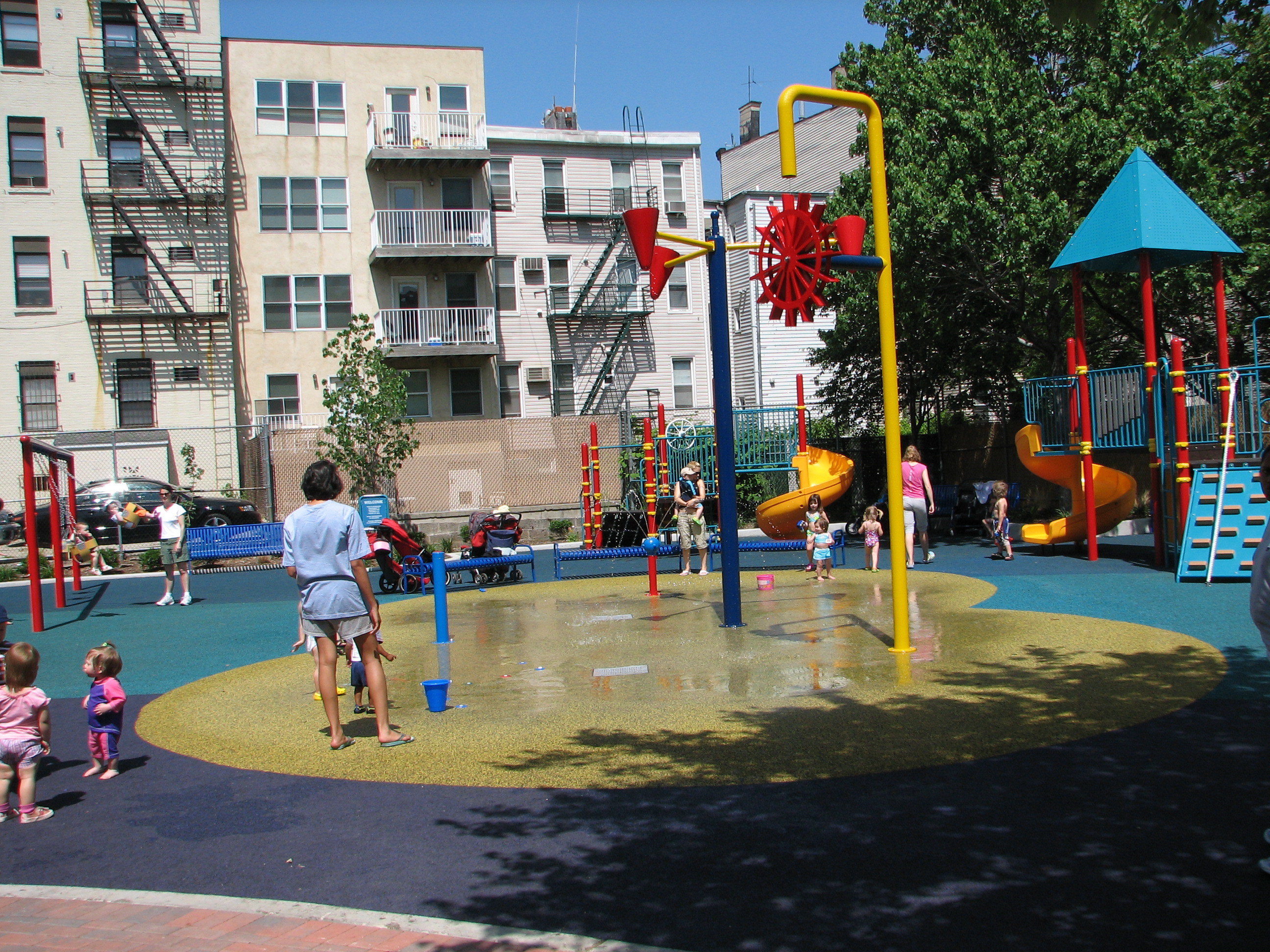 Jackson Street Park, Jackson Street and 1st Street — This park is tucked away in a quiet area of Hoboken. After you wear yourselves out, walk down to the original Hoboken location of the famous Grimaldi's on Clinton and 2nd Streets and grab a slice of what is hailed, by some, as the best pizza ever.
Madison Park, Madison Street and 3rd Street — Another quiet location, you can walk around the little shops, go to the movie theatre down the block or stop by the infamous Fiore's Deli on Adams Street for a fresh mozzarella and gravy sandwich!
Elysian Park, Hudson Street and 10th Street — Close to the waterfront, this location allows you many options to walk around with your little ones. Take a walk to Shipyard Park or Castle Point Skate Park. There is a dog run, so bring your dogs along. There are countless cafes and pizzerias in this area, so take your pick and enjoy!
For more information on Hoboken parks and sprinklers call 201-420-2012 and check out here http://hobokenfamilies.org/top-sprinkler-parks-in-hoboken-and-around/