Preparing For A Baby In Jersey City
Preparing for the baby in Jersey City and every other place in the world is like embarking on a journey to a different planet. And in some ways, when the baby comes, you may feel like you have moved to another planet. Your entire life will change as if you have been transported to another dimension. Although it may feel as daunting as it is exciting and exhilarating, you can take comfort in knowing that you are not alone. Many families have gone through the same; you can benefit from other people's experiences by reading about them and preparing well.
Knowing what to expect when you are expecting is a huge advantage. Also, knowing you have numerous resources for pregnant and new parents undoubtedly gives you peace of mind. Therefore, we have prepared this little guide to help you on this wonderful one-way journey to parenthood. 
How to prepare for the baby?
Having a baby is probably the most significant milestone in a person's life and one of the major life-changing events. You can expect dramatic changes in your priorities, values, and expectations during pregnancy. Although all these changes may be surprising for the important people around you, you must understand that it is all normal. These changes are often accompanied by various emotions, ranging from excitement and utter happiness to fear. Dealing with these feelings is not easy, so you need to prepare. 
Planning is essential
If you have your first baby, you may feel overwhelmed knowing that the only certain thing is the fact that everything will change. The scope of these changes, however, is hard to predict. The fear of the unknown that you may feel can cause stress and anxiety. Therefore, making a checklist of all you need for the baby and working your way to ticking everything on the list will ease some of the stress. Moreover, plan your budget carefully, try to pay off any debts, and save up some money, so you have a nice financial cushion for the first few months. 
It is also important to discuss your return to work with your employer. You should decide when and if you want to go back to work, and if you do, you should prepare for the change in your work/life balance. Think about your daily responsibilities and develop a schedule for household tasks, such as shopping, laundry, cleaning, etc. Involving your partner in this planning is vital. 
Making a plan will give you a sense of control, which will help mitigate stress and anxiety. However, keep in mind that you can't plan everything to the last detail. Flexibility is also necessary, especially because you will need some time to adjust to the new way of life when the baby comes. Nevertheless, the plan you have made will help you establish a routine more quickly later.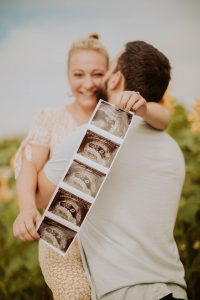 You must take care of yourself
Pregnancy can cause fatigue and emotional overload. Therefore, you must take the time to look after yourself every day. Take a nap, do prenatal yoga or meditation if you like, go for a walk, schedule a prenatal massage, and remember to eat healthy snacks. You should also go to bed early and attempt to maintain consistency in your daily schedules. 
Moreover, during pregnancy, you will probably receive loads of advice from your friends, family, and coworkers. However, while they all come with good intentions, you must know that every person and every pregnancy is different. Do what feels best for you and what works for you. The same will go for when the baby comes. Some advice is fine, but remember that nobody knows your baby as well as you do. 
Prepare for the birthing process
Although the birthing process may seem scary, you should familiarize yourself with it. It will allow you to take a more active role in it, which can lead to a better outcome. Therefore, think about attending a birthing purchase generic levitra class where you will learn about the stages of labor, pain management options, proper breathing techniques, different types of birth (nature, c-section, with an epidural, etc.). Once you know all that, you can create a birth plan. But again, know that not everything will always go exactly according to plan. 
Choose a doctor for the baby
Preparing for the baby in Jersey City will definitely involve finding a pediatrician you like. You may think it early to look for a doctor before the baby arrives, but you want to allow yourself enough time to find the one who is a good fit for you and your baby. Also, find out how to add your baby to your insurance policy and see which doctors your insurance covers. 
Prepare the bag for the hospital
A few weeks before your due date, you should pack a bag containing all the necessary items for you and your new baby while you are in hospital. When the labor starts, thinking about what should go into your hospital bag will be the last thing on your mind. In addition to the necessities, add a few items that will make your stay more comfortable, for instance, slippers and a pillow.
Purchase all the baby essentials
Only buy what is necessary for the baby. A lot of the things you will get as gifts. Make sure you have everything you need when the baby arrives but don't go overboard. You must have a crib, a car seat, diapers, wipes, some clothes, and essential cosmetics for the baby. Depending on how you will feed your baby, you will need some bottles, formula, nursing bras, and pads. Remember that you will receive a lot of the things as gifts from your loved ones if you have a baby shower, and you can buy more as you go. But don't feel pressured to buy every single baby product there is. 
Reduce all the stressors
Expecting a baby is an exciting time in peoples' lives. But it can also cause a lot of stress and frustration. For example, many parents-to-be decide to move to a more family and kid-friendly place. So if you are moving to Jersey City, for instance, you must try to identify and avoid stressors when relocating. Even if you are not moving, you may decide that your home needs some remodeling to accommodate a baby.
Moreover, the changes you are going through can cause some tension between you and your partner. So make sure you talk openly and spend time together. All of this is normal, but you must recognize stressful situations to be able to avoid them or at least reduce their impact. It's essential to keep calm and avoid stress as much as possible. Spending time with your partner will help.

Now that you are baby-ready, you can sit back and relax
Preparing for the baby is a beautiful time, but it is only an introduction an even more magical experience. Although it will be hard at times and you will probably feel overwhelmed, you will feel nothing but joy when you look back at this period. And give yourself some slack. It's normal to worry about your parenting skills. But know that there is no perfect parent. Everyone makes mistakes, and so will you. The important thing is to do your best and learn from your mistakes. What's more, kids don't need a perfect parent. They need a loving, caring, committed, and present parent who shows they are always trying to be better. So go ahead, and enjoy this time. 
About the Writer:
Angie Sims used to work in the traveling industry for six years, after which she began work in the moving industry. For the last three years, she has been specializing in helping people with their domestic and international relocation. As a full-time mom and a part-time blog writer, she uses her own experiences to write about traveling and moving with children.