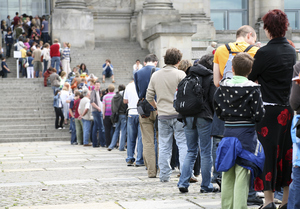 When visiting a new city like New York, Paris or Rome there are those famous attractions that most of us are going to want to visit.  It may be "touristy", but most of us want to see the Empire State Building, Eiffel Tower or the Sistine Chapel.  However, we don't want to have to wait in the long lines. Well, with the power of the internet you can book your tickets in advance and "skip the line". As well, you might even be able to save some money, too.
There are many sites that exist today, which will allow you to book your attraction, concert and museum tickets in advance. When I traveled to Italy several years ago, I purchased all my museum tickets in advance.  I was able to go on my designated day, ticket in hand and bypass the long lines snaking around the building. I have to say it is so nice to see a long line and know you don't have to be a part of it.
Here are some thoughts and tips to making sure you can "skip the line":
1. Visit the official website for the attraction or museum you want to visit.  You will see ticket prices, as well as available times to visit during your stay.
2. Visit the official site for the actual city you are visiting. The site will be a great resource of ticket vendors, links to the websites for the attractions and more.
3. Viator is a trustworthy site to purchase tickets in advance.  They work with tour operators and attractions to offer tickets at a decent price.
4. Remember, that even though you are skipping the main line, you will still have to go through security which can have a line in the high season.
5. Work with your Travel Professional to coordinate an itinerary and get the tickets you want.  As well, a Travel Professional has access to certain ticket and tour suppliers that do not work with the public.
6. Check out the city pass for your destination.  Like The Paris Pass, for one price you can get entry in to many museums and attractions. However, you need to make sure they are offering the attractions you want to visit.
7. If you are traveling to Europe, visit Rail Europe where you can get tickets that will include your train ticket as well as a ticket for the attraction.
8.  Visit with a group or tour. Tour operators can have a VIP access due to their relationship with the attractions. A great example is Adventures By Disney, they are now offering a private night time tour of the Sistine
Chapel.
9.  As well, many museums in Europe do not charge for children, so before you purchase tickets make sure to
check the official site.
10. Also many museums in Europe, like Versailles offer FREE tours the first Sunday of the month during the off
season, example November – March.
So, with a little planning you can save time and money on your next family trip.
If you want to have access to all my tips and information for Family Travel please "like" Adventures By Kim  or visit me at www.adventuresbykim.com