7 Farmers Markets in and Around Hoboken
The weather is warming up and Farmer's Market season is officially here. We all want to step out and get some fresh air and want to buy fresh food and produce. Luckily, multiple Farmer's Markets are open for the season.
Hoboken Farmers Market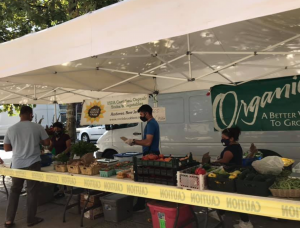 The market will open on Tuesdays from 2:00PM – 6:00PM. The markets will be located on the sidewalks along the east side of Church Square Park and the west side of Demarest School. There will be several farms like Union Hill Farms, Melick's Town Farm, and Circle Brook Organic farms will all be selling fresh produce. There will also be other local vendors. Fresh fruits, vegetables, olives, pickles, breads, cheese, fish, meats, sweets-pies-donuts, gluten-free baked goods, flowers, prepared foods, hummus, fresh squeezed lemonade, pressed juices and more!
Where: Garden Street between Fourth and Fifth Streets
When: June 2nd-November, Tuesdays from 2:00PM-6:00PM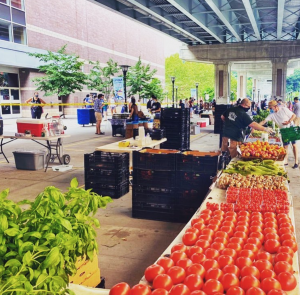 Uptown Farmer's Market is back every Saturday from 9am-2pm. The City of Hoboken in partnership with Bijou Properties will host the Uptown Farmers Market under the 14th Street viaduct between Grand and Adams Streets. There will be a ton of vendors with fresh produce like Stony Hills Farms, Hoboken Farms, and more.
Where: Under the 14th Street viaduct between Grand and Adams Streets
When: Saturdays 9:00AM-2:00PM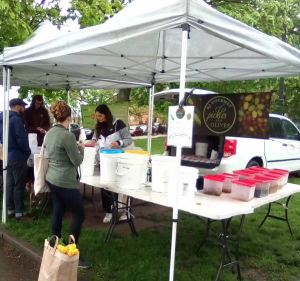 The Riverview Farmers Market is every Sunday from 10am-2pm at 498 Palisade Ave Jersey City NJ 07307 at Riverview Fisk Park in The Heights. You can purchase fresh fruits, vegetables, flowers, grass-fed beef, pastured chicken and pork, free-range eggs, cheese, dairy, fresh baked goods, candles, home goods, food vendors, carts and trucks. Enjoy shopping, eating and support local farmers and artisans. Embrace the beautiful NY-NJ skyline views while shopping.
Where: Riverview Fisk Park in Jersey City Heights
When:  Sundays from 10:00AM-2:00PM

Located right in downtown Jersey City, the Hidstroic Downtown Farmers Market has over 25 vendors ready to provide you with the best and fresh produce. You can buy fresh fruits, vegetables, fresh baked goods, and tasty treats.
Where? Grove St Path Plaza (Newark Ave & Grove St)
When? April  – December, Mondays and Thursdays 4-8 pm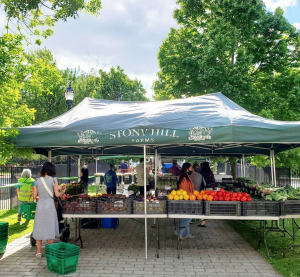 The Farmers' Market is back on at Hamilton Park and runs weekly through the fall.  Stony Hill Farms, Dutch Hill Farm, pickles, olives, fish, nuts and lots more. As you enjoy shopping at Hamilton Park Farmers Market, you'll occasionally get to enjoy Live Music too! It's about 15-20 minutes away from Hoboken.
Where: Hamilton Park Jersey City
When: Wednesdays 4:00PM-7:00PM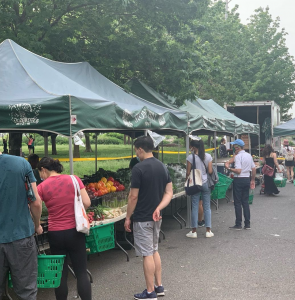 Enjoy the views of Manhattan while shopping fresh produce and maybe some delicious pie! Stay updated by visiting the Historic Paulus Hook Association's website.  Paulus Hook Farmers Market is every Saturday morning from 9 AM-2 PM at the foot of Washington Street by the entrance to Morris Canal Park.
Where? Washington Street by the entrance of Morris Canal Park
When? April – December, Saturdays 9 am – 2 pm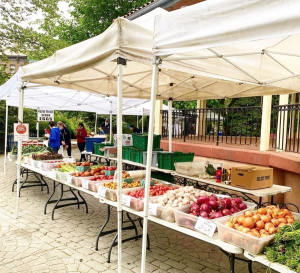 Van Vorst Farmers Market is back this year! It is conveniently located 3 blocks from the Grove Street PATH. They will offer fresh fruits, veggies, baked goods, cheese, fish and lots more.
Where: 281 Montgomery Street, Jersey City
When: May 2nd – December, Saturdays 10:00AM-1:00PM