Indian Restaurants in Hoboken
Hoboken is such a diverse city which is why it has an abundance of different cuisines. Whether you are looking for Italian or Mexican, they've got it all. This includes a wide variety of Indian restaurants in Hoboken that will transport you to India with its delicious dishes and flavors.
505 Washington St., Hoboken NJ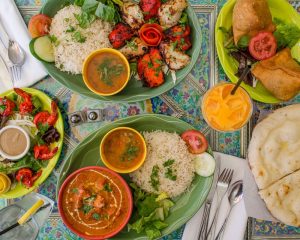 An Indian Bistro, is located at 505 Washington Street, in the heart of Hoboken. Their trendsetting modern Indian restaurant opened its doors in 1999. Karma Kafe is a must-try if you would like to try some traditional Indian flavors with a twist. They also has a very delicious unlimited lunch buffet that is super affordable. Their menu has been greatly appreciated for being daring and innovative, and successfully incorporating the latest dining trends while retaining the essence, traditions, and principles of Indian Cuisine. When are you planning a visit at this Indian Restaurants in Hoboken?
618 Washington Street, Hoboken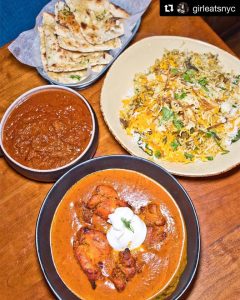 Soul Curry serves innovative Indian cuisine in the heart of downtown Hoboken, on historic Washington Street. Locally sourced seafood, meats and produce from a clutch of area farms make up our shareable plates, offering a globetrotter's spin on comforting Indian classics. Additionally, they have some very unique dishes like Parmesan Malai Kebab, Burrata Butter Chicken, Kerala Duck Roast and Gulab Jamun Creme Brulee. If you are looking for Indian flavors with a twist, this would be your go-to spot and a delish Indian Restaurants in Hoboken.
20 Hudson Place, Hoboken, NJ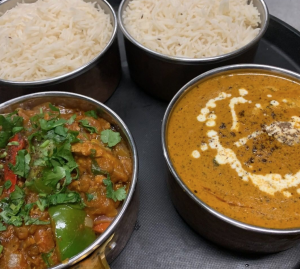 Empyrean: Indian Kitchen is a modern Indian restaurant that takes you on a flavorful journey. Like the name, the menu will awaken your senses and challenge your imagination. You will be transported to an appealing setting while in the comfort of your own neighborhood. They have a variety of options on their menu whether you are looking for delicious kebabs or a vegetarian option.
91 Washington St, Hoboken, NJ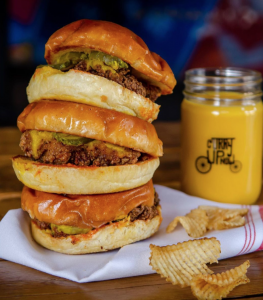 A newer edition to Indian Restaurants in Hoboken, Curry Up Now was established back in 2009 by Akash Kapoor and his wife Rana. What began as a California food truck, quickly turned into the largest and fastest-growing Indian fast-casual concept in the U.S., with a total of seven brick-and-mortar locations nationwide. They have a ton of options on their menu with a twist such as tacos, burritos, holy moly ravioli, burgers and more.
79 Hudson St., Hoboken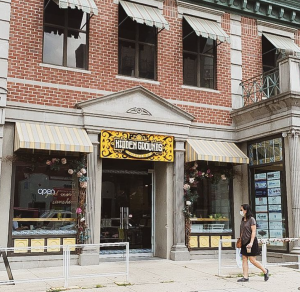 Hidden Grounds has your traditional coffee but one thing unique about this cafe is that they offer a selection of Indian drinks, donuts, and sandwiches.
324 Central Ave, Jersey City, NJ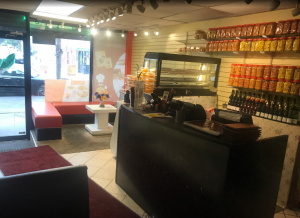 At Chef of India, they strive to reach out to every beloved customer with a commitment to quality and delicious food. They offer a ton of authentic Indian items like chicken tikka, butter chicken, biryani, and vegetarian options. They are located in the heights very close to Hoboken.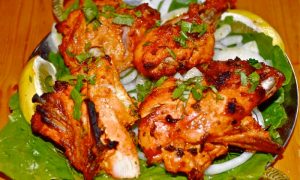 Ujala kabab is located near Hoboken. It is an Indian-Pakistani restaurant. Thier restaurant is best known for its outstanding Indian-Pakistani cuisine, excellent staff service with livery ambiance. They have a ton of options of Kababs, chicken, lamb, biryani and more.
353 3rd St, Jersey City, NJ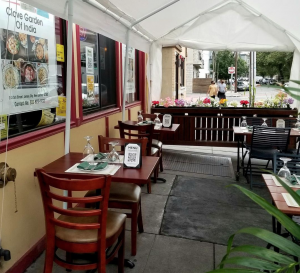 Located right in downtown Jersey City, the Clove Garden of India is a new addition to Indian restaurants in Jersey City. Their menu has a great mix of Indian food including vegetarian and nonvegetarian options. They also offer great lunch specials, desserts, and traditional drinks.
136 Newark Ave, Jersey City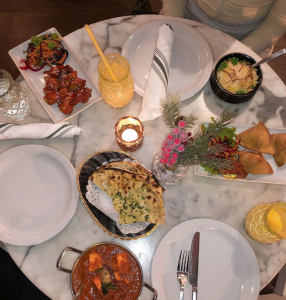 Brick Lane Curry is a London-style Indian restaurant offering spicy curries and other delicious Indian dishes! Additionally, they also have Indian-inspired cocktails.
101 Hudson Street, Jersey City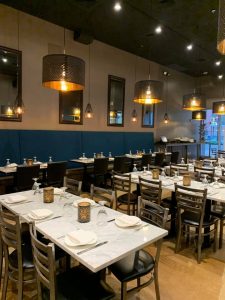 Located at the center of Harborside Financial Center in Jersey City, Amiya sets the perfect atmosphere for a night out on the town or a simple afternoon lunch. Their atmosphere and cuisine deliver exceptional experience in both taste and sight. Amiya serves traditional favorites like Chicken Tikka Masala, as well as our own Amiya Paneer, halal food and more. The delightful menu is all inspired by Chef Chand's deep knowledge of Indian cuisine, his skill, and his boundless imagination. Also noteworthy is their wonderful selection of specialty cocktails, wine, and beer. Amiya has a happy hour from 5-7, Monday to Friday.
If you are looking for other restaurant recommendations, check these out. We also have a ton of kid-friendly cafes in Jersey City for families.